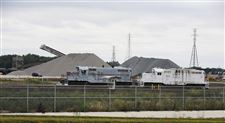 The Ironville Dock off Front Street in East Toledo has accepted delivery of several loads of railroad ballast stone. More improvements are sought for the wharf on the former Gulf Oil refinery site.
THE BLADE/ANDY MORRISON
Enlarge | Buy This Image
Many months and millions of dollars in the making, the Toledo-Lucas County Port Authority's new wharf on the former Gulf Oil refinery site in East Toledo has begun receiving waterborne freight.
Along with ongoing use of its railroad tracks for railcar storage, Great Lakes freighters have delivered several loads of railroad ballast stone to the Ironville Dock off Front Street, Joe Cappel, the port authority's director of cargo development, said Wednesday.
While ballast stone also is handled at the Midwest Terminals stone dock, "this is a new opportunity to serve Norfolk Southern's rail ballast needs," Mr. Cappel said, noting that Midwest's stone dock has access only to CSX Transportation.
At the request of Midwest Terminals of Toledo International, the port authority stevedore that also operates Ironville, the port's board of directors today is to consider $1.3 million in further work.
That includes upgrades to its fire-suppression system, expansion of the paved lay-down area for cargo, facilities for aluminum storage and handling, and addition of a transloading pump station and related safety equipment.
"This is the final slug of money that will finish everything off, that will make Ironville a fully operable facility," Mr. Cappel said.
The port authority has spent $23 million on the project.
That includes $4.5 million to buy the property from Chevron, financed primarily by an array of state and federal grants and loans.
The new improvements' cost will be built into Midwest's Ironville lease over the next eight years, effectively making the $1.3 million a loan from the port authority, Mr. Cappel said. "We may as well make the interest, instead of a third party," he said.
Ironville Dock occupies 71 acres of the former refinery's total 181 acres, representing the portion between Front Street and the river.
The port authority hopes to attract businesses to the remaining property based on its proximity to the new dock across the street.
Ironville has been designed to handle bulk materials primarily, with rail-truck transfers possible along with ship-rail or ship-truck.
Norfolk Southern's access to Ironville complements access by CSX, its main competitor, to the port authority's other bulk-materials facility, the International Cargo Dock downriver.
Mr. Cappel said the port authority and Midwest also are pursuing potential business at Ironville in the handling of stabilized condensate, a petroleum byproduct of eastern Ohio's growing natural-gas production.
The directors' meeting is at 8 a.m. today at the Port Authority Building, 720 Water St.
Contact David Patch at:
dpatch@theblade.com
or 419-724-6094.
Guidelines: Please keep your comments smart and civil. Don't attack other readers personally, and keep your language decent. Comments that violate these standards, or our privacy statement or visitor's agreement, are subject to being removed and commenters are subject to being banned. To post comments, you must be a registered user on toledoblade.com. To find out more, please visit the FAQ.