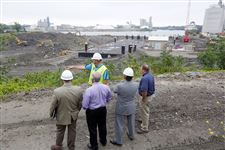 Brian Boberg, construction supervisor with ARCADIS, talks about the Oakdale Miami storage basin site to, from left, Bob Stevenson, resource manager at ARCADIS; Alan Ruffell, Toledo manager of operations; Edward A. Moore, director of Toledo Public Utilities, and Chris McGibbeny, Division of Water.
THE BLADE/AMY E. VOIGT
Enlarge | Buy This Image
Ohio Environmental Protection Agency Director Craig Butler got a whirlwind tour of Toledo-area water projects Wednesday, five months after Gov. John Kasich appointed him to be the state's top environmental cop.
Mr. Butler, an Ohio EPA employee for 25 years, served under six state EPA directors before Mr. Kasich picked him in January as the interim director. The governor elevated Mr. Butler from interim to permanent status on Feb. 21.
Mr. Butler saw laboratory evidence documenting the return of a toxic form of algae, microcystis, which has plagued western Lake Erie nearly every summer since 1995.
Doug Wagner, Oregon water superintendent, ran tests on Oregon's raw water and that of other systems, including the Port Clinton-based Ottawa County Regional Water System, Ottawa County's Carroll Township, Findlay, and Kelleys Island. The plant also does testing for Monroe's water system, although it had no samples for Wednesday's tests, Mr. Wagner said.
The tests showed Oregon's raw water, which comes from western Lake Erie, had a small but detectable level of microcystin, the toxin produced by microcystis algae. The microcystin concentration of 1.0 parts per billion is five times lower than a 5.0 ppb concentration that would put plant operators on high alert. It was slightly less than the first concentration of 2014 that was detected on July 16, when the Oregon plant found a concentration of 1.4 ppb in its raw water, Mr. Wagner said.
The figures serve mostly as a reminder that algae season is under way, Mr. Wagner said.
Even at higher levels, water plants in Oregon and Toledo — two of the most sophisticated in the region — have many safeguards in place to neutralize the toxin and remove it before it can get into the public water supply, officials said.
The U.S. EPA is working with the U.S. Centers for Disease Control and Prevention on a standard for plant operators to treat the toxin, which the agencies should announce this fall, Mike Baker, Ohio EPA drinking water division chief, said.
Plant operators are not required to test for microcystin, even though scientists now place it between arsenic and dioxin in terms of its toxicity. Microcystin is capable of killing humans or at least making them sick in large doses.
"I don't think we need a law to know it's a serious toxin," Mr. Butler said. "[But] the U.S. EPA is taking too long, in my view, to develop a standard."
Contact Tom Henry at: thenry@theblade.com or 419-724-6079.
Guidelines: Please keep your comments smart and civil. Don't attack other readers personally, and keep your language decent. Comments that violate these standards, or our privacy statement or visitor's agreement, are subject to being removed and commenters are subject to being banned. To post comments, you must be a registered user on toledoblade.com. To find out more, please visit the FAQ.