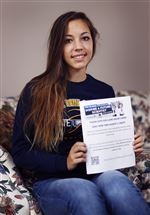 Claire Seiler, who will be a junior at Notre Dame Academy, is a finalist to win $1,000 to study a disorder that she has.
THE BLADE/ISAAC HALE
Enlarge | Buy This Image
For some, a diagnosis of Ehlers-Danlos syndrome, a connective tissue disorder, could mean only a lifetime of pain. For 16-year-old Claire Seiler, it was a research project.
A junior at Notre Dame Academy, Claire is one of 10 finalists competing for $1,000 in the "Inspire a Future Scientist" contest sponsored by the National 4-H Council and HughesNet.
She hopes to pursue an internship at the National Institutes of Health in Bethesda, Md., to study procollagen folding, which plays a role in her condition.
To win, Claire needs votes from the public. Her entry, a short film and essay about her scientific interests, is currently in third place with about 2,700 votes.
In her entry, she describes how her disease has proved no deterrent, but rather a motivation for her to keep studying.
Claire's hypermobility-type Ehlers-Danlos syndrome struck when she entered her freshman year. The condition, while not life-threatening, caused her significant pain. Nine-hour migraines eroded her concentration in school, and insomnia led the standout student to fall asleep in class. Worst of all, her joints could potentially dislocate at any moment.
"I would walk to class and my hip would pop out, and I would miss class time trying to pop it back in," she said.
Her parents initially thought something was amiss when their daughter, as a toddler, often complained that her legs hurt. For years, her pediatrician said growing pains were to blame.
But when Claire's discomfort persisted, the Seilers asked a juvenile rheumatologist at Cincinnati Children's Hospital to take another look. He diagnosed Claire with hypermobility, a looseness of the joints that makes them unstable and prone to hyperextension or dislocation. After learning about Ehlers-Danlos syndrome online, the Seilers approached a pediatric geneticist at the Cincinnati hospital about it.
Hoping to connect Claire to other Ehlers-Danlos syndrome patients, the Seilers started a local support group. More than 20 people of varying ages and syndrome severity are signed up.
While there is no cure for Claire's Ehlers-Danlos syndrome, medications can alleviate her symptoms. Thanks to her treatment team, her studies have gone unaffected. She plans to take Advanced Placement chemistry and International Baccalaureate Diploma Program biology in the fall, and has completed online courses on programming and creative writing. With some accommodations, she also plays lacrosse.
"I've maintained the same grades. I just have to put in triple the effort," she said.
Claire aims to build awareness about Ehlers-Danlos syndrome so that the condition does not linger undiagnosed. She hopes to continue her research in college at Duke University and Johns Hopkins University.
"I've never had a thought that I'm doing too much," she said. "I have a passion to keep moving forward."
To vote for Claire's entry visit www.4-h.org/​about/​partners/​hughesnetinspireafuturescientist.aspx. Videos are shown in order of the most votes. Voting ends today.
Guidelines: Please keep your comments smart and civil. Don't attack other readers personally, and keep your language decent. Comments that violate these standards, or our privacy statement or visitor's agreement, are subject to being removed and commenters are subject to being banned. To post comments, you must be a registered user on toledoblade.com. To find out more, please visit the FAQ.