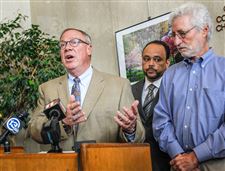 Mayor D. Michael Collins, along with Ed Moore, center, the public utilities director, and Dr. David Grossman, Toledo-Lucas County health commissioner, discuss Toledo's water quality issues.
THE BLADE/ISAAC HALE
Enlarge | Buy This Image
Toledo's mayor on Tuesday urged residents to conserve water for the remainder of the summer as the toxic algae bloom in Lake Erie remains a threat to the city's drinking-water supply.
A day after lifting the do-not-drink warning, Mayor D. Michael Collins told customers who get city water that they should take shorter showers, wash only full loads of laundry and dishes, and operate washing machines and dishwashers on their most energy-efficient modes.
MAYOR'‍S STATEMENT: Residents urged to conserve, reduce usage.
RELATED ARTICLES:
Speakers gather at UT water forum.
Water bottles overflow recycle bins.
Companies pitch in during water crisis.
The mayor also asked water users to refrain from watering their lawns or irrigating fields. They also should stop washing their cars at home, the mayor said.
Water conservation is necessary to reduce stress on the Collins Park Water Treatment Plant, where toxic microcystin from lake algae contaminated the drinking water over the weekend, affecting about 500,000 customers.
"I believe this community will fortify this [water] system through more conservation," he told reporters inside One Government Center.
Less demand means a slower flow rate and will allow chemicals used to neutralize algae to work as water makes its way through the city's multistaged treatment system.
"It gives chemicals more time to take effect and allows the plant to produce better water," Ed Moore, city public utilities director, said.
Mr. Collins said he did not plan to compel people to conserve water, but would instead rely on voluntary compliance.
Officials from surrounding communities that use Toledo's water service said they would alert their residents about the call for water conservation.
Sylvania Mayor Craig Stough said his city will post Toledo's request on its Web site and Facebook page. He said residents will be asked to cooperate with the request to conserve. Perrysburg officials said they'll alert their residents as well.
The algae bloom will likely intensify over the summer, meaning Toledo's water plant will continuously battle its effects.
"I don't want to go through this again," Mr. Collins said. "So I have to take a step of prevention in order to get a pound of cure."
Crews are repairing one of the plant's six floculators, which mix raw water from Lake Erie with treatment chemicals that remove sediment and algae. The mayor's statement said the repairs will take four days to complete.
Mr. Moore said city workers noticed the damage on Monday. It was not broken during the weekend and had no impact on treating water during or in the run-up to the water crisis.
Tests on Tuesday did not detect the toxin microcystin, a product of algae blooms that prompted the city to issue its advisory.
"We have it under control," Mr. Moore said. "We just have to be conservative about how we approach our consumption."
Though the water is safe to drink now, city officials said that algae is still a threat.
Previously, the city tested for microcystin weekly. It is now testing for the toxin every day, and will continue to do so while algae is considered a problem.
During Tuesday's news conference the mayor appeared weary and sometimes testily answered questions about the details of the weekend's crisis management and plans for addressing the water issue in the long term.
City officials explained the crisis began with elevated microcystin test readings between 5:30 p.m. and 6 p.m. Friday, Mr. Moore said, though the toxic levels weren't high enough to make the water unsafe to drink.
The city contacted the Ohio Environmental Protection Agency, which advised the city to conduct a different test.
That test took between four and five hours, and the results came around midnight, when the city decided to issue the do-not-drink advisory.
When asked if that meant that residents were drinking water laced with toxins for several hours late Friday, Dr. David Grossman, Toledo-Lucas County health commissioner, said people would have gotten sick if the water had been contaminated.
"Thankfully, there was no ... increase in people getting sick during this potential time where there was some [microcystin] in the water," he said. "That is no reason to say we keep on giving them sick water."
Mayor Collins said that among the many lessons from the weekend crisis was that communication can be improved.
After authorities decided to issue the do-not-drink alert at about 1 a.m. Saturday, the news was first communicated by a posting on Toledo's Facebook page.
The mayor's assistant Lisa Ward notified the media about 1:45 a.m. in an email, which she followed up with calls to the television stations. Shortly after that, she contacted the sheriff to notify the Lucas County Emergency Management Agency.
The agency then sent text alerts to residents who had signed up for such emergency notices.
Mr. Collins said he had not contacted mayors or public officials from other suburban communities that use Toledo water. "We didn't call the mayors at three o'clock in the morning and tell them," Mr. Collins said.
Officials at the two largest health systems in Toledo, ProMedica and Mercy, also did not receive a call from the city. Mercy's media relations coordinator, Sarah Velliquette, said the hospital was alerted at 1:52 a.m. when the security department received a text alert.
ProMedica spokesman Serena Smith said the hospital system learned of the do-not-drink order from an Internet posting at about 2 a.m.
"That's something that we learned. We should have had better communications and that's something that we are going to fix," Mr. Collins said.
The mayor dismissed the idea that the emergency siren system could have been used to notify residents because he said Lucas County owns the sirens and decides how they are used.
About 50 safety, health, and emergency management officials from the Toledo area met at the Emergency Command Center in what is called a "hotwash" session to review how the emergency was managed.
"We agreed that there are always areas of improvement but we feel we did a lot right," Ms. Ward said.
Patricia Moomey, director of the Lucas County Emergency Management Agency, said that much of what was discussed concerned the system to distribute clean water over the weekend.
She said when the all-clear was given Monday, authorities decided to store water that was not distributed. About 140 pallets with around 80 cases each are now in storage for future emergencies.
"If it would happen again, we would set the same system in place that we had to distribute water," she said.
Dr. Grossman, who also attended the session, said officials praised the overall short-term response, but agreed it is necessary to turn attention to a long-term fix to make the water safe.
"More needs to done to make sure the plant is right. More needs to be done to fix the source of the problem. We have to find the funding and we need proper regulations," he said.
Staff writer Tom Henry contributed to this report.
Contact Nolan Rosenkrans at: nrosenkrans@theblade.com or 419-724-6086, or on Twitter @NolanRosenkrans.
Guidelines: Please keep your comments smart and civil. Don't attack other readers personally, and keep your language decent. Comments that violate these standards, or our privacy statement or visitor's agreement, are subject to being removed and commenters are subject to being banned. To post comments, you must be a registered user on toledoblade.com. To find out more, please visit the FAQ.