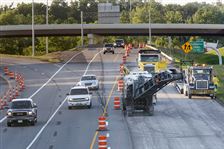 Kokosing Construction Co. crews remove pavement on southbound I-75 at the I-475 split in Toledo.
THE BLADE/KATIE RAUSCH
Enlarge | Buy This Image
Drivers who enter northbound I-75 from the Anthony Wayne Trail or 14th Street ramps today likely will see something they're not used to: yield signs.
That's because overnight, construction crews are to have set up the work zone for rebuilding the northbound lanes between Dorr Street and I-475, which will narrow the freeway from its normal four lanes to two.
I-75's two northbound lanes after Exit 201B/​Downtown will enter the work zone with no lane drops, but traffic coming in from the Trail or 14th that normally has an add-on lane will have to merge instead, and that's likely to cause substantial backups.
A similar traffic pattern was established last weekend on the southbound side, where the normal four lanes also have been reduced to two.
Except for the southbound I-75 entrance from Detroit Avenue, all ramps remain open through the work area. But eastbound I-475's normal two-lane ramp onto southbound I-75 is narrowed to one lane, and that lane's traffic must either merge into the other two lanes or exit at Detroit.
On the northbound side, the Trail entrance is likely to be especially dangerous, because it enters from the left. ODOT rearranged the northbound lanes in the Trail-14th area some years ago to give the Trail ramp its own add-on lane because of crashes involving vehicles merging into the left lane.
Yield signs will be even more unfamiliar to motorists who enter northbound I-75 at 14th, which before that lane rearrangement had not just one, but two add-on lanes.
Based on the consequences when ODOT last had lanes closed in the area — for emergency pavement repairs near Delaware Avenue last winter — motorists should expect sluggish traffic to stretch back at least to the DiSalle Bridge during peak hours.
It's going to be like this for about two years while Kokosing Construction Co. does its work.
During the second phase, when the right lanes in each direction are rebuilt starting about a year from now, there also will be long-term ramp closings.
Contact David Patch at: dpatch@theblade.com or 419-724-6094.
Guidelines: Please keep your comments smart and civil. Don't attack other readers personally, and keep your language decent. Comments that violate these standards, or our privacy statement or visitor's agreement, are subject to being removed and commenters are subject to being banned. To post comments, you must be a registered user on toledoblade.com. To find out more, please visit the FAQ.