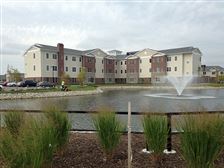 A 94-year-old man's body was found in the pond at St. Clare Commons in Perrysburg on Thursday morning.
THE BLADE/MATT THOMPSON
Enlarge | Buy This Image
At a new senior living center in Perrysburg on Thursday, a 94-year-old resident's body was removed from an on-site pond as was his motorized wheelchair.
Police are still investigating the incident at St. Clare Commons off Dixie Highway, and the facility said it is reviewing its safety procedures.
John Voland was pronounced dead at 7:25 a.m. after his body was found in the pond that is next to the main entrance of the facility.
Police received a call at 7:04 a.m. that a person was in the water at 12469 Five Point Rd. When they arrived at St. Clare Commons, its staff was trying to get Mr. Voland out of the water. His body and chair were removed by emergency personnel.
Perrysburg Deputy Chief Jim Rose said the police are investigating whether the incident was an accident, what Mr. Voland's state of mind was, and how residents are monitored by St. Clare Commons. He declined to comment further.
St. Clare Commons issued a statement Thursday, which reads in part: "We at St. Clare Commons extend our deepest sympathies and condolences to the family of the resident who passed away. St. Clare Commons is committed to making sure our residents are safe and secure. We are continuously evaluating our residents and care plans to make sure every person is taken care of according to their individual needs."
Late Thursday, the Wood County Coroner's Office had not determined a cause of death but said the case is still under investigation.
A spokesman for the senior retirement community, which opened in December, said it would not comment on the building's policy for checking on residents out of respect for the family involved.
Contact Matt Thompson at: mthompson@theblade.com, 419-356-8786, or on Twitter at @mthompson25.
Guidelines: Please keep your comments smart and civil. Don't attack other readers personally, and keep your language decent. Comments that violate these standards, or our privacy statement or visitor's agreement, are subject to being removed and commenters are subject to being banned. To post comments, you must be a registered user on toledoblade.com. To find out more, please visit the FAQ.