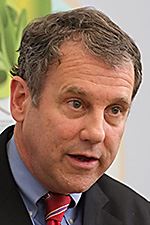 Brown
THE BLADE
Enlarge | Buy This Image
The federal government has come up with an additional $1 million to help reduce agricultural runoff in the western Lake Erie watershed, a primary source of the lake's toxic algae.
The emergency funding was announced by U.S. Sen. Sherrod Brown (D., Ohio), who said the additional money for incentive-laden programs "will help speed efforts to prevent additional pollution in Lake Erie and ensure our drinking water is safe."
The new money is in addition to $2 million the Natural Resources Conservation Service dedicated earlier to help farmers enroll in a program that encourages food producers to use more conservation practices aimed at reducing phosphorus runoff in area ditches, rivers, and streams.
"But this is only one prong of a comprehensive strategy to protect our water supply. We must leverage all of our resources and work together on a local, state, and federal level to eliminate this risk," Mr. Brown said.
The conservation service has received more than 450 applications to plant cover crops on 86,000 acres since April.
Also on the algae front, the University of Toledo on Friday announced the formation of a large task force to help local, state, and federal officials on policy issues affecting water quality, especially that of western Lake Erie.
The University of Toledo Water Task Force was formed in response to this summer's toxic algae bloom that made tap water unsafe for 500,000 customers of the city's water-distribution system, but its scope apparently will not be limited to that.
The task force will draw on the expertise of the university's colleges, the UT Medical Center, the former Medical College of Ohio, and the UT Lake Erie Center
Frank Calzonetti, a geography professor who is UT vice president for government relations and chief of staff to UT's president, has been named the task force chairman.
The group includes professors from the fields of environmental science, economics, engineering, geography, microbiology, and other specialties.
One task force member, William Messer, UT vice president for research, said the university's research spans anything from "water treatment, testing and filtration to public health issues, to effects on wildlife to the laws and policies of the Great Lakes."
Interim UT President Nagi Naganathan said the task force falls in line with the university's mission to make "strategic investments in our environmental sciences, environmental engineering, and medicine."
Contact Tom Henry at: thenry@theblade.com, 419-724-6079, or via Twitter @ecowriterohio.
Guidelines: Please keep your comments smart and civil. Don't attack other readers personally, and keep your language decent. Comments that violate these standards, or our privacy statement or visitor's agreement, are subject to being removed and commenters are subject to being banned. To post comments, you must be a registered user on toledoblade.com. To find out more, please visit the FAQ.