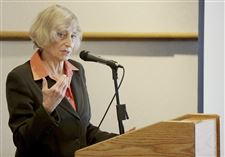 Lana Pollack of the International Joint Commission addresses the second Lake Erie algae forum at Maumee Bay State Park on Thursday.
THE BLADE/JEREMY WADSWORTH
Enlarge | Buy This Image
The war against western Lake Erie algae may come down to how much longer Ohio's powerful agricultural industry can fend off efforts to impose stricter regulations on it, speakers at a special binational algae forum said Thursday.
"I know some people don't want to hear this, but as I've gotten deeper and deeper into this issue I've come to realize agriculture needs to be [more] regulated in Ohio," said Dave Spangler, a Carroll Township resident and the 2014 Lake Erie Charter Boat Association's Captain of the Year.
"My problem is the rest of the world operates under regulations. I face seven state and national regulations just backing my boat out of its dock," he said. "If you're going to be in business, you need to do it right and stop hiding behind this 'no regulation' thing."
Mr. Spangler's comments were part of a second Lake Erie algae forum hosted this week by the International Joint Commission, a six-person panel appointed by the Canadian and U.S. governments that has advised both countries on Great Lakes and other boundary water issues since 1909.
The first was in Leamington, Ont., on Wednesday, where Canadians discussed the massive algal bloom that occurred at Pelee Island, fouling private water wells and making the water unsafe for swimmers in late August and early September.
The second was Thursday at Maumee Bay State Park, attended by people with fresh memories of the Aug. 2-4 algae-induced Toledo water crisis that made tap water unsafe for 500,000 metro residents. It was the Great Lakes region's biggest water crisis in years.
"We understand these are complicated issues. But we also know that what we're doing now isn't working," said Lana Pollack, chairman of the commission's U.S. delegation.
Doug Busdeker, area general manager for the Maumee-based Andersons Inc., agreed agriculture didn't take Lake Erie algae seriously enough before. But he said all that changed three years ago after the lake's record bloom of 2011.
"The farmers want to be good stewards. They don't want to be labeled as polluters. It's as simple as that," Mr. Busdeker said.
He and a woman in the audience, Laura Campbell, Michigan Farm Bureau agricultural ecology specialist, said farmers don't need to be more regulated because they are working aggressively at curbing runoff from fields and spills from large livestock facilities classified as concentrated animal feeding operations, or CAFOs.
Nature underscored the runoff issue in 2012, when it followed up a record bloom with the region's worst drought in decades.
The result: virtually no algae in 2012, a marked contrast to the year before, Mr. Spangler said.
"All of this [algae] has affected my bottom line [as a charter boat fish captain]. It has affected my property value, and now it has affected my health [with temporarily unsafe drinking water]. I'm tired of it. I want it to stop now before it gets worse," he said.
Contact Tom Henry at: thenry@theblade.com, 419-724-6079, or via Twitter @ecowriterohio.
Guidelines: Please keep your comments smart and civil. Don't attack other readers personally, and keep your language decent. Comments that violate these standards, or our privacy statement or visitor's agreement, are subject to being removed and commenters are subject to being banned. To post comments, you must be a registered user on toledoblade.com. To find out more, please visit the FAQ.