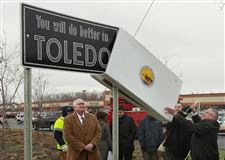 City officials unveil the first 'You will do better in TOLEDO' road sign on Reynolds Road and Heatherdowns Boulevard.
THE BLADE/LORI KING
Enlarge | Buy This Image
A crowd of thousands gathered 101 years ago to watch a new city slogan blink to life.
"You will do better in Toledo" promised the message, illuminated by 7,000 light bulbs on a sign that once topped the Valentine Theatre.
It was Dec. 17, 1913, and the words clearly resonated. The slogan was chosen from thousands of entries to a Toledo Commerce Club contest.
The optimistic catchphrase has had a resurgence in recent years. It's appeared on T-shirts and baby onesies, tank tops and pint glasses.
On Wednesday, the anniversary of the original sign's first flicker, the city installed the first of 55 roadside signs with the same You Will Do Better slogan.
The black-and-white signs have a vintage vibe. Dots around the border echo the old sign's light bulbs, and the typeface is replicated down to the "T" in Toledo.
"The identity of a city is important," said Mayor D. Michael Collins, just before city officials pulled a cord to reveal the first sign, near the Ohio Turnpike on South Reynolds Road. "It matters where you make it."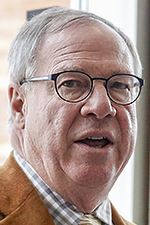 Collins
BLADE PHOTO Enlarge
Mayor Collins paused to contemplate the current meaning.
"This sign demonstrated the viability and vitality of a great city a hundred years ago, a city with a downtown that was booming, where entrepreneurialism flourished," he said. "And as you come off the turnpike, and you are coming into Toledo, perhaps this is something which will capture the attention of those that are not familiar with Toledo: You will do better in Toledo, and it was proven a hundred years ago, and we are going to prove it in 2015 and every year there forward."
Among his priorities in the new year will be to make sure that message is heard by Fiat Chrysler Automobiles, that it matters that they make the Jeep Wrangler here.
The city's transportation division sign shop made the signs at a cost of about $65 each, including labor and installation. The city fabricated about 85 signs for a total cost of about $5,530. About 50 signs will be installed in the coming weeks along roads marking the city limits, and the remainder will be available if any are damaged.
The signs will replace ones that read "Welcome to Tole-do" and feature a University of Toledo rocket logo. The city hasn't determined what it will do with the old blue-and-yellow signs, but there's been a high demand to buy them, spokesman Stacy Weber said.
The university is an important part of the city, Mayor Collins said, but the new signs reflect Toledo "as a whole."
"A lot of the positive and innovative activity in Toledo is coming from younger citizens. They have that maker-mentality, and I think we need to honor their efforts, their willingness to stay in Toledo," said Councilman Sandy Spang, who attended the sign's big reveal. "Everyone knows that there are exciting things happening in other cities, but I think a lot of young people in Toledo know they can make exciting things happen here."
The old sign was taken down from its prominent perch in 1926. Its final resting place has been lost to history.
Jupmode, a Perrysburg screen-printing and T-shirt company, had a big role in revitalizing the old slogan. About four or five years ago the company began reprinting the phrase, now its flagship design, on apparel, and local businesses have begun to use spin-offs in marketing campaigns.
Jupmode owner John Amato has found the old words still resonate.
"I think what's neat about it is that it goes back to our past. It's something that's nostalgic, and it plays into the history of Toledo," he said. "It shows us our history to remind us of what we can be today."
Contact Vanessa McCray at: vmccray@theblade.com or 419-724-6065, or on Twitter @vanmccray.
Guidelines: Please keep your comments smart and civil. Don't attack other readers personally, and keep your language decent. Comments that violate these standards, or our privacy statement or visitor's agreement, are subject to being removed and commenters are subject to being banned. To post comments, you must be a registered user on toledoblade.com. To find out more, please visit the FAQ.