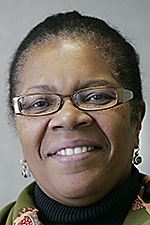 Hicks-Hudson
THE BLADE/LORI KING
Enlarge | Buy This Image
Acting Mayor Paula Hicks-Hudson, a Democrat, was appointed in 2011 to the District 4 council seat vacated by Michael Ashford after he was elected to the Ohio General Assembly.
She ran in a special election in May, 2011, and again in a primary election and the November, 2011, general election to retain the seat.
A native of Hamilton, in southwestern Ohio, Ms. Hicks-Hudson, 63, moved to Toledo in 1982 after graduating from law school at the University of Iowa. She is married to Freeman Hudson and has two daughters, Patricia and Leah Hudson.
Her first job locally was a two-year stint at the Toledo Legal Aid Society, where she was a staff attorney and director of a senior legal services program. After that, Ms. Hicks-Hudson spent five years as a Lucas County assistant prosecutor in the child support division.
Other career highlights include posts as legislative director for Toledo City Council from May, 1998, to June, 2002, and as director of the Lucas County Board of Elections, from March, 2004, to January, 2005.
She was chief legal counsel for the Ohio Office of Budget and Management from February, 2007, through the end of Gov. Ted Strickland's administration.
Guidelines: Please keep your comments smart and civil. Don't attack other readers personally, and keep your language decent. Comments that violate these standards, or our privacy statement or visitor's agreement, are subject to being removed and commenters are subject to being banned. To post comments, you must be a registered user on toledoblade.com. To find out more, please visit the FAQ.