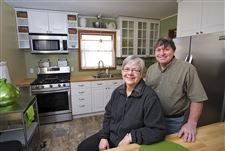 Leitha and Dick Sackmann show the kitchen they had renovated in the South Detroit Avenue house that they purchased from the Lucas County Land Bank.
THE BLADE/DAVE ZAPOTOSKY
Enlarge | Buy This Image
When Leitha Sackmann first walked into the abandoned white and green house on South Detroit Avenue, the walls in the bathroom had gaping holes from vandals who had stripped the copper plumbing.
The 60-year-old house is adjacent to the home that Mrs. Sackmann and her husband, Richard, have lived in for more than 30 years.
With its moldy walls and ceilings, the three-bedroom house was clearly a fixer-upper, but sat among homes valued at more than $40,000.
The structure was among tax-foreclosed properties acquired last year by the Lucas County Land Bank, which in turn sold it for $5,000 to the Sackmanns after they offered a detailed proposal to renovate it.
Today, the couple are nearing the end of a $25,000 renovation that includes a new furnace and plumbing, mold removal, kitchen cabinets, and appliances.
Launched four years ago and formally known as the Lucas County Land Reutilization Corp., the land bank has gained the reputation as the agency that demolishes vacant and abandoned homes and buildings, and which sells the plots where the structures stood to neighbors and community groups.
However, the land bank also shores up vacant and abandoned houses to offer for sale so private money can be invested to fix up the property and return it to the tax rolls.
So far, 178 fixer-uppers acquired by the land bank have been sold and renovated by new owners.
"These were vacant and abandoned properties that we sold to neighbors, landlords, or community groups, who have in turn fixed up those properties, renovated them, and put them back into productive use," said Wade Kapszukiewicz, county treasurer and chairman of the land bank's board of directors.
"The core mission of the land bank is strengthening neighborhoods and increasing the values of those neighborhoods, addressing the problems of home vacancy and blight in Lucas County," the treasurer said. "But a big part on how we do that is through renovation."
Reducing blight
Putting abandoned and vacant houses and commercial buildings up for sale, Mr. Kapszukiewicz said, fits into the land bank's goals of reducing blight, increasing property values, strengthening neighborhoods, and improving the quality of life for all county residents.
"Without the intervention of the land bank, these houses certainly would have been on track to be demolished and probably would have been demolished within two to three years," he said. "I don't think it is an exaggeration to say the land bank prevented 178 structures in our community from being demolished."
The Sackmanns, who are retired, raised their four children in their South Toledo neighborhood. Mrs. Sackmann grew up a few houses down the street. The couple was looking to move into a smaller home when the house next door came on the market.
"The idea of fixing up the house and owning it sounded like a good idea," Mrs. Sackmann said. "The neighborhood has changed through the years, but it is still a good neighborhood. It feels like home and I want it to continue to be like that."
The land bank requires that purchasers must demonstrate the financial ability to bring the properties up to code.
Often the homes have been vandalized and stripped of pipes and metals, and many require new electrical, plumbing, heating/​cooling systems, roofs, and more, sharpening the challenge of the land bank to market the property.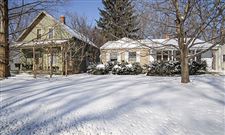 Dick and Leitha Sackmann have lived in the home on the left for 30 years. Last year, they purchased the home on the right from the Lucas County Land Bank.
THE BLADE/DAVE ZAPOTOSKY
Enlarge | Buy This Image
Great opportunity
David Mann, land bank president, said rehabbing can be daunting for some people, but buying a fixer-upper can be a great opportunity for buyers to get a house for a great price.
"The incentive to the buyers is we offer the houses for a fair and equitable price. The trade-off is that you have to give us a plan on how you are going to renovate the property and make it safe again. But you have to actually accomplish that plan," Mr. Mann said.
Buyers cannot have delinquent property taxes or a history of property violations.
Renovation plans of purchasers are analyzed and their cost estimates are compared to the projections of the land bank inspector who has professional construction experience.
After work is completed, the land bank assesses the new owner's renovations to make sure work has been completed to bring the house up to code and comply with plans submitted to the land bank.
So far, fewer than 2 percent of the purchasers have failed to meet their commitments for renovations.
"We always have the possibility of taking back the property if the renovations are not being made. But I think it is an indication of how successful the public-private partnership has been in that there have been only three cases that owners did not complete improvements," Mr. Kapszukiewicz said.
In addition to the 178 houses that have been taken on by rehabbers, the land bank has transferred about 12 vacant commercial properties to businesses and developers that have been renovated.
Mr. Kapszukiewicz said land bank records show that the average investment by new owners has been $25,000, which equates to about $4.5 million in improvements to properties for the county tax rolls.
With the average demolition cost per property running $10,000, he figures more than $1.8 million would have been spent to tear down the houses.
"The land bank is not about the vacant, abandoned house. It is about the well-maintained and well-cared house or home on either side of the vacant, abandoned house whose owners, because of no fault of their own, see the values of their properties decline as these vacant homes pop up in their neighborhood," Mr. Kapszukiewicz said.
Bulldozed houses
The houses sold to investors pale in comparison to the number of structures that have been acquired by the land bank and demolished.
Nearly 1,900 tax-delinquent houses and buildings have been taken by the land bank and bulldozed since 2011. The lots where the structures stood are used as yards or community gardens, or provide green space.
"Unfortunately we acquire homes that are so far gone they cannot be salvaged. Sometimes the best thing that can be done for a neighborhood is to demolish," Mr. Kapszukiewicz said.
Demolitions have been funded through a combination of tax delinquency fees, local funds, and state and federal grants. Since 2011, the agency has secured more than $14 million in funds, including $7.2 million from the Ohio Housing Finance Agency's Neighborhood Initiative Program and $3.5 million from an Ohio Attorney General's Moving Ohio Forward program.
Judy Stone, a real estate agent with Danberry Co., who regularly shows land bank homes in Toledo, said the properties can be a good opportunity for someone who wants to make a modest investment.
"The beauty of it is to meet with buyers and listen to them talk about their plans; what they think they can do by themselves and what they will have to hire a contractor to have done," she said.
She said the houses are vacant because somebody had failed to make it work for reasons ranging from tax foreclosures to financial problems, and the land bank's program can make the next person who gets the house succeed and make it his or her own.
"The land bank is one of the best things that has happened to this area," Ms. Stone said. "Even if I was not a real estate agent and have sold houses for them, I would still be one of their biggest cheerleaders."
Helping North Toledo
Terry Glazer, executive officer of United North community development corporation, said land bank intervention is playing a role in ridding North Toledo neighborhoods of blight.
The land bank has partnered with Mr. Glazer's group to save several dilapidated properties in the Vistula Neighborhood from the wrecking ball and to stabilize the properties for development.
"Some of these houses are very difficult projects," he said. "The nice thing about the land bank is that they think creatively and tend to be flexible. That is what some of these houses require."
Contact Mark Reiter at: markreiter@theblade.com or 419-724-6199.
Guidelines: Please keep your comments smart and civil. Don't attack other readers personally, and keep your language decent. Comments that violate these standards, or our privacy statement or visitor's agreement, are subject to being removed and commenters are subject to being banned. To post comments, you must be a registered user on toledoblade.com. To find out more, please visit the FAQ.