Joyce Extine, 12, of Tralger Drive finds a Beatles album as she and her parents search the debris in the living room after the Palm Sunday tornado hit their home. The family was in this room when the tornado hit.
THE BLADE
Enlarge | Buy This Image
Everyone remembers something different from the same storm.
Gary Poole, who was 6 when the tornado struck, remembers the incredible hail storm. Timothy Zale, then 10, remembers the peculiar color of the sky when lightning struck. For Casimir Koralewski, who in 1965 was 14, it was the horrible sound the tornado made as it whirled overhead and nearby.
"When death is a real possibility, you never forget," said Mr. Poole, now 56 and living in Thomaston, Ga.
The Palm Sunday tornado, 50 years ago this Saturday, is implanted into the minds of hundreds of Toledoans impacted by the storm's tremendous power. The tornado is regularly described as the worst natural disaster in the city's history.
A string of tornadoes ripped through the Midwest on April 11, 1965, killing 271 people; 54 deaths were reported in Ohio, 15 of them in Toledo. There were so many bodies that Toledo Fire Station 24, which was then at Summit and 114th streets in Point Place, was turned into a makeshift morgue where families could identify their loved ones. Another 208 people were injured.
PHOTO GALLERY: Click here for photos from the aftermath of the storm
"It was a horrible experience for those who lived through that night," Mr. Poole said. "It's something you never forget."
Casimir Koralewski of Perrysburg was 14 years old when the tornado ripped through his West Toledo neighborhood in 1965. 'I'll never forget that sound.'
THE BLADE/JETTA FRASER
Enlarge | Buy This Image
Damage from the storm was estimated at $12 million, which now would equate to about $90 million when adjusted for inflation. The tornado cut a 10-mile-long path of destruction from West Toledo to the northern point of the city.
One development, Fuller's Creekside Addition in Point Place, was entirely leveled. In all, 310 families were left homeless, 117 homes were destroyed, 145 were badly damaged, and 45 farm, commercial, and industrial structures were damaged.
The tornado touched down in Toledo at about 9:30 p.m., moving northeast from Monroe Street and Secor Road, along Sylvania Avenue, across Tremainsville Road, down Eleanor Avenue, and across Laskey Road, Telegraph Road, and Stickney Avenue. After smashing Fuller's, the tornado continued into the Lost Peninsula just across the Michigan line before it dissipated over Maumee Bay.
President Lyndon Johnson toured the city and declared Toledo a disaster area.
Residents search for personal items on Vistamar Road after the deadly tornado on Palm Sunday, April 11, 1965.
THE BLADE
Enlarge | Buy This Image
Fortunate route
Mr. Poole, who lived in Michigan, was in the Toledo area on Palm Sunday visiting his aunt in Sylvania. About 9:15 p.m., his family decided it was time to head home and figured the worst of the weather was behind them. Mr. Poole's father decided, for reasons unknown, to forgo the usual route home along northbound I-75 and instead took off for Telegraph Road. Had they taken the interstate, the family would have driven into the heart of the storm.
On I-75, then commonly referred to as the Toledo-Detroit Expressway, a commercial bus was blown off the highway, killing and injuring passengers.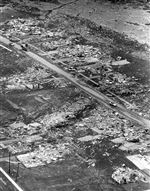 The tornado touched down in Toledo at about 9:30 p.m., leveling buildings in its path.
THE BLADE
Enlarge | Buy This Image
Mr. Poole, his father, pregnant mother, brother, and sister were all headed for home in the family's 1964 Ford Galaxy when the hail storm hit. Mr. Poole estimates the hail was 2½ inches in diameter.
"It was so bad," he said. "I remember my dad telling me when hail was hitting the car, kids were throwing rocks at the car."
That was his father's attempt at calming the children.
Amazing sight
Tim Zale, now an Oregon councilman and retired Oregon police sergeant, grew up on Gracewood Road in West Toledo. Before the storm, the air was warm despite the wind that whipped through.
That night, Mr. Zale and his father were outside looking south — toward Sylvania Avenue — watching. There were no sirens or warnings that signaled they should be inside seeking cover.
President Lyndon Johnson toured the city and declared Toledo a disaster area.
THE BLADE
Enlarge | Buy This Image
"Nobody knew anything was going on. We just knew it was a bad storm," Mr. Zale said.
He said his family, and the rest of his immediate neighborhood, was lucky and was left relatively unscathed by the storm. A shopping center at Sylvania and Douglas Road — less than three-quarters of a mile away — was demolished.
The storm "hopped and skipped" through West Toledo, causing damage at Blessed Sacrament Parish and uprooting huge trees at Close Park, Mr. Zale said.
The next day, Mr. Zale said he and his friends went around to survey the damage.
"I remember being amazed," he said.
Donnie Kirchoff finds his scrapbook in the ruins of his family home in Toledo. He had pasted presidential portraits that appeared in The Blade in the scrapbook.
THE BLADE
Enlarge | Buy This Image
'That sound'
Casimir Koralewski, in the wake of the storm, said he felt a similar sense of wonderment when he and his father looked at the property damage in their West Toledo neighborhood.
The Koralewski family lived on Hawk Street, near Lewis Avenue. From inside, Mr. Koralewski recalled that he and his father stood at the door and watched the storm unfold. A transformer outside the house "literally just blew up," and the sound of intense winds followed.
"People say it sounds like a freight train," Mr. Koralewski said. "It's like it's running over you. It's horrendous. I'll never forget that sound."
The Koralewski family lost the garage and shingles from the roof, but made it through without other significant damage. His father's cousin, however, who owned a brick house on Eleanor Avenue, lost part of the home.
"It was like someone took a knife and cut part of the house out," Mr. Koralewski said. "The whole side of the house was gone."
After the storm, Mr. Koralewski and his father went outside to look around the neighborhood. It wasn't until then that the family realized they'd just witnessed a tornado rip through town. In the following days, the family helped neighbors who suffered greater losses clean up their yards.
"That's when a neighborhood was a neighborhood," he said.
Contact Taylor Dungjen at tdungjen@theblade.com, or 419-724-6054, or on Twitter @taylordungjen.
Guidelines: Please keep your comments smart and civil. Don't attack other readers personally, and keep your language decent. Comments that violate these standards, or our privacy statement or visitor's agreement, are subject to being removed and commenters are subject to being banned. To post comments, you must be a registered user on toledoblade.com. To find out more, please visit the FAQ.