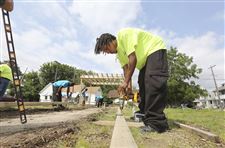 Chuck Phoenix, 22, assembles a form as he and other young men in job training programs help build a walkway.
THE BLADE/DAVE ZAPOTOSKY
Enlarge | Buy This Image
On the same corner lot where she worked with community youth to clear stones about a year ago, a park is being built to honor the life and community service of Beth Lewandowski.
Before she died in November at age 66, Mrs. Lewandowski had served as president of United North, a nonprofit that works to help the Olde North End Village neighborhoods grow and organize, had led the ONE Village council, and spent many hours working with a group of youth called The Force Within on community projects such as murals and gardens.
She also had helped for years with the Lagrange Street Polish Festival and contributed to many fund-raisers and city council meetings.
"Anything that had to do with making the neighborhood a better place, she was involved in it," said Terry Glazer, CEO of United North. "But her real love was working with youth," he said.
Because of Mrs. Lewandowski's dedication to North Toledo's young people, United North has partnered with two federally funded youth programs, Face Forward and YouthBuild, to create the park at Lagrange and Everett streets.
"Grab your shovels guys, let's dig it up," said John Page, a YouthBuild Specialist, directing a few young men Wednesday to relocate a stake marking the edge of a planned brick walkway.
Wiping his brow, one young man jumped on his shovel to break ground while another hauled wooden planks across the property.
"If you want Toledo to be better, be a part of Toledo. If people can see that you care they care for you," said Chuck Phoenix, who was working on the property as a part of Face Forward. In the program since January, Mr. Phoenix recently received his GED and is a FedEx package handler.
The location of the park has a troubled past.
Once the site of a bar with a reputation for violence, United North acquired the property after it was abandoned and tried to renovate it into a rent-worthy retail and apartment space, Mr. Glazer explained. When costs ran high and funding fell through, however, plans changed. Last year, with the help of the Lucas County Land Reutilization Corp., United North demolished the building and started to beautify the space.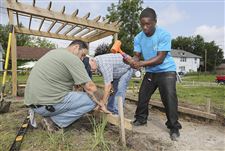 Nathan Sanders, a job coach for Toledo Grows, left, and Charlie Johnson, program manager of the Lucas County Juvenile Court CITE program, steady a form as Dachante Snipes, 18, hammers a stake.
THE BLADE/DAVE ZAPOTOSKY
Enlarge | Buy This Image
With some preliminary grass and fencing, a wooden pergola, and the permanent installment of two local murals, the land was starting to look better. The park will have new trees and other landscaping, a patio under the pergola and places to sit.
After Mrs. Lewandowski died, however, the community wanted to do something to honor and celebrate her life. United North then decided to turn the lot at Lagrange and Everett into a park, Mr. Glazer said, "It's going to be a place where people can sit, reflect, and relax," he added.
Some proceeds from the annual Lagrange Street Polish Festival were used to start beautifying the area, but most money for the creation of the park has come from donations. Local costs — not counting the federal youth program labor — are expected to be under $10,000.
The park's creation celebrates Mrs. Lewandowski and gives experience to the young men building it, but it will also serve to keep the kids of the neighborhood safe.
"It is nice to have a park on this side of the street," said Bobbie Osley, a resident of Everett Street. Her neighbor Sonja Cruse added that with so many children in the neighborhood, the area is in need of a place where the kids can play without having to cross the street.
The park dedication is set for 11 a.m. July 9. Community members are invited to witness the unveiling of the sign, hear some of the young men who worked on the park speak, and enjoy the space.
Contact Jillian Kravatz at: jkravatz@theblade.com or 419-724-6050.
Guidelines: Please keep your comments smart and civil. Don't attack other readers personally, and keep your language decent. Comments that violate these standards, or our privacy statement or visitor's agreement, are subject to being removed and commenters are subject to being banned. To post comments, you must be a registered user on toledoblade.com. To find out more, please visit the FAQ.