It won't start for at least several months, but a major construction project on the south side of Detroit is going to force Toledoans who drive there on I-75 to find different ways home.
The Michigan Department of Transportation plans to spend about $165 million on major repairs to I-75 between the Rouge River and Goddard Road in Brownstown Township.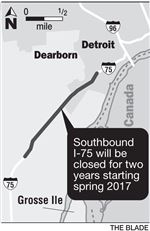 THE BLADE
Enlarge | Buy This Image
The two-year project, scheduled to start next spring, will include replacement of the concrete surface on the Rouge bridge, which has the largest concrete surface of any bridge in Michigan and which has been plagued by decay-related potholes in recent years.
State contractors also will replace the surface on a bridge just north of the Rouge that crosses Fort Street, while the bridges that carry I-75 over Goddard Road and a creek just north of Goddard will be completely replaced.
Thirteen other bridges in between will be overhauled, and pavement repairs will be made throughout the zone.
Rather than close lanes in both directions, potentially causing miles-long traffic jams for years, MDOT plans to shut down southbound I-75 traffic completely during construction while maintaining northbound traffic in the southbound lanes during the project's second year.
Southbound traffic will be forced off at Springwells Street, although state officials plan to detour commercial vehicles west on I-96, several miles north of Springwells. The posted detour will go west to I-275, then south back to I-75 north of Monroe.
Alternatives for cars and light trucks include I-94 to Telegraph Road; Fort Street (M-85) to I-75 north of Rockwood; Jefferson Avenue, which roughly parallels the Detroit River and Lake Erie shorelines to Monroe, or Dix Highway.
Jefferson was blocked for more than three years after a May, 2013 accident involving its drawbridge over the Rouge, but that bridge reopened in August following repairs.
Southbound I-75 will be closed between Springwells and the Northline Road interchange near Allen Park during construction, which is scheduled to end in late 2018.
Contact David Patch at: dpatch@theblade.com or 419-724-6094.
Guidelines: Please keep your comments smart and civil. Don't attack other readers personally, and keep your language decent. Comments that violate these standards, or our privacy statement or visitor's agreement, are subject to being removed and commenters are subject to being banned. To post comments, you must be a registered user on toledoblade.com. To find out more, please visit the FAQ.