North Toledo residents address violence
Event helps bring resources to area
4/4/2017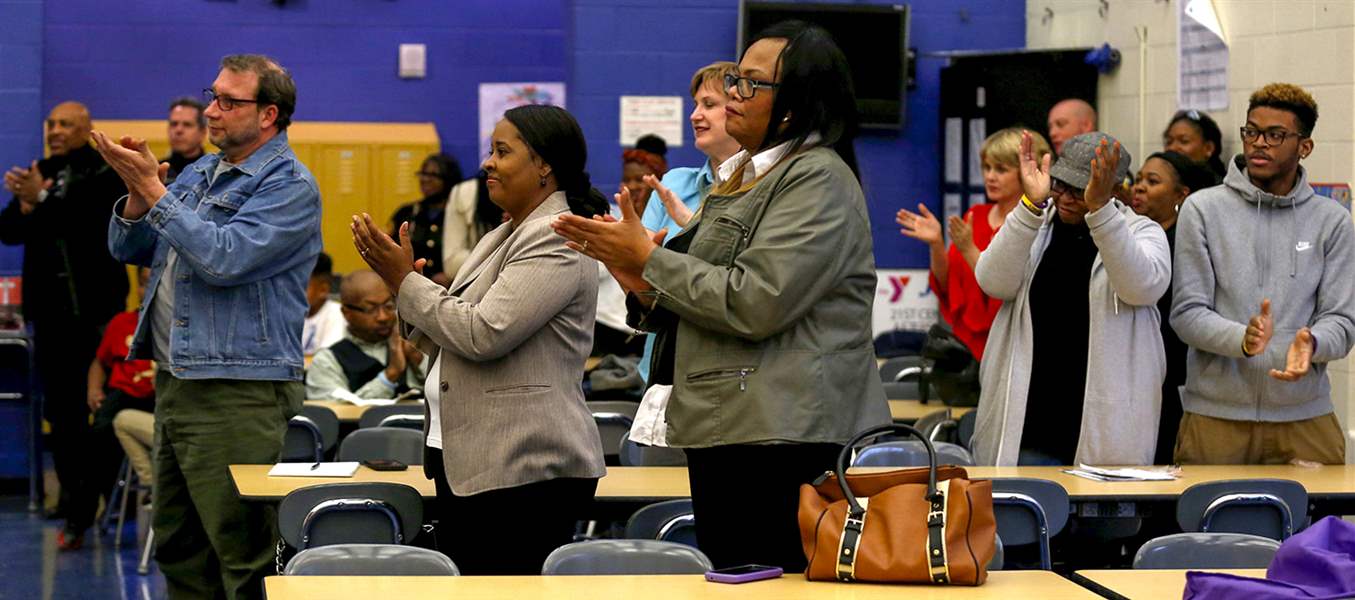 Attendees of the Partners Empowering Community Safety's Empowerment Zone event applaud during speaker LaShanna Townsend's talk at Leverette Elementary School.
THE BLADE/LORI KING
Buy This Image
About 50 people came to a North Toledo school Monday for the latest Empowerment Zone anti-violence event that connects residents and organizations to help make the neighborhood safer.
"Violence is pretty bad here. You hear gunshots. It's a pretty regular occurrence here — daytime and nighttime," said Mary Peavy, 46, of North Toledo. "I came here to learn about resources in the community, about what's available here in the North End to help fight violence in the community."
Hosted by Partners Empowering Community Safety, the two-hour event at Leverette Elementary School, 445 E. Manhattan Blvd., featured community discussions, speaker testimonials, agencies vendor tables, raffles, music, and free pizza. The attendance figure includes neighborhood residents and agencies' representatives.
IN PICTURES: Empowerment Zone anti-violence event
"You've got to understand that when one person gets gunned down, it doesn't have just an effect on the one person but the whole entire community is impacted by that ...," said LaShanna Townsend of Toledo, one of the speakers.
"Even when you are going to get just that one person, you don't understand that it has a ricochet effect. You don't get just that one person, you get the mother, the brothers, the sisters," she said.
Ms. Townsend's cousin, Eugene Blackman, 36, was shot and killed May 8, 2016, at Lyric's Lounge in the 700 block of West Sylvania Avenue. A Lucas County grand jury has indicted Telly Hopings, Jr., 22, on multiple charges in the death including aggravated murder.
"But change is possible, because [even though] some kids think they are stuck in a certain environment and that they've got to kind of blend in with the environment and they feel like they have to do certain things, they don't," she said.
Participants milled around about a dozen booths hosted by area organizations such as Toledo police and fire departments and community organizations that help fight substance abuse and human trafficking, provide job opportunities, and offer resources aimed at preventing domestic and gang violence.
Among those were United Way of Greater Toledo, Owens Community College, Toledo-Lucas County Public Library, Engage Toledo, Toledo Block Watch, American Assistance, and Toledo Community Initiative to Reduce Violence.
"Violence has no age restrictions, so we aim each E-Zone event at a specific neighborhood [as] a multi-generational event," said the Rev. Tim Clark, senior lead pastor of Harvest Christian Center, who is also the PECS community coordinator.
Mr. Clark said the idea came from a group of concerned citizens, police, community agencies, pastors, and Toledo neighborhoods who got together to address the problem of gang violence in the city. "Then we decided not to limit it to just gang violence," he said. "We began to form mobilization groups, economic development groups, and marketing groups to come up with a strategy to attack such things as drugs, human trafficking, domestic violence, and gang violence. ... As a result, we have the E-Zone."
It was seventh such event; the first was in December, 2014.
Contact Mike Sigov at: sigov@theblade.com, 419-724-6089, or on Twitter @mikesigovblade.