The operator of the downtown Toledo hotel under renovation says the upscale inn will open in mid-June but a Marriott reservations website says the new Renaissance Toledo will open in August.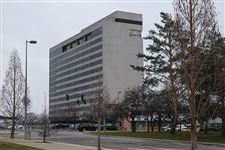 Although the reservation system says August opening, it is Marriott's way of giving the Renaissance Toledo's owner some wiggle room.
THE BLADE
Enlarge | Buy This Image
Renaissance hotel general manager Steve Groppe said Thursday that, although the reservation system is saying August, it is Marriott's way of giving hotel owner Chicago-based First Hospitality Group Inc. some wiggle room in case construction work hits a snag.
"They [Marriott officials] have a process we have to go through, and we're going through that," Mr. Groppe said.
But Mr. Groppe said he doesn't believe the extra time will be necessary. "We are still looking at mid-June. It won't go into August," he added.
The 13-story hotel at 444 N. Summit St. has been closed since December, 2015, and is undergoing $25 million in upgrades and renovations, including a new heating and air conditioning system, new room designs and furniture, and a new rooftop restaurant and bar.
Originally, the 241-room hotel was to open in December, 2016, but that was delayed to March 1 and more recently delayed again to mid-June to get all of the work completed. Renaissance is one of the upscale brands owned by Marriott Corp.
Mr. Groppe is reluctant to give a specific date for the opening, saying it could shift a little depending on how quickly work gets done. But the hotel is well into hiring a new staff and has been cleaning and readying many of the rooms for occupancy.
When completed, officials of Marriott will do an inspection to make sure the hotel meets their standards before allowing First Hospitality to use the brand name.
Even though it won't open for at least another four weeks, the Renaissance Toledo added a new customer Thursday.
The University of Toledo Rockets football team has chosen the inn as its official hotel, saying it will use the hotel for pregame preparation and strategy.
Andrew Terwilliger, director of UT football operations, said the hotel "is a huge asset for the development of downtown Toledo and the community as a whole, and we want to support them."
Contact Jon Chavez at: jchavez@theblade.com or 419-724-6128.
Guidelines: Please keep your comments smart and civil. Don't attack other readers personally, and keep your language decent. Comments that violate these standards, or our privacy statement or visitor's agreement, are subject to being removed and commenters are subject to being banned. To post comments, you must be a registered user on toledoblade.com. To find out more, please visit the FAQ.