Four men with swords came at Andy Lesniewicz, but he didn't seem concerned. Methodically, he neutralized their blows — deflecting one, blocking another, sometimes flipping his attackers over on the floor.
A bearded Jedi and a baby-faced Star Wars bounty hunter looked on. Someone dressed as Pokémon protagonist Ash Ketchum walked by, singing a few measures of the song "All-Star" by Smash Mouth.
It was a typical scene at the seventh annual Glass City Con, held on Saturday and Sunday at the SeaGate Centre. All around the center, people "cosplayed," or dressed as characters from comic books, video games, movies, and anime — a Japanese animation style.
PHOTO GALLERY: Glass City Con at SeaGate Centre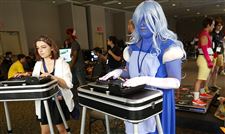 Kat Zielinski, 13, left, and Ashlyn Slaviero, 14, play DJ Hero2 during the Glass City Con 7 at the SeaGate Convention Centre downtown.
THE BLADE/LORI KING
Enlarge | Buy This Image
Mr. Lesniewicz demonstrated the Japanese martial art of Aikido for Shobu Aikido of Ohio. He said Aikido dealt with conflict peacefully — which is why his attackers were flying, landing unharmed, but punches were not. It was the group's first time at a convention.
"With the anime theme, they wanted a traditional Japanese art," Mr. Lesniewicz said. "And we said, 'sure, we'll do that.'"
Nearby, Abracadabra, an Anime, J-pop, and K-pop dance cover group from Cleveland, danced on stage to foreign-language hits as about 40 people cheered them on.
In the main hall, vendors plied wares from comic books and movies, to wigs, horns, and costume guns.
Michael Gruen of Napoleon was selling his "steampunk"-modified Nerf guns for the first time. Modifying these guns to fit the Victorian-industrial-inspired aesthetic has been a long-time hobby.
"It just started snowballing into more and more guns, and then I thought, 'I should sell some of these, my basement is full of guns,'" he said.
Mr. Gruen plans to take his guns on the road. He's still unsure whether this could be a viable business but said the early signs are good.
"People are responding really well," he said. "It's my personal artistic touch, so it's exciting that people like it."
Payton Kuznicki, 8, of Toledo, didn't need Mr. Gruen's guns. She had a knife.
The girl, dressed in a green smock with round, rouged red cheeks, said she was cosplaying as Chara, a character from the video game Undertale.
"There are two characters, Frisk and Chara," she said. "Chara is the evil one of Frisk, and Frisk is the nice one of Chara."
Her role as an evil character explained why she carried a knife.
"It's not real, but it is pretty sharp," she said, grinning.
Contact Victorio Cabrera at vcabrera@theblade.com, 419-724-6050 or on Twitter @vomcabrera.
Guidelines: Please keep your comments smart and civil. Don't attack other readers personally, and keep your language decent. Comments that violate these standards, or our privacy statement or visitor's agreement, are subject to being removed and commenters are subject to being banned. To post comments, you must be a registered user on toledoblade.com. To find out more, please visit the FAQ.