Toledo institution Inky's Italian Food celebrates 60th anniversary
8/7/2017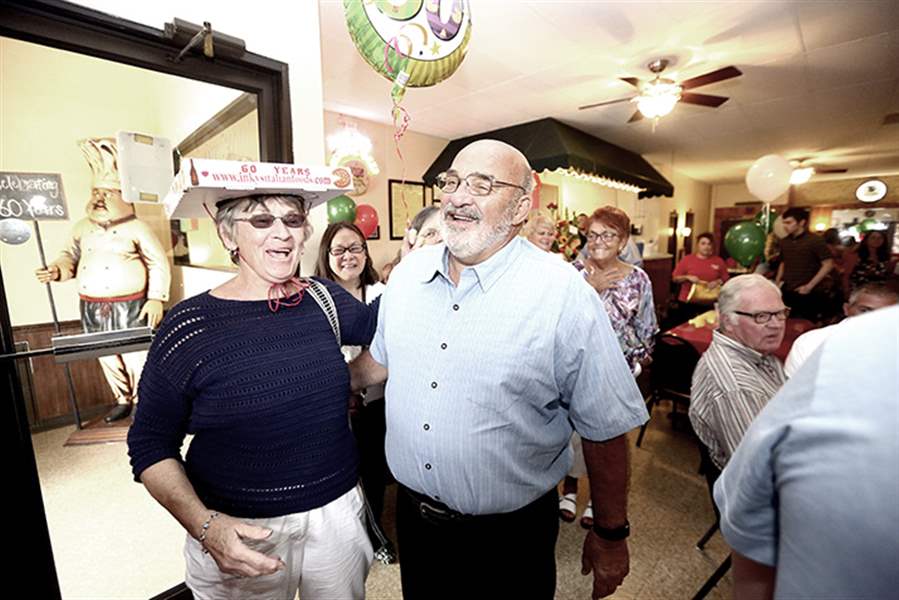 Frank Incorvaia, Jr., co-owner of Inky's Italian Foods, laughs at Nancy Cryderman, as the two have fun during a 60th anniversary pizza party attended by friends and family.
THE BLADE/AMY E. VOIGT
Buy This Image
More than a dozen Toledo mayors have come and gone since 1957, but not much has changed at Inky's Italian Food on North Detroit Avenue.
Inky's still gets all its ingredients from the same local providers that worked with the restaurant in the 1950s. The menu has not been updated in decades. Even the electric sign hanging from the roof dates back to Aug. 6, 1957, when the family-owned restaurant opened its doors for the first time.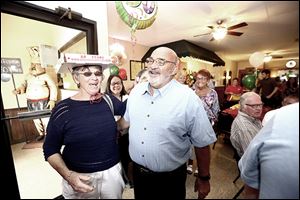 Frank Incorvaia, Jr., co-owner of Inky's Italian Foods, laughs at Nancy Cryderman, as the two have fun during a 60th anniversary pizza party attended by friends and family.
On Sunday, Inky's celebrated its 60th anniversary with a private pizza party attended by dozens of friends and family members. As he waded through a crowd of well-wishers, Inky's owner Frank Incorvaia, Jr. said he could vividly recall the early days of the restaurant, which has become a local institution.
"I remember sitting in the back and opening pizza boxes with my sister when I was 10," said Mr. Incorvaia, 70.
Inky's was founded by Mr. Incorvaia's father, Frank Incorvaia, Sr., and his uncle, John Incorvaia, Sr. Born in New Jersey, the elder Frank Incorvaia worked as a chef during World War II, serving soldiers stationed in France.
"When he came out, he just kept on cooking," his son said.
In the first few years after the restaurant opened, customers had to park on the street. But in the early 1960s, the Incorvaia brothers started buying property in the surrounding area, and eventually opened a parking lot adjacent to the restaurant.
In 1986, a major renovation doubled the amount of seating space, easing the congestion on busy weekend nights. It was around that time when Frank Incorvaia, Jr. took over the restaurant, working 10-hour days to keep the business running.
Steve Pahle, left, Gary Jones, center, and Tom Dennis, dig in as pizza and other Italian dishes were offered to friends and family in celebration for Inky's Italian Foods still being in business after opening its doors in 1957.
"I've never thought about getting another job," he said, as a seemingly endless stream of cousins and well-wishers came over to his table to hug and congratulate him. "It's just about family."
In high school, Mr. Incorvaia's daughter, Lisa Schnapp, worked at Inky's as a bus girl. In the restaurant's kitchen, Ms. Schnapp met her future husband, a cook five years older than she was.
"My dad kept me here to keep me out of trouble. Little did he know," Ms. Schnapp, 46, said. "A week before my 18th birthday, we went out on a date, and we have four kids now."
Over the years, Inky's has become a second home for loyal customers like Ron Adamski, 75, who had his first slice of pizza at the restaurant just two months after the business opened.
Now, Mr. Adamski and his wife, Sue, come to Inky's at least once a week for what they consider the best Italian salad in town.
"A bunch of us kids were just driving around one night, and we'd heard this place had opened. And I've been coming ever since," said Mr. Adamski, a retired businessman. "They treat you like gold."
With the help of loyal customers from across Toledo, Inky's has remained in business despite the rise of national chains like Domino's and Papa John's. The restaurant brings in between $900,000 and $1.2 million a year, Mr. Incorvaia said.
As Inky's moves into its seventh decade, a new generation of Incorvaias is being groomed to take over the restaurant. Mr. Incorvaia's cousin, Keith Incorvaia, will eventually take control of the kitchen. And Ms. Schnapp and her brother, Frank Incorvaia III, will run the business side of the restaurant.
In the meantime, whenever it rains, Mr. Incorvaia calls a local repair company to fix the 60-year-old Inky's sign that still overlooks Detroit Avenue.
"When it dries, it goes back on," he said. "They can't put it out."
Contact David Yaffe-Bellany at dbellany@theblade.com or 419-724-6050.