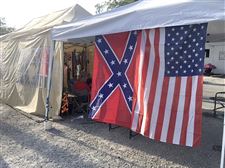 A Confederate flag on display at the Wood County fair. One volunteer wants the county fair to ban the sale and display of Confederate symbols by vendors.
KAREN WOOD Enlarge
BOWLING GREEN — When Karen Wood went to the Wood County Fair earlier this month, she was shocked to see a vendor selling and displaying large Confederate flags.
Now, she's spearheading a campaign to have the fair ban the flag, with added vigor in the wake of the white supremacist rally in Charlottesville, Va., that left a counter-protester dead and others injured after a driver from South Toledo ran into protesters. The rally was ostensibly a protest against the planned removal of Confederate monuments, in particular a Robert E. Lee statue in the Virginia town.
VIDEO: Blade Briefing with Nolan Rosenkrans
While the Ohio State Fair banned the sale of Confederate flags in 2015, when a white supremacist killed black parishioners in a Charleston, S.C., church, county fairs set their own agreements with vendors. County fair officials in the northwest Ohio area said that they have no formal policies regarding the flags. While some said they won't let vendors fly the flag at their fairs, others were less than willing to discuss the matter.
William Kale, president of the Wood County Fair Board, declined to comment when contacted Wednesday.
A volunteer who was at the fair for a non-profit, Ms. Wood said she later saw additional vendors selling the flags.
"I thought, 'This is not acceptable,'" she said.
She's started an online pressure campaign, and asked people to write letters to the Wood County Fair Board. She said the Not In Our Town initiative has signed on in support, and petitioners were at a rally Sunday in Bowling Green.
An early August inquiry to the board was unsuccessful, she said, as the board chose not to take any action on the matter.
"I understand what it secretly stands for. I understand what it means when people put it on their truck, or their shirt, or their hat," Ms. Wood said. "I really know what it means."
Lucas County Fair Board president Chris Weimer said that the fair doesn't have an explicit ban against Confederate symbols, but that it was "frowned on" by the board. He said he would not allow vendors to sell the flag "as long as I am president."
"I think it just raises too much controversy," he said. "It's better just to ban it than to deal with it."
The Henry County Fair is under way, but fair officials didn't want to talk about Confederate flags. A man referred to as in charge of marketing for the fair called himself Wayne, and said "I don't know anything about it," when asked about the fair's policy on Confederate flags. He hung up on a reporter who attempted to ask followup questions.
Ottawa County Fair Board President Mike Libben said the fair has no policy regarding the flags, though said "in many people's minds, the Confederate flag would be objectionable." The issue has not been brought up to the board, and he couldn't recall seeing any such flags, at least not this year.
He declined to give his own opinion on whether the flag should be banned from the fair without the board taking an official position.
Dennis Wyse, president of the Fulton County Fair Board, deferred the matter to the Ohio Department of Agriculture. He declined to give his own opinion on whether the flag should be banned from the fair.
"I'm not giving you an opinion on that, because I really don't have time to think about it," he said, citing the many hours needed to prepare for the fair, which starts Sept. 1.
He said he could not recall ever seeing a Confederate flag at the fair, though he acknowledged he's not been involved with the fair for very long.
Steve Crouse, however, has seen Confederate flags at the fair, as recently as last year. He said he was given a Hillary Clinton yard sign at the fair's Fulton County Democratic Party booth, and was called "very not-so-nice" names.
"... We feared for our lives walking back to the parking lot carrying [the signs]," he said in a Facebook message.
Messages left for officials at the Monroe, Lenawee, and Hillsdale county fairs were not returned Wednesday.
In 2015, Toledo flag store Yankee Doodle Flags, Kites & Fun, on North Holland-Sylvania Road, said they would stop selling Confederate flags after the Charleston racial shootings. Toledo Flags on North Summit Street, however, still sells the flags, and while sales haven't increased, inquiries about the flag has picked up since the Charlottesville violence, owner Joe Stoll said.
Mr. Stoll said he has no plans to stop selling the flag, which he considers an historic item.
"I've always said, and my stance remains, if I were to stop selling this flag where do I stop then?" he said. "Where does it end?"
In Wood County, the Not In Our Town initiative decided last week to support Ms. Wood's attempts to ban the sale of Confederate flags at the fair, said Julie Broadwell, community co-chair. The group plans to send a letter to the fair board, asking members to vote to ban the flag's sale.
"Because of the symbol of racism and bigotry that the confederate flag stands for, we don't feel like it is appropriate on public property at the county fair," she said.
She said Not In Our Town members consider the flag to be a symbol of hate.
Contact Nolan Rosenkrans at nrosenkrans@theblade.com, or 419-724-6086 or on Twitter @NolanRosenkrans.
Guidelines: Please keep your comments smart and civil. Don't attack other readers personally, and keep your language decent. Comments that violate these standards, or our privacy statement or visitor's agreement, are subject to being removed and commenters are subject to being banned. To post comments, you must be a registered user on toledoblade.com. To find out more, please visit the FAQ.