Eighteen community leaders came together Thursday to discuss youth homelessness in Toledo and lay the groundwork they believe is necessary to end it.
"How can we live in such a way and behave in such a way, as a community, where it would be least possible for a child to become a statistic called a homeless child?" Dan Rogers, president and chief executive officer of Cherry Street Mission Ministries, asked the room. "This really needs a conversation that covers a long period of time that is not presently happening in our community."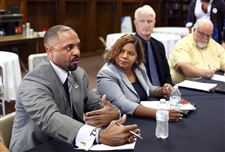 Romules Durant, superintendent of Toledo Public Schools, speaks about student homelessness during the meeting at the Cherry Street Mission's Life Revitalization Center.
THE BLADE/AMY E. VOIGT
Enlarge | Buy This Image
Representatives of Toledo Public Schools, Toledo-Lucas County Homelessness Board, Lucas Metropolitan Housing Authority, and various shelters and churches spent 90 minutes at the Cherry Street Mission's Life Revitalization Center laying the groundwork to answer Mr. Rogers' question.
Toledo Public Schools reported 2,690 homeless students during the 2015-16 school year out of about 22,000 students, state data shows. About 2,000 of those children were living doubled-up, meaning there was more than one family living in one dwelling, said Heather Baker, executive director of pupil placement at TPS. The others reported living in shelters.
RELATED: Toledo Public Schools district has most homeless students in Ohio
TPS this month accepted $400,000 in federal funding from the Ohio Department of Education as part of the McKinney-Vento homelessness aid law. The one-year grant restores and more than doubles former funding TPS went without for the last two years. Ms. Baker said that money will fund things such as after-school tutors to work with homeless children at shelters like Family House.
Mike Badik, executive director of the Toledo Lucas County Homelessness Board, said his organization tracks homeless youth beyond TPS. In 2016, Lucas County recorded 698 homeless children ages 0-5, 611 ages 6-18, and 264 ages 18-24.
"Over 45 percent of all the people that are served within our continuum are under the age of 25," he said.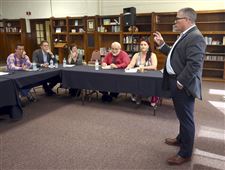 Dan Rogers, president and CEO of Cherry Street Mission Ministries, addresses a panel of community members ton student homelessness.
THE BLADE/AMY E. VOIGT
Enlarge | Buy This Image
Family House Executive Director Renee Palacios said she sees a lot of families and children at the shelter, and many of the adults lack education, job skills, and opportunities to get back on their feet.
She said she'd like the group to work toward streamlining wrap-around services such as job training, mental health care, and food access, but cautioned nothing will be effective unless the team also builds relationships within the homeless and impoverished communities.
"You can throw money at them, and you can create programs, but if there is not a relationship to support these families. ... Without hope, you're not going to move forward. We need to remember that these are human people," Ms. Palacios said.
Lilian Briggs, co-founder of the Promise House Project, helps connect area youth who are homeless or at risk of homelessness with resources and housing. Her organization is open to all youth at risk of homelessness, but she works primarily with those who identify as lesbian, gay, bisexual, transgender, questioning, or queer.
Nationally about 40 percent of homeless youth identify as LGBTQ, and Ms. Briggs said Toledo's numbers are closer to 57 percent.
READ MORE: TPS nabs $400,000 grant to aid homeless students
She wants to see more "barrier-free" resources for youth who are at risk of homelessness. There are services available, but often they're reserved for youth who have a mental house diagnosis or a criminal record, she said.
"We have young people who are faking — they're winning Oscars — faking a mental health diagnosis because they know that's the only way that somebody will help them," she said. "We have no option at all for young people who are not diagnosed and have not touched juvenile court."
TPS Superintendent Romules Durant said he was encouraged by Thursday's meeting, and said he is hopeful local agencies and organizations can work together effectively to serve the homeless and tackle the systemic issues that prevent some from obtaining stable housing.
"There's a lot of resources and a lot of capacity that's in the city of Toledo, and it's a matter of aligning these services, aligning programs, and really having a collective impact on the population served," he said.
Ms. Baker echoed Mr. Durant's comments and added that the purpose of the group is not to "meet to keep meeting." She wants to lay clear benchmarks and track progress to be sure their work will make a real impact.
The group plans to invite representatives from other school districts, juvenile court, the Toledo Area Regional Transit Authority, other faith leaders, and the health-care field to join in the effort.
"We're talking about strategic ways that we can move the needle on homelessness. That's huge. That's empowering," Ms. Baker said. "We all realize that we each have a part. Let's assign our parts and lets get down to work."
Contact Sarah Elms at selms@theblade.com, 419-724-6103 or on Twitter @BySarahElms.
Guidelines: Please keep your comments smart and civil. Don't attack other readers personally, and keep your language decent. Comments that violate these standards, or our privacy statement or visitor's agreement, are subject to being removed and commenters are subject to being banned. To post comments, you must be a registered user on toledoblade.com. To find out more, please visit the FAQ.