Student fights Central Catholic ban on dreadlocks
9/10/2017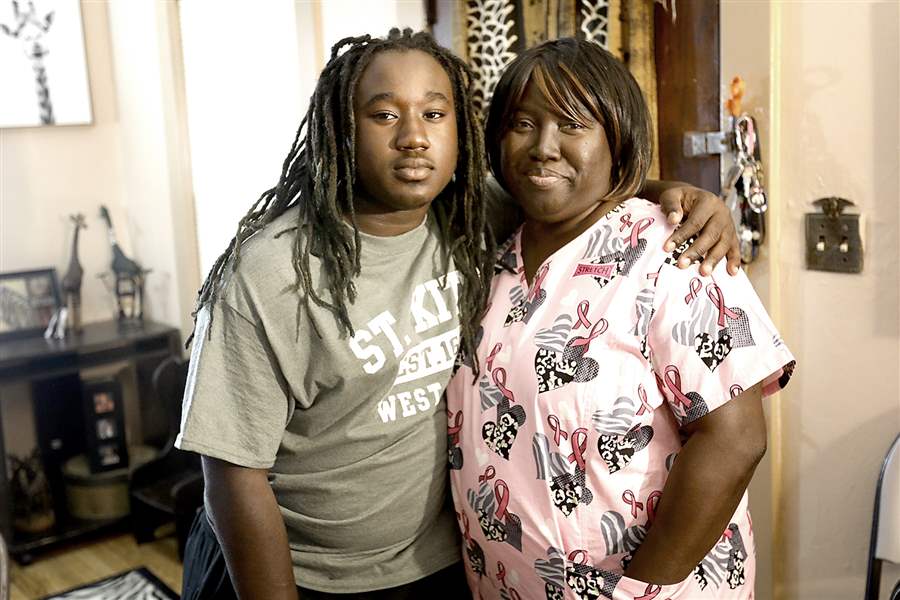 Malachi Wattley, 14, has been out of school for three days after Central Catholic officials deemed his hair in violation of the dress code. His mother Maylin Wattley, right, contends the dreadlocks are a traditional African and Caribbean style.
THE BLADE/KATIE RAUSCH
Buy This Image
Malachi Wattley thought the changes he made to his hair met Central Catholic High School's standards.
He dyed the ends of his dreadlocks back to their natural color, and had them tightly braided in the back of his head so that, from the front, you couldn't tell he even had dreads.
Malachi Wattley, 14, has been out of school for three days after Central Catholic officials deemed his hair in violation of the dress code. His mother Maylin Wattley, right, contends the dreadlocks are a traditional African and Caribbean style.
He'd been disciplined by the school for wearing the banned dreadlocks, he said, hair he's grown to connect with his Caribbean roots. Central Catholic is the only high school in Toledo that — according to a Blade review of private and public school student handbooks — explicitly bans dreadlocks. That's including the other high schools in the Diocese of Toledo.
Malachi, a freshman, went to school Tuesday expecting the matter to be solved.
Instead, the 14-year-old was met by a security guard at his locker and escorted out of the building.
A police cruiser was outside when he left.
"I want to be there attending classes," Malachi said, "but they won't let me."
Now, school staff told the family that both Malachi and his sister, Sapphire Holston — who does not have dreadlocks — will be withdrawn from the school on Monday, according to the family. But, mother Maylin Wattley said, they won't back down, because the fight is bigger than just for her son.
Both sides, it appears, are growing further entrenched. For Central Catholic, adherence to the dress code is seen as support of the school, an institution that believes its mission is "rooted in the mission of the Catholic Church and the message of Jesus Christ," according to a letter the school sent Ms. Wattley.
"If you find that you cannot support us in our mission, perhaps seeking an educational institution that better meets the needs of your family would be in the best interest of your child and your family," wrote Therese Hernandez, head of school.
For Malachi and his family, it's a matter of principle and heritage. Ms. Wattley was born on the island of St. Kitts, and raised on St. Thomas in the U.S. Virgin Islands. The family often returns to the area.
"If I cut my hair, I feel like I would be throwing away all of my culture, all of the things that make me me," Malachi said.
Malachi Wattley, 14, holds a picture of his hair taken the day Central Catholic officials ruled him in violation of the school's dress code.
Toledo Public Schools has a dress code, but no restrictions on hairstyle or length for boys. TPS deputy superintendent Brian Murphy said the district's views on student expression have evolved over the years, and students now are encouraged to be individuals.
"Whether they want to wear dreadlocks, or wear a color in their hair, we certainly accept them for who they are and allow them to express their First Amendment rights," he said.
The district has determined, he said, that students expressing their individuality through their hairstyles "does not disrupt the educational process."
"We would expect and we ask students to be who they are," Mr. Murphy said.
Central Catholic has deferred all comment about the matter to the diocese. While a diocese spokesman responded to questions on Wednesday and Thursday, she denied a request to interview senior education officials on Friday, saying all staff were at a retreat and unavailable for comment.
On Saturday, when asked to comment about Ms. Wattley's claim that Central planned to withdraw both her children, a statement was instead issued by Central Catholic that did not address the question. Instead, the school said the uniform policy is still in place, that parents and students accept the policy as part of registration, and that "we have an expectation of a successful parent-school partnership in the best interest of the student and the Central Catholic community."
"We welcome all parents and students, but all must comply with our policies," the statement reads. "Parents can make the choice of keeping or withdrawing their student(s) at any time."
But while Malachi and Sapphire say the school announced specifically that dreadlocks were banned, the diocese says it's only the length that's a problem.
"Again, we have only asked this student to cut his hair to the shirt collar per policy. This is not the only student [or teacher] who has been asked to abide by the dress code this year," said Kelly Donaghy, a spokesman for the diocese.
Twila Page — who has advocated for students for years through the African American Parents' Association — has worn dreadlocks since the early 1990s, a show of solidarity for Anita Hill when she testified against then U.S. Supreme Court nominee Clarence Thomas. She went with Malachi and his mother to Central on Tuesday, and has tried to advocate for the family.
Ms. Page said she found diocesan officials she spoke to disrespectful and condescending. She said she's faced discrimination for her hair in the past, plus odd looks or poor service at businesses.
On Friday, Ms. Wattley said, she met with Ms. Hernandez, head of school. Ms. Hernandez told her she needed to decide if Malachi would comply with the dress code, or if he and his sister would be withdrawn from Central, Ms. Wattley said. She asked to wait until Monday to make a decision, but a follow-up phone call from Ms. Hernandez made clear that she needed a decision now.
She said Malachi would not cut his hair. The media attention and distraction within the school over the matter was too much, she was then told, so both her children were done at Central, Ms. Wattley said she was told.
"I love Central Catholic," she said. "But Central Catholic does not love me."
Opponents of the school's policy say this isn't the first time Central Catholic has targeted a black student's hair. In 2011, Ms. Page and others were ready to protest at the school after a senior said she wasn't being let into school because of her sisterlocks, which are smaller, tighter locks. Ms. Page's daughter had done the woman's hair.
A social media storm began to brew. Megan Davis, owner of the Kitchen Salon who focuses on natural hair styles, wrote about the dispute on her blog. But before supporters could rally, the dispute dissipated. Activists said the family asked them to keep quiet, because Central Catholic had agreed to let her keep her hair if they kept their concerns out of the media.
"I later learned that because they did not go public is the reason why the student was able to attend," Ms. Davis said.
Ms. Wattley said she thinks her public defense of her son has prompted Central Catholic to double down. Challenging the policy publicly, they believe, is their true offense.
While Central Catholic insists the school's concern is about the length of Malachi's dreadlocks, and not the style itself, opponents say the specific mention of dreadlocks in the policy is a targeting of black hair and black bodies. Through the newly formed Ohio Natural Hair Coalition, Ms. Davis has been pushing a petition to try to convince the school to alter its policy. The petition had about 1,000 signatures Friday.
"People do not understand what the hairstyles are, what they mean," she said. "Nor do they understand that this is the way hair naturally grows out of an African-American person."
Diocese officials have said they don't consider the dreadlocks ban to be racially motivated, but Ms. Davis and others view it as a targeting of black hair.
Beauty schools often don't teach how to style black hair, and some businesses frown upon common black hairstyles, she said. The U.S. Army this year revised its policy banning locked hair, allowing women to now wear "dreadlocks/​locks." Policies against the hairstyles "makes you feel inadequate," Ms. Davis said.
Ms. Davis also said that, while Central Catholic is a private school, it also receives significant amounts of public funds through the state EdChoice voucher program, and should follow the same rules as public schools.
Even Sapphire is facing blowback in school, she said. A friend said a security guard told her to "pick a side," and that Sapphire's family is trouble. Other students with long hair are being told to get theirs cut to play football, and are blaming Malachi, she said.
And the family says they were told the school would consider revisiting the policy next year, but not this year. In the meantime, Malachi waits at home. He may never go back to Central Catholic.
Contact Nolan Rosenkrans at nrosenkrans@theblade.com, 419-724-6086, or on Twitter @NolanRosenkrans.