Penta Career Center students interview veterans
11/10/2017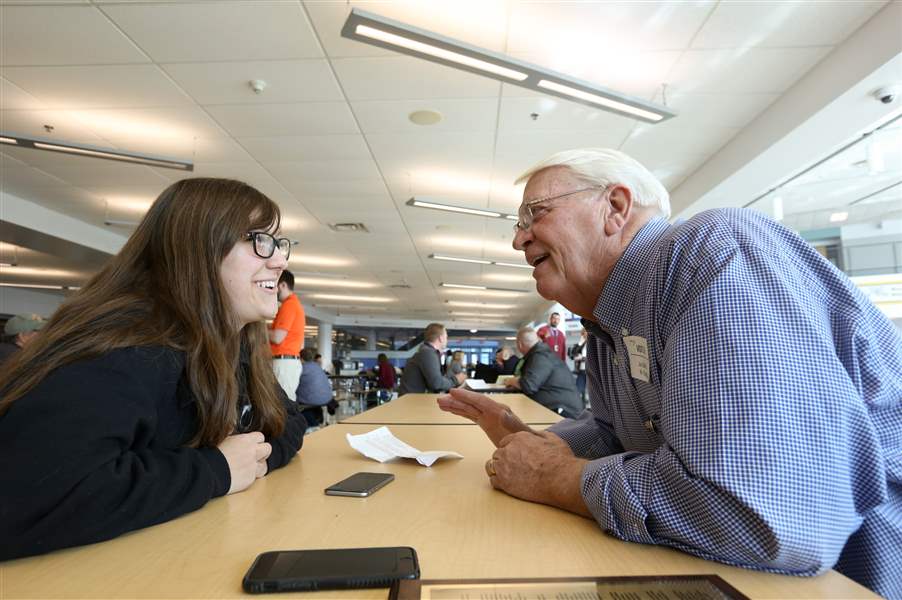 Mariah Vollmar, 17, left, interviews Vietnam Army veteran Joe, Ball, Sr. at the Penta Career Center Friday, November 10, 2017 in Perrysburg Township.
The Blade/Dave Zapotosky
Buy This Image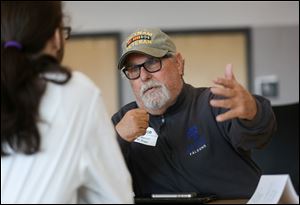 Air Force veteran Bill Morrison of Monroe, Mich., is interviewed by Nathan Rizoy, 18, at the Penta Career Center Friday, November 10.
Penta Career Center students sat engrossed in conversation with area veterans Friday, learning more about their service for a project that will be submitted to the American Folklife Center at the Library of Congress in Washington.
"Thank you for letting me share my story," Vietnam veteran William Hoot told his interviewer, Brie Plottner, 17, a senior at Anthony Wayne High School.
VIDEO: Penta Career students talked with area veterans Friday
He wrapped his arm around the student, his eyes filling with tears.
Mr. Hoot, 67, of Troy Township, was drafted into the Army and served during the Vietnam War. He told stories of his military service during a one-on-one interview with Miss Plottner during an event Friday at the school.
About 20 veterans — from World War II, Korea, Vietnam, and the Iraq wars — attended and were interviewed by other students with a set of prepared questions about their military service, why they served, and how they felt when they returned home.
The students recorded the interviews using a smart-phone application created by StoryCorps, a nonprofit organization whose mission is to record, preserve, and share the stories of Americans from different backgrounds and beliefs.
Army veteran William Hoot, 67, of Troy Township is interviewed by Brie Plotter, 17, at the Penta Career Center Friday, November 10, 2017 in Perrysburg Township.
After being inducted, Mr. Hoot was sent to basic training in Fort Campbell, Kentucky.
"I liked it. I was running every morning. The only thing I didn't like was running to stand in line for a half hour. Everything you did, you ran to do," he recalled.
He was later sent to Vietnam.
One of the hardest parts during his service was seeing his team leader killed nearly 10 feet in front of him, Mr. Hoot told Miss Plottner during their interview. His group carried their leader back to their camp, where they kept his body overnight. Enemy helicopters flew overhead throughout the night, searching for him.
Miss Plottner said one of the most interesting parts of the veteran's story was learning about the food he ate.
"You ate scrambled eggs with a spoon. Literally," Mr. Hoot told her, noting if he ate them with a fork, they just ran right through the utensil.
But he couldn't say enough about serving his country. Mr. Hoot also commended all of the other veterans who served in all of the other wars and complimented the veterans who were in attendance at Friday's event.
Other veterans brought memorabilia, photos, and plaques from their service, laying it all on tables for the students to see.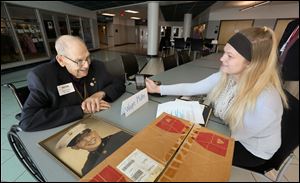 World War II Marine veteran Wayne Matter, 92 is interviewed by Alexa Stevens, 16, at the Penta Career Center Friday, November 10.
Joe Ball Jr., a third-generation Army veteran, shared his story with Mr. Hoot's grandson, Dawson Hoot, 17.
The teenager said the most interesting part was learning about the different experiences and the places Mr. Ball traveled.
The purpose of the day was to connect students with veterans, make students more aware of the historical events of the wars, and make the veterans feel more appreciated, said Solana Lopez, 17, a senior at Eastwood High School.
"We feel great about it because we feel more honored because the veterans want to share their stories," said Dakota Blecke, 18, a senior at Eastwood High School. "Especially our generation, so we can get a feel for what they went through for us to have our freedoms."
Penta students who are members of SkillsUSA and the National Technical Honor Society, under the guidance of social studies instructor Joe Boggs, participated in the project.
The students put a call out to family members and area Veterans of Foreign Wars posts, along with cold calls.
Following the interviews, the veterans were treated to lunch at Penta.
Contact Allison Reamer at areamer@theblade.com, 419-724-6506 or on Twitter @AllisonRBlade.