German Shepherd loses battle with aftereffects of neglect
3/8/2018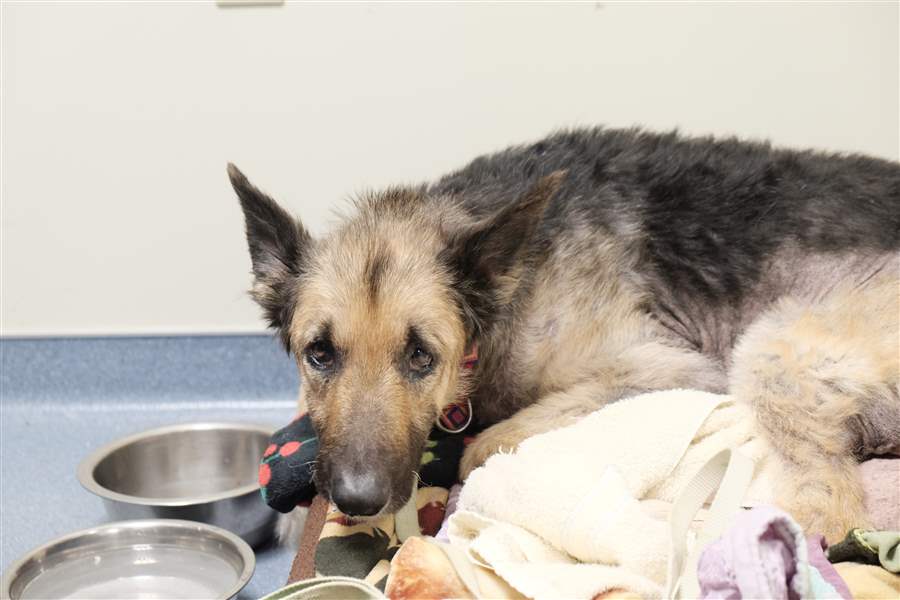 The Toledo Area Humane Scoiety reports that Hope German Shepherd at the center of an animal cruelty case, has died.
The Blade
Buy This Image
The already sad case of a severely neglected German shepherd won't have the happy ending her caretakers tried to give her.
The Toledo Area Humane Society euthanized Hope on Tuesday. She had arrived at the shelter near death in late January. The dog was severely malnourished, unable to stand, nearly bald from fleas and skin infections, suffering severe ear infections, and had curled toenails more than 2 inches long.
The Toledo Area Humane Scoiety reports that Hope German Shepherd at the center of an animal cruelty case, has died.
Dennis Pedelose, 46, of the 800 block of Kingston Avenue, is charged with misdemeanor animal cruelty in the case. He has pleaded not guilty and is scheduled to appear in Toledo Municipal Court for trial March 19.
With intensive treatment, Hope had improved enough to go into a foster home where she had been cared for for about a week. She put on a few pounds and had regained the ability to stand and walk, though she tired easily and struggled with her rear legs.
Stephen Heaven, president and chief executive, said her health took a turn Friday, and she was taken back to the shelter for veterinary care. A veterinary technician even slept on the floor at the shelter to stay beside Hope that night.
"She started to not be able to walk and pick herself up again," he said. "And she got worse from there. She just started to shut down."
The shelter determined Hope had spondylosis, a degenerative spinal condition common in German shepherds.
"It may very well have been genetic," Dr. Anna Brown, the humane society veterinarian, said. "We were hoping we could get her comfortable and get her going, but she just never got up again."
Hope's condition was most certainly aggravated by neglect, Dr. Brown said. Dogs with arthritis and other degenerative conditions can live comfortably for some time with regular treatment.
"That obviously wasn't the case with her," Dr. Brown said.
The possibility Hope had a genetic condition should not affect the ongoing case, Mr. Heaven said.
"She was in a very bad state and she'd obviously not been mobile for a considerable amount of time," he said. "Medical treatment should have been sought for her months ago. You don't just leave a dog lying there."
Shelter staff and volunteers were notified and allowed to visit Hope and say good-bye before she died.
"She certainly grabbed the hearts of everyone," Mr. Heaven said.
Contact Alexandra Mester at: amester@theblade.com, 419-724-6066, or on Twitter @AlexMesterBlade.