Maumee, Perrysburg keeping water options open
3/8/2018
With the finish line not yet in sight for finalizing the Toledo Area Water Authority, elected officials in Maumee and Perrysburg are lining up Plan B.
Northwestern Water and Sewer District — the third partner in a possible deal with Bowling Green — held a public meeting Feb. 15 on regional water. Part of the presentation included Poggemeyer Design Group president Jack Jones unveiling a detailed plan to possibly expand the Bowling Green water treatment plant to serve Maumee, Perrysburg, and the district.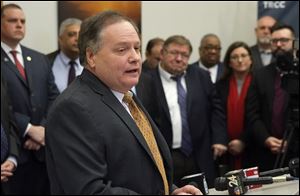 Maumee Mayor Rich Carr speaks before he and leaders from Toledo and the suburban communities that buy its water sign a memorandum of understanding to form the Toledo Area Water Authority Jan. 31 at the Toledo Chamber of Commerce office.
That plan could be even more viable after the city of Toledo announced last week it will send the issue of selling the Collins Park Water Treatment Plant to voters in November, delaying a final TAWA agreement.
Maumee's water contract with Toledo expires in 2026, and Mayor Richard Carr said it will take years to connect his city with another water source. He said TAWA is still the best option, but he will continue conversations with the other entities.
"TAWA was the best way to go; that's why we signed the memorandum of understanding." Mayor Carr said. "But if they don't address this now, in 2019, we have to make a decision. If there's no TAWA in place and we have to go with Bowling Green and Perrysburg, we're going to have to make that decision and go with them [instead]. We can't wait any longer to see what's going to happen."
Maumee's service director told Mayor Carr the Bowling Green option would take up to six years to implement.
The Wood County Economic Development Commission conducted two studies to determine the feasibility of a large expansion project. The Phase II study included Maumee buying in after the city expressed interest.
The project is estimated at $150 million with monthly water bills averaging $35.95 based on 1,000 cubic feet — enough to pay off the debt and cover operating costs, according to a presentation about the study. TAWA customers would pay between $37 and $47.
A pair of 150 to 200-acre reservoirs would be constructed close to the plant. Bowling Green would fund $104 million in water treatment plant and reservoir costs.
Plans would likely require new intakes to be placed along the Maumee River with lines running to the new communities, which would take years to complete.
Bowling Green Mayor Dick Edwards made it clear that while he understands the concern in the suburbs, the city will watch from the sideline for now.
"Obviously Bowling Green is an option," Mayor Edwards said. "But I would have to say we as a city have not been pushing to expand. I understand the concerns of Maumee and Perrysburg. If I were in their shoes, I'd be looking at options, too. If things in Toledo don't work out, we're more than willing to listen. But we are not initiating any action in terms of expansion."
Mayor Edwards said Bowling Green will never give up ownership of its plant as long as he is in power, and city council is in agreement on his stance.
The district represents several communities in Wood County, including Rossford and Perrysburg Township. The district believes TAWA is still a viable option, but remains committed to a solution that provides the best long-term deal for its customers.
"The District's commitment to our customers makes it imperative we examine all available alternatives," said spokesman Theresa Pollick in an emailed statement. "Many of our customers already obtain water from the city of Bowling Green's water system and it is certainly a viable option for other customers."
Ms. Pollick said the district's board of trustees holds two meetings per month, which city officials and residents are welcome to attend. The district also meets regularly with member communities to keep stakeholders informed.
Perrysburg Mayor Tom Mackin could not be reached for comment.
Sylvania and Monroe County have also had conversations about forming a partnership without Toledo.
Mayor Carr said he doesn't want Toledo to feel he's using the Bowling Green option as a bargaining chip.
"I've told Toledo at the meetings that we're not bluffing," he said. "If we need to leave, we will leave."
Contact Jay Skebba at jskebba@theblade.com, 419-376-9414, or on Twitter @JaySkebbaBlade.