Distracted driving focus of local traffic summit
3/16/2018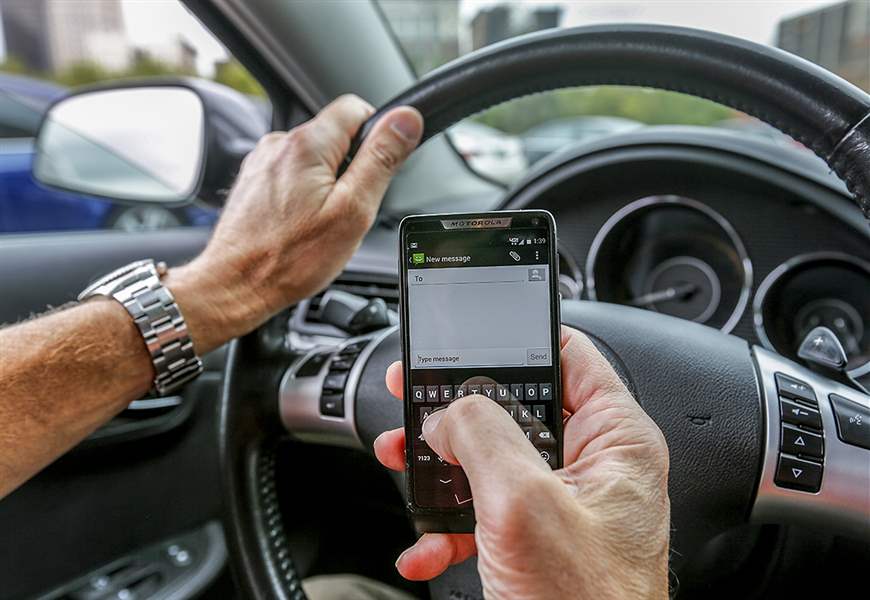 Professionals recommend avoiding cell phone use by placing phones out of reach while driving or using safety apps.
The Blade
Buy This Image
How many times each day do you touch, tap, swipe, or otherwise manipulate your smart phone?
When Michelle May, the Ohio Department of Transportation's highway safety program manager, asked a Toledo Transportation Summit audience that question Friday, an audience member volunteered a guess of 100.
Citing a study published two years ago by the research firm Dscout, Ms. May said a typical smart phone user interacts 2,617 times a day with his or her phone, even though when asked that question the most common answer is 500.
Professionals recommend avoiding cell phone use by placing phones out of reach while driving or using safety apps.
The research — from "a demographically diverse sample of 94 Android users from our pool of more than 100,000 participants," according to Dscout — shows just how addicted smart phone users are to their devices, Ms. May said.
And when they indulge that addiction while driving, they become at least as dangerous — if not more so — than drunken drivers, she said.
While some impaired drivers become hypervigilant about their driving "because they don't want to get caught," distracted drivers "are not minding anything at all," Ms. May told the gathering of more than 200 local officials and transportation professionals at The Premier banquet center in South Toledo.
Traffic-safety trends and strategies were a focal point of the 24th annual edition of the Toledo Metropolitan Area Council of Governments' regional conference.
Distracted driving was far from the only safety issue discussed during the program.
Sandy Wiechman, coordinator of the Safe Communities Coalition of Wood County, said that agency, ODOT, the Ohio Highway Patrol, and three neighboring sheriff's departments plan to coordinate a safety blitz next month along U.S. 6 across Henry, Wood, and Sandusky counties to target people who fail to yield at intersections.
Route 6 is Wood County's worst corridor for failure-to-yield and stop sign violations, she said, and, when a tractor-trailer is involved, the crashes can be devastating.
Drivers "think they have enough time, and they go, or they just blow through the stop sign," Ms. Wiechman said. "And here comes the big truck, trying to get where it needs to go. ... You're going to be seeing a lot of State Highway Patrol and sheriff patrols out there bringing awareness ... and writing tickets."
Ms. Wiechman also outlined her agency's efforts to promote safety awareness from drivers ranging in age from high schoolers to senior citizens, noting in particular its use of a driver simulator to illustrate how impairment and distraction can affect performance.
But along with Ms. May's presentation, distraction was a major theme for Jamie Blazevich, coordinator of the Lucas County Traffic Safety Program, during her portion of a safety-related panel discussion.
People overwhelmingly identify the use of electronic devices behind the wheel as a greater threat than drunken driving, Ms. Blazevich said, "but they still do it, because they don't think bad things will happen to them."
For many people, she said, "driving is boring," so drivers seek other forms of stimulation that take their minds, and sometimes their eyes and ears, off the road.
While conversing with a passenger in a vehicle also is a form of distraction, Ms. Blazevich added, it's safer than talking on a cell phone because a passenger also tends to be watching the road and will react to hazards to which someone at the other end of a phone call is oblivious.
Ms. May repeated a statistic also cited by Ms. Blazevich: Ninety-four percent of all traffic crashes involve some sort of human error, and distraction accounts for a rising share of highway carnage.
She urged her audience to avoid cell phone use by placing phones out of reach while driving or using safety apps that disable phones' ringers while the phone is moving — based on GPS — at driving speeds.
Such apps often have an "urgent" function that allows a caller to override and get through, Ms. May said, "but in the six months I've had that function, no one has ever typed 'urgent.'"
Contact David Patch at: dpatch@theblade.com or 419-724-6094.