Close encounters of the Toledo kind: Fravor pursued UFO in 2004
3/31/2018
Left Chad Albert, of Toledo, with his cousin, Cmdr. David Fravor, in an October, 2004, file photo when Commander Fravor took command of VFA-41, Strike Fighter Squadron 41 also known as the "Black Aces" in Lemoore, Calif.
David Fravor
Toledo native and retired Navy Cmdr. David Fravor chuckles at how the most famous story of his 24-year military career invariably tops all others when he finds himself chitchatting with friends and acquaintances.
Many people claim to have seen an unidentified flying object. But Commander Fravor, a 1982 Whitmer High School graduate, is one of the few who claim to have been in pursuit of a UFO while flying military aircraft.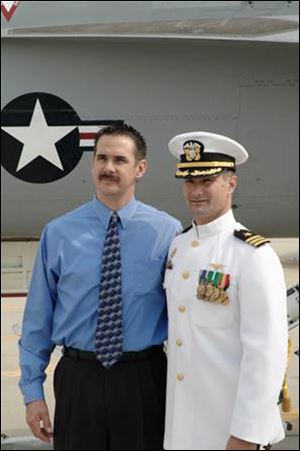 Left Chad Albert, of Toledo, with his cousin, Cmdr. David Fravor, in an October, 2004, file photo when Commander Fravor took command of VFA-41, Strike Fighter Squadron 41 also known as the "Black Aces" in Lemoore, Calif.
"What was unique with ours is we actually interacted with it. We chased it. I went after it," Commander Fravor, 53, told The Blade in a telephone interview from his house in Windham, N.H., a city of 14,439 people that's 37 miles north of Boston.
Commander Fravor's mysterious encounter occurred on Nov. 14, 2004 when he and another pilot were on a training mission 140 miles southwest of San Diego.
It became a social media phenomenon just before this past Christmas after Commander Fravor went public with his story more than 13 years after it happened. The Pentagon released a video of the 2004 incident, and acknowledged the existence of what the U.S. Department of Defense had called its Advanced Aviation Threat Identification Program, which tracked UFOs.
Funded at a cost of $22 million, that secretive government program existed from 2007 to 2012. It is believed to be continuing to some degree.
Commander Fravor was encouraged to tell his story to The New York Times by Luis Elizondo, a retired intelligence officer who ran that Pentagon program. Mr. Elizondo is now director of global security and special programs of To the Stars Academy of Arts & Science, a group encouraging more transparency about UFOs. After The Times published its article, The Washington Post, the Boston Globe, ABC News, Fox News, CNN, CBS News, Popular Mechanics, and many other national news outlets followed suit.
"There's enough credible evidence there are things flying around that we didn't build and we can't explain," Commander Fravor said.
Born and raised in West Toledo, Commander Fravor brings some tongue-in-cheek, self-deprecating humor to the interview. He said he's gotten inevitable ribbing from his military buddies, but jokingly added he's "had no one come up to me and say I'm a complete whack job."
That's because — unlike the stereotypical UFO observer — Mr. Fravor has impeccable credentials.
At the time of his alleged sighting, he was commander of a 300-member Navy squadron aboard the USS Nimitz known as Strike Fighter Squadron 41. The pilots were flying the Navy's newest aircraft, the F/A-18F Super Hornet. He had more than 3,500 flight hours and was a graduate of the Navy Fighter Weapons School known as TOPGUN.
He retired in 2006.
His 24 years in the military included 18 years as a Navy jet pilot and five deployments in Iraq, beginning with Desert Storm.
He recalls the weather was ideal on the day he's convinced he saw a UFO: Blue sky and no clouds. The sea was calm.
Three others were in the sky with him. In addition to the pilot in the other F/A-18F who accompanied him on that mission, a weapons system officer was in the back of both fighter jets. Their identities have not been disclosed, as they are still active military, Commander Fravor said.
Shortly after the two fighter jets began their training mission, they were redirected by a radio operator from the cruiser USS Princeton to a part of the Pacific Ocean where the Princeton had been tracking as many as a dozen mysterious objects for two weeks. Objects had been seen dropping straight down from above 80,000 feet and stopping at 20,000 feet.
In this case, a huge object — approximately 10 feet wide and 40 feet long — hovered as low as 50 feet above the ocean. There was a disturbance in the water directly below it, with waves possibly generated by a second unidentified object much larger than a submarine that may have been submerged beneath the water.
Commander Fravor said he and the trio accompanying him had their eyes glued on the airborne object for about five minutes.
He said numerous times that UFO had the appearance of a giant "Tic Tac" breath mint. It was an oblong, all-white tubular device with no windows and no wings. It had no exhaust, and its energy source and form of propulsion were unknown. It wasn't a plane, a helicopter, a drone, or anything he'd seen in his years as a Navy jet pilot.
"In 18 years of flying airplanes, this thing had characteristics I never saw," Commander Fravor said. "It was almost jaw-dropping. It was very strange."
He said he told the other pilot to stay up high, that he was going down for a closer look. As soon as he got within 3,000 feet — a little more than a half-mile — the object zoomed away at bullet speed, he said.
"As I get within about a half-mile of it, it just rapidly accelerates," Commander Fravor said. "As it crosses my [fighter jet's] nose, it just disappears. It's gone."
In one of his many other interviews, Commander Fravor said the mysterious aircraft took off at a speed "well above supersonic."
It was gone within two seconds on a day so clear he had 50 miles of visibility and could easily see large objects 10 miles away.
"I believe it was something not from this world," Commander Fravor said Dec. 20 on Fox News during a nationally televised interview with host Tucker Carlson.
One reason Commander Fravor said he's going public is he wants to demystify UFOs, in hopes the U.S. government and people in general will take the potential for them more seriously.
He encourages experts to think outside the box and "reverse engineer" what they know about aeronautics.
"I highly doubt that technology exists on this planet," Commander Fravor said. "What if we were able to find an energy source to do this? The way these things are maneuvering — it almost defies the laws of physics. Gravity's not a factor to them."
He applauds To the Stars Academy of Arts & Science for getting some documents declassified, and pushing the issue.
The group includes other former members of the CIA, Defense Department, and the Intelligence community at large. It was co-founded by Tom DeLonge, who serves as president and interim chief executive officer. Mr. DeLonge also co-founded rock bands Blink-182 and Angels & Airwaves, among his many other ventures.
In an op-ed published March 9 in The Washington Post and referenced in a Newsweek magazine article days later, another retired Pentagon official now working for To the Stars Academy of Arts & Science, claimed Commander Fravor is one of several U.S. pilots who have spotted mysterious flying objects that need to be taken seriously. A more recent sighting was along the East Coast in 2015, Christopher Mellon, a former deputy assistant secretary of defense for the Clinton and George W. Bush administrations, wrote.
Mr. Mellon said in his piece the U.S. government is being foolhardy by "ignoring UFO sightings," claiming it's because "nobody wants to be 'the alien guy' in the national security bureaucracy; nobody wants to be ridiculed or sidelined for drawing attention to the issue."
"This is true up and down the chain of command, and it is a serious and recurring impediment to progress," Mr. Mellon wrote, adding that Mr. Elizondo resigned from the Pentagon last fall "to protest government inattention to the growing body of empirical data."
The sightings don't necessarily mean there are aliens out there: The UFOs could be advanced Chinese or Russian technology, Mr. Mellon wrote in his piece. That, he argued, should in itself generate more curiosity among government officials. In his op-ed, Mr. Mellon also drew an analogy to when the former Soviet Union launched Sputnik 1 into low Earth orbit on Oct. 4, 1957, an event that began the race to the moon in the 1960s for technological superiority.
"Not everyone is taking it as seriously as it needs to be taken," Commander Fravor said of UFOs. "They're out there. We don't know their intentions. They have a capability we don't."
Commander Fravor said his mind-blowing, five-minute encounter from 2004 will forever stick with him as the highlight of a career that began shortly after he enlisted in the Marine Corps at age 17 while still a student at Whitmer High.
He said he did that against the wishes of his father, who wanted him to go to college first. The youth left for boot camp two days after his 18th birthday, and — two years later — was sent to the Naval Academy by the Marines.
Like many of his Ohio peers, Commander Fravor grew up idolizing Apollo 11 astronaut Neil Armstrong, who hailed from the tiny northwest Ohio town of Wapakoneta. He at one time fancied himself as a future astronaut, especially after seeing Mr. Armstrong take mankind's historic first step on the moon on July 21, 1969. But, ultimately, he fell in love with fighter jets.
"I was always operationally focused. I loved what I was doing, I really did," Commander Fravor said.
He said the experience hasn't changed the way he sees science fiction movies, explaining that he's perfectly capable of making a distinction between a Hollywood film and what he saw over the Pacific in 2004.
As determined as he is for the United States to get a better understanding of UFOs, though, he hasn't lost his sense of humor.
"If I told you how many people have given me Tic Tacs, you'd laugh," Commander Fravor said.
Contact Tom Henry at thenry@theblade.com, 419-724-6079, or via Twitter @ecowriterohio.