Toledo mayor says his plan for regional water system is only way forward
6/11/2018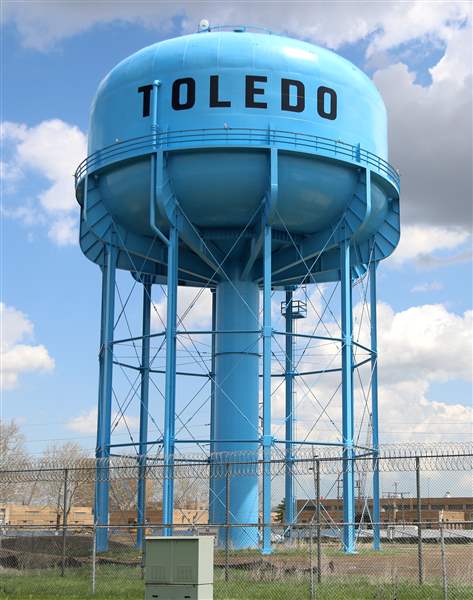 Water tower at the Collins Park Water Treatment Plant in Toledo.
The Blade
Buy This Image
Toledo Mayor Wade Kapszukiewicz could not attend Monday's regional water meeting with suburban leaders, but a policy adviser made his position clear on his behalf: Mr. Kapszukiewicz's plan for forming a regional water system is the only one he is willing to pursue.
It's a decision that suburban leaders called "a disappointing outcome" after more than two years of negotiations with Toledo officials to try and establish a regional water authority that would equalize water rates and plan for future capital improvements at the Collins Park Water Treatment Plant.
"It's more important to Toledo politicians that they control the water assets than to cooperate on more efficient water, safer water, and also regional cooperation as a whole," Sylvania Mayor Craig Stough said. "That's very disappointing that we're back to square one."
But Mr. Kapszukiewicz doesn't view his doubling down on his plan as a setback, as many suburban leaders do. He believes it's the only route to regional water that Toledo City Council will support, and it gives suburban customers a meaningful voice in the rate-setting process.
"People have been talking about regional water for not just two years, but for 20 years. We are taking that conversation and putting it into action," he said in a phone interview from Boston, where he was attending the U.S. Conference of Mayors. "What shouldn't be lost in this process is there will be a regional water system by the end of this year and that is because of the leadership and action of the city of Toledo."
City officials are taking steps to form a regional water commission rather than moving forward with a Toledo Area Water Authority that leaders, including Mr. Kapszukiewicz, pledged in January to form. The commission will set water rates and develop a capital improvement plan for the water system, but city council would ultimately have veto power over the commission's recommendations.
RELATED: Thousands of Toledo residents pay for water they don't use
Mr. Kapszukiewicz said the commission would be comprised of utility experts representing Toledo and each suburban community that buys its water, not elected officials. One key difference from the TAWA plan is that Toledo will continue to own both the water treatment system and the debt that comes with it, rather than TAWA.
Suburban leaders on Monday also expressed concern that allowing Toledo's council to have a veto authority over the regional water commission's decisions would leave suburban water-users vulnerable to unfair rate hikes.
"The goal is a contract that's fair and reasonable, yet in years past that has not happened," Lucas County Commissioner Pete Gerken said. "There has not been fair, reasonable, and well-thought-out contracts. Contracts have been used as a weapon in the past, and that's why everyone is scared of it."
Toledo Regional Chamber of Commerce President Wendy Gramza said she fears Toledo's position may cause area communities to fracture rather than work together, which could have a negative impact on economic development.
"We have all this momentum, and my fear is that, yet again, the political landscape of this community is going to stifle that growth," she said. "We are never going to reach our full potential if we don't have regional cooperation."
Ms. Gramza added that she believes Toledoans, city council members, and Mr. Kapszukiewicz have been "bullied" by former Mayor Carty Finkbeiner, who has lead a citizen opposition effort against forming TAWA.
"It's really unbelievable that they could feel that this is a victory," she said of city leaders. "It's business as usual. They can continue to do things in the inefficient, ineffective way that they've been doing. They can continue to politically manage our water system."
Suburban leaders from Maumee, Perrysburg, Sylvania, Monroe County, and Whitehouse indicated they'll continue to explore other water options outside of Toledo.
If the suburbs don't join Mr. Kapszukiewicz's new commission, then Toledo water-users likely will see a spike in their bills.
But the mayor said he is confident that most of the suburban customers won't leave in the end, and Toledo will have enough customers to help pay for mandated improvements to the water system. He declined to say which suburban leaders assured him they would stay with Toledo, and no suburban leader on Monday indicated they were all-in on Toledo's plan.
"When the charter of the city of Toledo is changed to relinquish rate-setting control, that is not the status quo. That is real change," Mr. Kapszukiewicz said. "I believe, with the benefit of time, people will see this for what it is: real regional cooperation, real regional water."
Toledo residents can expect to see a ballot question in November asking for a charter change needed to allow the new regional water commission to set water rates.
Contact Sarah Elms at selms@theblade.com, 419-724-6103, or on Twitter @BySarahElms.