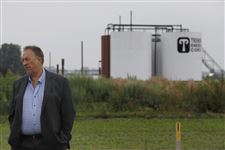 John Chandler, Summerfield Township Supervisor, stands near a conventional oil-producing well owned by Trendwell Energy Corp. off Ida Center Road in Ida Township, located in Monroe County, Mich.
The Blade/Katie Rausch
Enlarge | Buy This Image
PETERSBURG, Mich. — Fears about the oil and gas industry's disposal of briny waste fluids in injection wells drilled deep into the ground keep growing, even in areas that historically haven't had much to worry about because of their karst-prone bedrock.
The mere presence of karst — an extremely porous, environmentally sensitive, and relatively soft rock formation near many land surfaces around the world, including southeast Michigan and northwest Ohio — doesn't necessarily rule out drilling. But it sends warning signals to take extra caution and, thus, often deters such activity.
But now, with a global fracking frenzy that began a decade ago in full swing, people who live in places once assumed to be off-limits to drilling and fracking are experiencing new levels of anxiety — especially when it comes to whether more karst-prone areas will soon host deep underground injection wells used to bury waste fluids.
New regulatory rules approved this month in Michigan aim to give state officials more control over drilling operations.
State Sen. Dale Zorn (R., Ida), who in 2015 tried unsuccessfully to convince the Michigan legislature to pass a statewide ban on injection wells for karst-prone areas, called the Michigan Department of Environmental Quality's past policies toward karst "very, very weak" and said he believes the new rules will help, but not end threats.
"It's never been an economic issue to me. It's always been a safety issue," Mr. Zorn said.
VIDEO: Summerfield Township Supervisor John Chandler
Neal Thurber, a LaSalle Township resident who spent years drilling wells in the oil and gas industry, said karst-prone areas that allow injection wells into them are "taking on a very high level of risk for contamination for virtually no benefit."
"When I step back and look at the situation as a professional, there's a lot of risk to a community," he said. "It's a high-risk activity I would have never done in my career."
Nearby rural Summerfield Township in southeast Michigan's Monroe County thought it had survived an injection-well challenge in 2016 when it successfully fended off plans for a well by a company called Trendwell Energy Corp.
Trendwell, based in Rockford, Mich., near Grand Rapids, had applied for a permit there to inject briny waste fluid from conventional drilling — not fracking — into wells.
But the company withdrew its application once it became obvious its three oil-producing wells along Ida Center Road in western Summerfield Township were not going to pump out enough oil to justify the cost or hassle of drilling an injection well near them, Trendwell President Todd Mall told The Blade.
One of the oil wells was capped in 2017, and the two remaining wells will likely be shut down within six months, he said.
But as the days pass, Summerfield Township's experience with Trendwell becomes more of a footnote to the growing anxiety many people in karst-prone southeast Michigan and northwest Ohio have about injection wells in general.
Once Trendwell withdrew its permit application, Monroe County commissioners enacted a countywide ban on injection wells, one that Summerfield Township Supervisor John Chandler now concedes probably won't hold up in court if challenged.
But Mr. Chandler said it was more than a symbolic gesture. Something had to be done to send a message to the oil and gas industry that Monroe County does not want injection wells.
"My fear, ultimately, is that Michigan will become another Ohio," Mr. Chandler said, a reference to a number of commercial injection wells in eastern Ohio that take out-of-state fracking fluid from Pennsylvania.
Weighing the risk
Walt Ruhl, Whiteford Township's supervisor, fears how badly private water wells would be polluted if injection wells fail. He said it's especially important to keep them out of karst-prone areas where groundwater flows out to the Great Lakes, the world's largest source of fresh surface water.
Groundwater flows quickly through a karst formation's Swiss cheese-like holes, some large enough to pass basketballs through.
"Is it worth the risk?" Mr. Ruhl asked. "That's the point."
Hal Fitch, longtime director of the Michigan Department of Environmental Quality's oil, gas, and minerals division, said the agency has taken another step forward in reducing those risks through new rules approved by the Michigan legislature earlier this month.
The biggest change is a requirement for a 500-foot buffer between the base of an injection well and the closest groundwater — a geologic buffer that's nearly a tenth of a mile deep. Deep buffers have always been required for injection wells, but Michigan DEQ rules had never put a 500-foot requirement in writing, Mr. Fitch said.
Most of the Michigan DEQ's rule changes pertained to language the state agency had to draft to be consistent with U.S. Environmental Protection Agency regulations. The state agency is doing that so it can have the same primacy over drilling operations that many other states exercise, he said.
That will allow the Michigan DEQ to streamline permits. But, more importantly, it allows for more inspections to be done by local experts, Mr. Fitch said.
New rules could help, but worries persist
Contrary to what many people believe about karst, injection wells can be successfully installed and operated through such bedrock — and, ultimately, could be safer than other options for handling waste fluids in the long run, he said.
Injection wells are impermeable, encased in steel and concrete. Even if there was a leak at the bottom, the buffer would provide sufficient protection for groundwater, Mr. Fitch said, adding it's actually a greater risk having waste fluids hauled long distances by trucks. If there's a spill on the highway, the fluids could flow right through surface-level karst into the groundwater, he said.
Mr. Chandler doesn't buy that.
He said the risk of upward migration is too great for injection wells to be drilled in karst-prone areas.
"My job is to look after public health and safety, and you don't do that by playing Russian roulette," he said.
Back in 2015, when Mr. Zorn along with state Rep. Jason Sheppard (R., Temperance) was trying to instate a statewide ban on injection wells for karst-prone areas, U.S. District Judge James Carr of Toledo expressed deep concerns about the issue.
He stated in a 2015 letter to a local newspaper that progress other communities have made toward cleaning up Lake Erie "may be adversely and irredeemably affected" if trouble ever arose with the injection well Trendwell had wanted.
"Though perhaps less immediately deleterious than fracking, disposing of saturate brine and the multiple contaminants it contains pose serious dangers of contamination for groundwater and, ultimately, lake water," the judge wrote, calling the Trendwell plan an "unwelcome, inevitably risky and potentially dangerous proposal."
Likewise, the Michigan Farm Bureau objected to Trendwell's proposed site in a 2015 letter to the U.S. EPA.
"The risk of environmental impacts is too high in the location they propose, and the site presents an opportunity to be used for out-of-state waste that should be properly disposed of elsewhere," Dennis Meyer, farm bureau president, wrote.
And that's what has people buzzing about the Trendwell experience — whether Monroe County and other karst-prone areas are still vulnerable to out-of-state waste, especially with more fracking on the way.
Most injection wells are licensed for use only by companies generating the waste, but there's little other than economics stopping more sites from being licensed to accept waste from others.
Mr. Fitch said waste fluids are treated like interstate commerce.
"We can't restrict interstate commerce," he said. "We couldn't prohibit it just because it's coming from another state."
Ned Birkey, a retired Michigan State University extension educator now affiliated with Ida-based Spartan Agricultural Consulting, agreed with Mr. Chandler that karst-prone areas need to remain on the lookout for the possibility of future injection wells.
In Monroe County, groundwater polluted by waste fluids would not only contaminate private drinking wells and migrate out to Lake Erie, but also could impact irrigated crops, he said.
Southeast Michigan and northwest Ohio are second only to California for crop diversity, Mr. Birkey said.
"We've got the potential for a Flint-like problem in the making here and we don't want that," he said. "We don't want any source to contaminate our food."
Mr. Zorn agreed that fears of injection wells being drilled locally to take waste from faraway operations are legitimate.
"Could it ever happen?" he asked. "It certainly could."
Contact Tom Henry at thenry@theblade.com, 419-724-6079, or via Twitter @ecowriterohio.
Guidelines: Please keep your comments smart and civil. Don't attack other readers personally, and keep your language decent. Comments that violate these standards, or our privacy statement or visitor's agreement, are subject to being removed and commenters are subject to being banned. To post comments, you must be a registered user on toledoblade.com. To find out more, please visit the FAQ.