Toledo Area Water Authority talks between city and suburban leaders are fizzling, but officials from multiple suburbs are taking the next steps on a possible alternative.
Representatives from several communities — including Maumee and Perrysburg — met last week with Artesian of Pioneer to discuss the possibility of tapping into the Michindoh Aquifer to supply their residents with drinking water. The aquifer gets its name from the three states in which it lies, and supplies water to thousands of people across nine counties in Michigan, Indiana, and Ohio.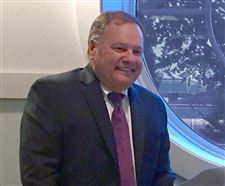 Maumee Mayor Richard Carr.
THE BLADE/JAY SKEBBA
Enlarge | Buy This Image
Maumee will present more information at Monday's committee of the whole meeting at 6:30 p.m. Mayor Richard Carr attended Thursday's meeting with the firm and came away believing the aquifer is Maumee's best option for water going forward.
"It would be far less expensive for our residents than what we currently have, let alone what it would be if we entered into the agreement with the city of Toledo," he said. "This company's got places throughout the northeastern part of the United States. They've won awards for the quality of their water. They will operate the plant, but they also gave us the opportunity to have ownership if we want."
Maumee City Council will conduct a study with Perrysburg and the Northwestern Water & Sewer District to examine the possibility of contracting with Bowling Green for water. As part of that move, council included money for the aquifer study, Mayor Carr said.
The water district, Perrysburg, Sylvania, Whitehouse, Liberty Center, and Henry County are also involved in aquifer talks, Mayor Carr said. Those entities will vote on conducting a study in the coming weeks.
Perrysburg Mayor Tom Mackin believes it's important to explore all possible options.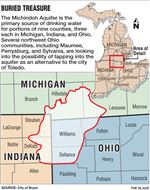 THE BLADE
Enlarge | Buy This Image
"My administration will continue to work and meet with representatives from all potential sources of water, including discussions with the Toledo administration and starting discussions with the city of Bowling Green," he said in a statement. "Perrysburg representatives will also continue to collaborate with leaders from the other suburban communities to facilitate joint efforts whenever possible."
Mayor Carr said the communities involved will go in together on a test well. If results come back as expected, the next steps will be taken. The presentation detailed how participating entities would pay for a new facility over 40 years. A formula would be determined to set rates, and that formula would not change for the duration of the contract.
"They said during that 40 years, even with construction costs, they estimate the participating communities' residents combined would save $1 billion over the current provider," Mayor Carr said.
The mayor said the water district's attorney, Rex Huffman, told him he believes the aquifer is "probably the answer."
Leaders from the suburbs and city of Toledo appear to be at an impasse. The city says it will not back off its latest proposal where Toledo City Council would have veto power over rates.
Ed Moore, Toledo's public utilities director, told The Blade last week he believes the deal on the table is "a really good deal."
RELATED: Toledo officials say water split wouldn't be 'catastrophic.'
Aquifers contain groundwater found underneath major rivers and streams. The aquifer acts as a natural filter, and unlike Lake Erie, the groundwater's quality doesn't drastically change in a short amount of time.
In Bryan, Ohio, the aquifer is the only option for drinking water. All municipalities drawing from aquifers are required to implement a sourcewater protection plan to guard against contaminants.
"There have been no real issues," Norm Echler, Bryan's water superintendent, said. "We promote awareness by saying, 'Here's our water protection area and please report spills and things of that nature.'"
Mr. Echler said the water is "very consistent in its quality," and many residents prefer the taste.
The Dayton area has relied on the Great Miami Buried Valley Aquifer for decades, with some portions using groundwater since the 1800s. The Miami Conservancy District was initially established to protect against flooding, but now plays a large role in keeping the aquifer safe.
Manager Mike Ekberg said relying on the aquifer has worked out well.
"The aquifer and rivers are kind of joined together and part of one system," Mr. Ekberg said. "Water from the river, at times, moves into the sand and gravel aquifer. In other conditions, water from the aquifer moves up into the river channel.
"The quality of water in Lake Erie can change dramatically in a short period of time. I think folks here realize groundwater quality doesn't change much from day-to-day or week-to-week. It's easier and cheaper to treat it."
Contact Jay Skebba at jskebba@theblade.com, 419-376-9414, or on Twitter @JaySkebba.
Guidelines: Please keep your comments smart and civil. Don't attack other readers personally, and keep your language decent. Comments that violate these standards, or our privacy statement or visitor's agreement, are subject to being removed and commenters are subject to being banned. To post comments, you must be a registered user on toledoblade.com. To find out more, please visit the FAQ.