Call it another sign the 2018 algae season is here: The city of Toledo has expanded its testing for the algal toxin microcystin to three times a week.
The move began Monday. The city pulls water samples daily throughout the year, but usually only tests for microcystin once a week from November to June because concentrations are virtually undetectable those months.
Andy McClure, administrator of Toledo's Collins Park Water Treatment Plant, said the decision to resume testing three times a week is in response to this year's series of twice-weekly bulletins from the National Oceanic and Atmospheric Administration — the federal agency that uses NASA satellite imagery and field data to track conditions. Those bulletins have shown patches of mini-blooms forming across western Lake Erie the past three weeks, especially in North Maumee Bay near the Ohio-Michigan state line.
Toledo's current water quality
NOAA's latest bulletin, issued Monday, said one of the blooms extends 22 miles off the Michigan coastline, just past West Sister Island. Another bloom remains in Sandusky Bay while a third, a patchy collection in the open water north of Cleveland, is a different species and is not expected to stick around long.
High-tech buoys deployed near Toledo's water-intake crib have not picked up any signs of a problem yet. But the city decided it's time to increase the testing frequency because of what NOAA's finding. If the bloom gets really bad, testing will be done daily.
"It's precautionary based on what's going on around us," Mr. McClure said. "That advance warning is important."
Such buoys were not in use in August, 2014, when an unusually toxic bloom got pushed deep underwater and temporarily fouled tap water for the nearly 500,000 people served by the city's water-distribution network. A public health advisory against drinking or making body contact with the water lasted nearly three days.
Raw water drawn from western Lake Erie takes about six hours before it arrives at the water-treatment plant. Real-time data on lake conditions allows operators to pre-treat the water with more carbon before it arrives, Mr. McClure said.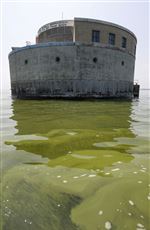 Algae is visible in Lake Erie near the Toledo water intake crib in 2014.
THE BLADE
Enlarge | Buy This Image
"In 2014, we didn't know until it got to the plant," he said.
Tests will be done at least each Monday, Wednesday, and Friday for the rest of the algae season.
NOAA said in its bulletin that strong winds from last weekend stirred microcystis — the most dominant form of algae in most of the basin — around so much that many of the previously observed concentrations aren't floating on the water now. Referred to simply as "scum" by scientists, the concentrations are still there, but have been mixed into the water column.
That observation was confirmed in the field by University of Toledo algae researcher Tom Bridgeman, who told The Blade he did not see any surface scum in the bay while scanning the area by boat on Monday morning with students.
"I did not see any surface scum or mini-blooms, but the water has sort of a green tint to it," Mr. Bridgeman said. "It hasn't gotten any worse since last week. It's just kind of holding steady at this point."
Mr. Bridgeman said he's not convinced the main bloom for the summer is forming. In past years, there have been sporadic outbreaks of what he describes as mini-blooms, which often dissipate before the main one arrives in August.
"I still think this is not a real bloom, but I could be wrong," he said. "It actually looks like there's less than there was a week ago. Hopefully, that mini-bloom is starting to fade a little bit."
Tim Davis, a former NOAA algae researcher now at Bowling Green State University, said that based on satellite images "it would not surprise me that they are not seeing much yet."
More will be known Thursday, when several area scientists meet at Ohio Sea Grant and Ohio State University's Stone Laboratory on Gibraltar Island to unveil their 2018 seasonal forecast.
Based on what's been reported in NOAA bulletins so far, they are expected to predict a sizable bloom but not one as large as 2017. Last year's bloom was the fourth largest since record-keeping began in 2002.
Contact Tom Henry at thenry@theblade.com, 419-724-6079, or via Twitter @ecowriterohio.
Guidelines: Please keep your comments smart and civil. Don't attack other readers personally, and keep your language decent. Comments that violate these standards, or our privacy statement or visitor's agreement, are subject to being removed and commenters are subject to being banned. To post comments, you must be a registered user on toledoblade.com. To find out more, please visit the FAQ.