Inside the neonatal intensive care unit, Jillana Williams and Lauren Boeke flip through bright books of nursery rhymes.
The two early literacy librarians enthusiastically share just some of the lessons parents will soon bring their children — shape recognition, the alphabet, and basic vocabulary. They stopped Wednesday at the parent caregiver support group at ProMedica Toledo Children's Hospital.
The Toledo Lucas County Public Library started this Ready to Read program in 2014 to better prepare young children. Personalized lessons with parents provide everyday examples and the latest research in child development.
They explain how talking, singing, reading, writing, and playing with the young ones can grow those skills.
VIDEO: Ready to Read at Children's Hospital
Ready to Read leaders drive all over Lucas County — bags of toys and books in tow — to help families with their children. Their visits are varied, such as to the Toledo-Lucas County Health Department, Metroparks Toledo, and Toledo Zoo.
The bag includes board books, a paperback book on vocabulary, magnetized alphabet puzzle, child friendly scissors, and hand puppets of Old MacDonald's farm animals.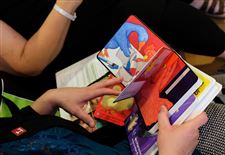 Toledo Lucas County Public Library early literacy librarian Lauren Boeke, holding book, explains educational materials given to TommiSue Sparks, a parent of an infant at the Toledo Children's Hospital NICU. Boeke was there representing the Ready to Read program.
THE BLADE/LORI KING
Enlarge | Buy This Image
Ms. Boeke said they have the best job, a flexible one allowing them to meet families and bring them back to the library. They are open to organizations' suggestions on where to go.
"We will go everywhere a few times, for sure, because we are all about making connections, making partnerships, and meeting families where they're at," Ms. Boeke said.
Ms. Williams said the program is sensitive to families' needs, and they call parents every couple of months to keep contact.
"We understand the struggle that parents can go through at this sometimes difficult age. It's a really fun age, but it's also a really trying age," Ms. Williams said.
Last year, the Ready to Read program reached more than 6,000 parents and children.
Many families can have funnel vision while in the unit, focusing on weight gain and the little steps to going home, said Shona Christy, certified child life specialist at ProMedica Toledo Hospital.
Ready to Read provides a broader perspective for upcoming toddler and preschool age, she said.
"These are the things you're going to be able to do. It's something to look forward to outside of being here, which consumes them, because they're in this crisis mode. They're just getting through day by day, so giving them that hope, I think, is important too," Ms. Christy said.
Parent Teal Hasselswerth, 30, of Napoleon, said Ready to Read is useful to prepare her children for the future. She has twins, Connor and Sloane born June 21, and who are in the unit.
"They're doing very well, growing slowly but surely, and they're little fighters," she said.
Latoya Broughton, 31, of Toledo, has been in the unit for her daughter, Raniyah Miracle, since April 5. The hospital's program has been valuable, and she will read these books to her children.
"Every week we have something different we can say about our baby, the different milestone they achieved," she said.
Contact Ryan Dunn at: rdunn@theblade.com, 419-724-6095, or on Twitter @RDunnBlade.
Guidelines: Please keep your comments smart and civil. Don't attack other readers personally, and keep your language decent. Comments that violate these standards, or our privacy statement or visitor's agreement, are subject to being removed and commenters are subject to being banned. To post comments, you must be a registered user on toledoblade.com. To find out more, please visit the FAQ.