Rainy weather doesn't derail opening of Rib Off
8/16/2018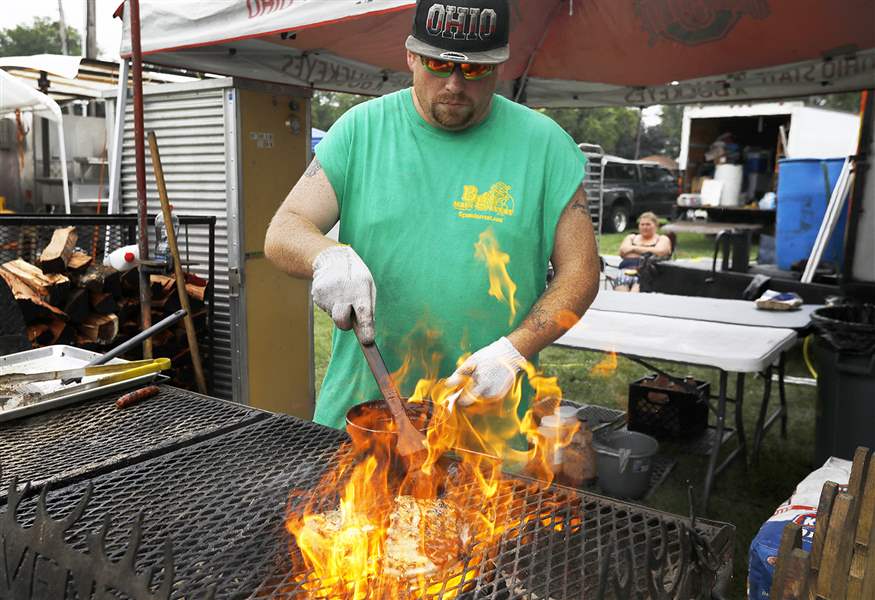 Randy Baker of Rittman of Bg's Southern Style BBQ grills ribs during Rib Off at the Lucas County Recreation Center in Maumee on Thursday, Aug. 16, 2018.
THE BLADE/SAMANTHA MADAR
Buy This Image
Dark clouds and rain weren't enough to keep barbecue connoisseurs from firing up their grills as The Blade's 35th annual Northwest Ohio Rib Off got under way Thursday.
Vendors attending the event this year spanned from local ribbers to rib experts from southern Ohio and elsewhere across the Midwest.
Oregon-based Smokey's BBQ Roadhouse was there for the first time. The family-owned business offered baby back ribs cooked "low and slow."
"We try to use local food," said Joey Carlo, owner of Smokey's BBQ Roadhouse. "We get all of our vegetables local. Our meat is local because we use a hormone free natural rib."
One of their unique items featured a muffin turned into waffle cone with pulled pork and coleslaw.
VIDEO: Sights, sounds from Rib Off
Mr. Carlo said this event provided a way for his business to get exposure.
"It's important for us to keep our neighbors working down there and it's good for us," he said. "It gives us a unique flavor that some of these guys can't get."
Maumee-based Deets BBQ, winner of six different rib off awards, is participating for the seventh year.
"We're excited we're going to be feeding the bands and the VIP," Deets BBQ owner Trevor Deeter said. "We're hoping to get good responses from them, but more than anything, to see the community come out."
He added that what separates his ribs from everyone else's is their bigger size, lending the ribs a more meaty bite.
"We dry rub them and then smoke them over hardwoods," he said.
Another competitor was Bowling Green's Porkbelly BBQ, owned by Heather Sullivan-Earl and P.J Earl, who turned a side hustle into a full-time business.
"It was actually born one summer here at the Maumee rib off and [P.J] thought 'This looks amazing. I should be doing this,'" Ms. Sullivan-Earl said. "Dreams do come true at the rib off."
Their business has grown since its inception. From serving hand crafted mac and cheese to cheesy potatoes and smoked redskin taters, the duo enjoys cooking handcrafted meals.
"It's our commitment to quality," Ms. Sullivan-Earl said. "We source our ingredients responsibly. We are self-proclaimed food snobs. If we wouldn't eat it, we don't serve it."
They will open their restaurant in Bowling Green off of East Wooster Street in mid-October.
Although the skies were cloudy and rain fell on and off, attendees on Thursday continued to enjoy ribs and music.
Melonie Wells, 38, of Toledo came to the festival for the first time after winning VIP tickets. She said she was looking forward to the performances — with live music scheduled every day until the rib off concludes Sunday — and, of course, tasting the ribs.
Her uncle Alford Wells, 55, of Toledo accompanied her.
"I'm hoping the weather clears up," he said.
VIDEO: The Blade's Geoff Burns on music, food at Northwest Ohio Rib Off
Organizers expected only 3,000 to 5,000 people on Thursday because of poor weather conditions, said Luann Sharp, The Blade's marketing and creative services director. But that number size is expected to double Friday and more than 10,000 people are expected to attend on Saturday.
The rib off will continue at noon Friday, Saturday, and Sunday.
Sunday will be family day where entry will be free. However, children 2 years and older will have to purchase $5 wrist bands to be eligible to participate in rock climbing, archery, and face painting among other events.
This year's event is presented by Taylor Automotive Family and sponsored by Tireman, Budweiser, Fin Feather Fur Outfitters, Elizabeth Scott Community, TAS, and the U.S Army.
Winners for the rib off will be announced at 3:30 p.m. on Sunday. Atteendees can vote for the people's choice awards while the other two categories will be decided by judges.
Contact Areeba Shah at ashah@theblade.com, 419-724-6066, or on Twitter @areebashah.