Toledo Zoo moves giraffe to new facility in New York
8/16/2018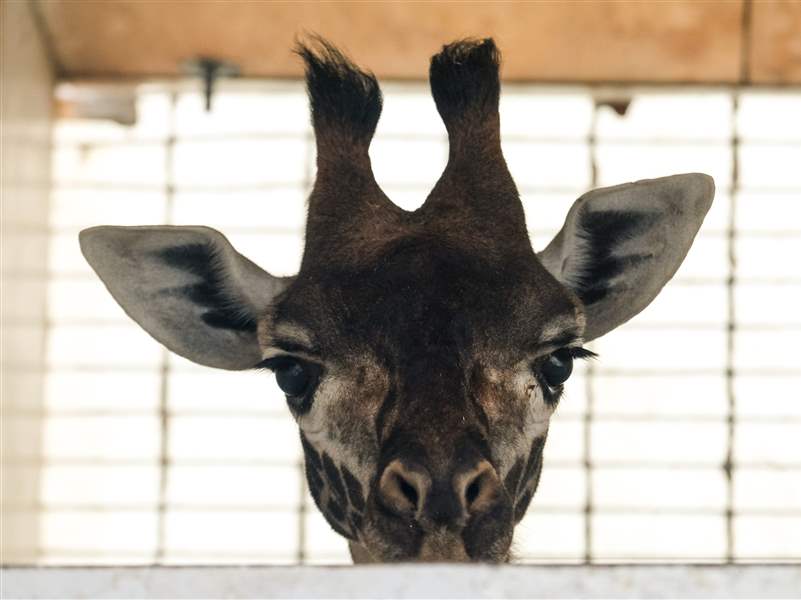 The Toledo Zoo moves a giraffe named Kipenzi to the Seneca Park Zoo Tuesday in Toledo.
THE BLADE/JEREMY WADSWORTH
Buy This Image
Little more than a year after Kipenzi, a female Masai giraffe, was born at the Toledo Zoo, staff members are helping her move out and start her life at the Seneca Park Zoo in Rochester, N.Y.
The facility in New York is starting with three giraffes: one male and two females. Members of the Species Survival Plan program reached out to Michael Frushour, the curator of mammals at the Toledo Zoo, informing him about Seneca Park's plan to further expand its exhibit. It will be half the size of Toledo's giraffe population.
"It's just really cool to know that she's going into this program that's going to grow and she will be one of the three," Mr. Frushour said. "Hopefully one day, they'll have a herd like ours."
RELATED: Toledo Zoo welcomes baby giraffe
WATCH: Staff prepares to move Kipenzi to Seneca Park Zoo
A team of seven people assisted in moving the 687-pound giraffe Tuesday into a specialized trailer, using treats to lure her in. The process required several hours of training prior to the move.
In the eight-hour drive, drivers will stop every hour to ensure Kipenzi is in good shape.
This is the fifth time the Toledo Zoo has moved a giraffe to another facility.
Joan Druyor, Giraffe keeper at the Toledo Zoo, said it's easier to move animals when they're young. Kipenzi's independent personality will allow her to better adjust to a new environment.
"This will be the first time we'll separate her from her mother, but she'll be fine," she said.
Mrs. Druyor has looked after Kipenzi since she was born by training her for footwork, making sure she was healthy, and cleaning up after her. But she is prepared for Kipenzi to move into her new home.
"I met the keepers who are going to be taking care of her in New York and they're going to be really nice people so it kind of makes it easier to send her off when you know where she's going," Mrs. Druyor said.
While the move went smoothly, Dr. Kirsten Thomas, a veterinarian with the Toledo Zoo, was there for backup in case Kipenzi needed to be sedated.
WATCH: Baby Kipenzi at the Toledo Zoo
"It's pretty common to move animals around," Dr. Thomas said. "It's always fun seeing an animal go to its new kind of forever home."
She added the process requires a lot of preparation if something goes wrong, but everything usually works out just fine.
"It's always fun because zoo animals are so unique," Dr. Thomas said. "It's not like taking a cat or a dog across the country. It's treating every animal for its specific needs. It's always a unique challenge."
Contact Areeba Shah at ashah@theblade.com, 419-724-6066, or on Twitter @areebashah.