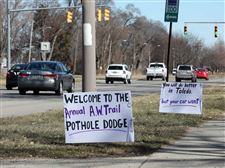 Signs posted by someone concerning the numerous potholes that dot the Anthony Wayne Trail greet motorists on the Trail near Glendale Avenue.
The Blade
Enlarge | Buy This Image
Anthony Wayne Trail commuters' ride between Glendale and South avenues has gotten a lot smoother over the past two-plus months, but it'll likely be about six more weeks before all lanes reopen in that two-mile work zone.
With intermediate paving having been completed early this month, crews on the $2.9 million repair and resurfacing project past the Toledo Zoo have begun the "flat phase," during which concrete curbs, catch basins, and wheelchair ramps at intersections are repaired or replaced, Doug Stephens, Toledo's engineering services administrator, said last week.
Overall, however, the resurfacing project is right on schedule for Oct. 2 completion, Mr. Stephens said.
With the left lane in both directions having been repaired last, it remained closed through the work zone for the concrete work along the median. Once that side is done, Mr. Stephens said, similar work on the roadway's outside will close the right lane in both directions.
"There will be some times when turn lanes won't be available," he said.
Surface paving planned for mid-September will require closing two of three lanes, but as with previous double-lane closings that work will be done at night, the engineering administrator said.
After that, the project will conclude with replacement of concrete castings around manhole covers and other portals to underground utilities.
The paving project's scheduled completion nearly coincides with the Sept. 30 scheduled end of the city's Anthony Wayne Trail Gateway project at Erie and Lafayette streets.
While pavement construction there ended late last year, work crews this year have been landscaping the former Trail alignment that previously formed a fifth leg at the Erie-Lafayette intersection.
Mr. Stephens' office recently reported to Mayor Wade Kapszukiewicz that glass for a sculpture to be erected as part of a park on that site was being delivered late.
But the engineering administrator said last week that the late-arriving glass was not part of the "critical path" for the park redevelopment.
"We're doing the ground-level stuff this week," Mr. Stephens said Wednesday, while the fabricator for the sculpture's metal elements has materials on hand, with painting to be followed by erection in mid-September.
A state project to rebuild the Trail's bridge over Norfolk Southern railroad tracks near City Park Avenue, however, is scheduled to run until late next year, while the Trail's reconstruction within the I-75 interchange just south of downtown Toledo is slated to begin next year.
Contact David Patch at: dpatch@theblade.com or 419-724-6094.
Guidelines: Please keep your comments smart and civil. Don't attack other readers personally, and keep your language decent. Comments that violate these standards, or our privacy statement or visitor's agreement, are subject to being removed and commenters are subject to being banned. To post comments, you must be a registered user on toledoblade.com. To find out more, please visit the FAQ.