What to expect on your commute: The Blade's Road Warrior, 8/19
8/19/2018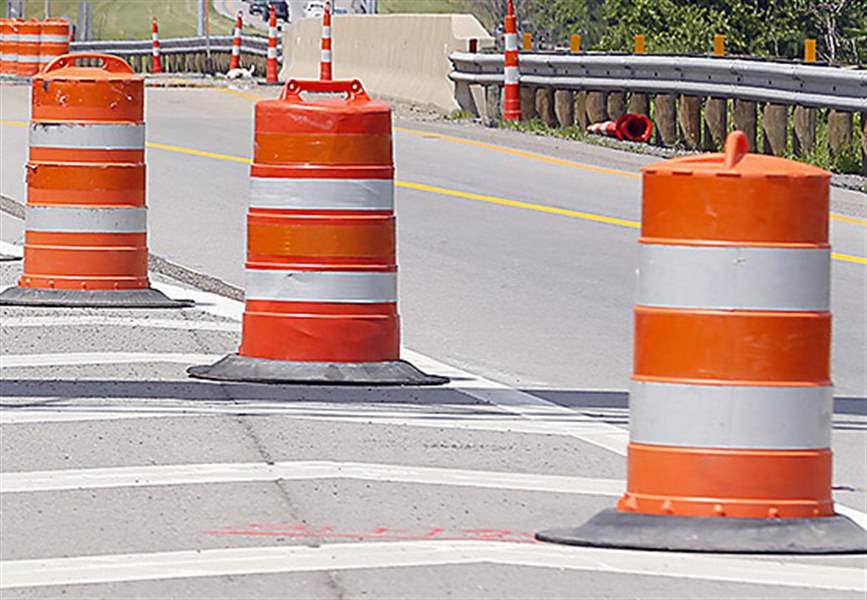 The Blade's Road Warrior highlights the major construction projects in Toledo and the surrounding area.
The Blade
Buy This Image
Each week during the construction season, The Blade's Road Warrior highlights the major construction projects in Toledo and the surrounding area, noting where delays are worst and where the best alternative routes are.
Recent driver behavior on Erie Street in downtown Toledo has been evidence that many motorists ignore portable message signs in work zones.
Two lanes have been maintained throughout the resurfacing zone between Lafayette and Cherry streets. But for the past few weeks, those two lanes jog one lane to the left between Monroe Street and Madison Avenue.
Other than a message board directing drivers to stay in their current lane, however, there is nothing to indicate that two-lane jog -- no lane stripes, no dual-S-curve signs.
Many drivers are simply driving straight as the left lane becomes the right lane after Monroe, then reverts to being the left after Madison. This is causing congestion as well as a collision hazard.
If the city plans on keeping this arrangement any longer, it needs to put up more signs, if not apply some temporary lane stripes, so two lanes of traffic flow through this zone.
It was not clear at this writing, meanwhile, when Monroe Street might reopen at Erie. I'll announce it on my Twitter feed, @BladeRdWarrior, as soon as I'm aware of it.
1. I-75: Reconstruction and widening between I-475 and Lagrange closes all ramps at Jeep Parkway except the northbound exit, plus southbound entrance at Phillips. Detour to nearby interchanges. ProMedica Parkway ramp at eastbound I-475 leads to I-75 southbound only. Off-peak lane closings possible on I-75 through the zone, including Monday night for a traffic shift that also will close the northbound ramps at Phillips. Haverhill Drive closed for street reconstruction, and Phillips Avenue and Manhattan Boulevard closed at their intersection for roundabout construction.
2. I-75: Nighttime (7 p.m. to 6 a.m.) lane closings at Indiana for bridge reconstruction. Southbound exit to Washington Street reduced to one lane.
3. State Rt. 25 (Anthony Wayne Trail): Two inbound lanes and one outbound lane closed between Western and Collingwood for bridge replacement. City Park closed on both sides of the Trail.
4. State Rt. 51 (Monroe): Lanes closed on Monroe between Collingwood and Erie for resurfacing. Monroe closed to through traffic at Erie during intersection reconstruction and sewer repair; use Washington instead between Michigan and Erie.
5. State Rt. 25 (Erie, Michigan): Lane closings on Erie from Lafayette to Cherry and on Michigan from Jackson to Madison for resurfacing. Superior Street, a potential alternative route for Erie, is closed at Jefferson and partially closed at Jackson for sewer construction, as are Jefferson and the westbound lanes of Jackson at those intersections.
6. Bancroft Street: Lane closings, Westwood to Secor, for street reconstruction.
7. State Rt. 51 (Monroe): Lane closings, Talmadge to Harvest, for water line work.
8. I-280: Lane closings in both directions between State Rts. 795 and 51 for drainage repair until late August.
9. State Rt. 25 (Anthony Wayne Trail): One of three lanes closed between South and Glendale for resurfacing until early October. A second lane may be closed between 7 p.m. and 6 a.m. nightly except Saturday nights.
10. State Rt. 579: Closed to through traffic between State Rt. 51 and the Ottawa County line for bridge replacement through October. Use State Rt. 2 or State Rt. 163 instead.
11. State Rt. 184 (Alexis): Lane closings for resurfacing and drainage work between Flanders and Acres roads in Sylvania through December.
12. I-475/U.S. 23: Nighttime lane closings on the southbound side for barrier-wall construction just north of Central Avenue through Sept. 16.
13. I-475: Nighttime lane closings and ramp restrictions possible on westbound side near Talmadge for culvert repair.
14. State Rt. 65 (Summit): Lane closings, Lagrange to Jackson, for resurfacing.
15. U.S. 24: Lane closings, Waterville-Monclova to Stitt, for resurfacing starting Monday. The eastbound entrance from Anthony Wayne Trail will be closed from 8 p.m. Friday until 11 a.m. Saturday, with traffic detoured to the Fallen Timbers entrance.
OFF THE MAP
I-75 (Ohio): Reduced speed limits and nighttime lane closings through Findlay for reconstruction and widening. Northbound exit to U.S. 68/State Rt. 15 closed until 2020. Northbound ramps at U.S. 224 closed. Nighttime lane closings near Bowling Green start Monday for interchange work at State Rts. 64/105. Lane closings south of Findlay, between the State Rt. 235 and Bentley Road interchanges, for bridge work and pavement repair.
U.S. 6: Closed for bridge repairs east of Fremont, between Sandusky County roads 222 and 312, for 80 days starting Monday. Detour via State Rt. 53 and State Rt. 2. Flag zones for resurfacing between State Rts. 49 and 2 in Williams County. Side roads may be closed at some intersections during work.
U.S. 20: Flag zones for resurfacing between the two State Rt. 108 intersections through August.
U.S. 23: Scattered lane closings in Monroe County for concrete pavement patching. As of Sunday morning, the southbound right lane was closed after Summerfield.
U.S. 24: Lane closings between Napoleon and the Henry/Defiance county line start Monday for resurfacing and guardrail repair.
U.S. 68: Closed for reconstruction on the north side of Arlington through early November. Southbound traffic is detoured via State Rt. 15, U.S. 23, and U.S. 30, and northbound traffic is detoured via U.S. 30, State Rt. 235, and I-75.
U.S 127/State Rt. 15: Highway closed at U.S. 6 in Williams County for pavement repair through early September. Detour via State Rts. 249, 2, 576, and 34.
State Rt. 15: Occasional lane closings near State Rt. 330 in Vanlue for bridge work.
Contact David Patch at dpatch@theblade.com or 419-724-6094.