Sylvania library branch opens to visitors
8/23/2018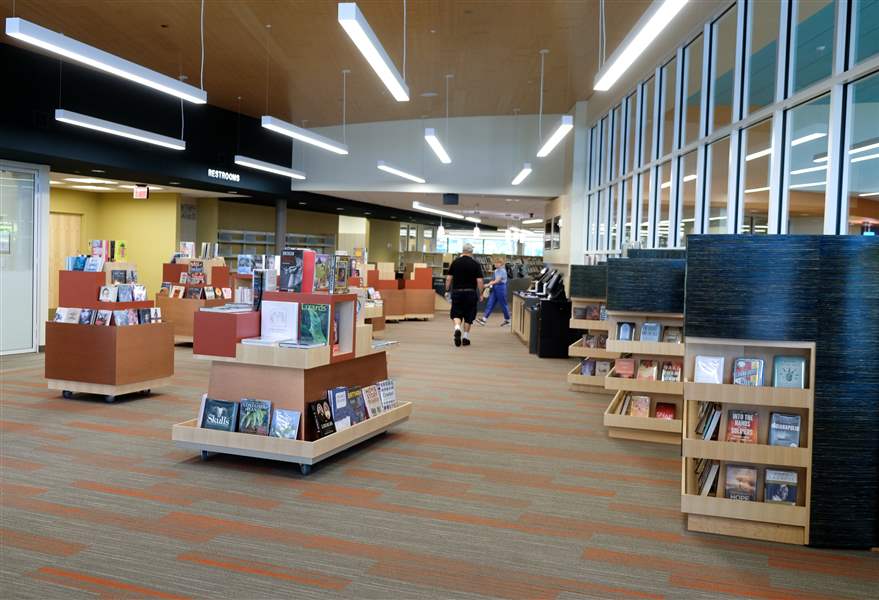 Near the front of the library are adult fiction and non-fiction books that are less than three months old. The Sylvania branch of the Toledo Lucas County Public Library will have a grand opening Sept. 7.
The Blade/Jetta Fraser
Buy This Image
Kayla Tyburski discovered plenty of pleasant surprises at the renovated Sylvania library branch — panoramic views, cozy seating, and a children's corner ideal for learning.
To her, the newly reopened building is like a bookstore crossed with Imagination Station.
Ms. Tyburski was among a small group of patrons Wednesday who visited during the Toledo Lucas County Public Library branch's ongoing "soft opening." She praised its family-friendly environment and bright feel. Natural light permeates the building.
WATCH: Branch manager Ben Malczewski talks about the library's upgrades
"Where before, this felt very dark and old and closed off," said Ms. Tyburski, 31, of Sylvania.
The expanded 4,000 square feet brought a dedicated area for project work, meeting rooms, and a quiet-reading lounge with a fireplace. New glass panels circle the traditional brick exterior.
The building closed a year ago for its first major update since 1989. Renovations totaled about $5.7 million.
Ben Malczewski, branch manager, said the glass opening provides a view both into the branch and out to the city.
"This is a billboard. You see this action inside, and hopefully it's colorful and engaging and attractive. And you want to go in. It does pique your curiosity," Mr. Malczewski said.
There is now a laptop bar for work and charging electronics, a 3D printing station, and podcast equipment. Mr. Malczewski described these dynamic services as "like the book opened up and embodied."
The library branch's location near Lourdes University, Northview High School, and area business meant connection was key. Officials hope to involve entrepreneurs, students, and families, Mr. Malczewski said.
"It's about access from all directions, really. I really do think that instead of seeing us on the edge of the downtown area, I think we're in the center of the Sylvania community," Mr. Malczewski said.
Visitor Michelle Preston, 34, of Sylvania, said she was pleased with the work as well. The branch blends nicely with surrounding buildings.
"I love it. I love the expanded collection. I love that they kept some of the original brickwork and the original windows. It's really nice," she said.
The branch will remain open in advance of a grand opening 4:30 p.m. Sept. 7. A presentation follows at 5:30 p.m.
Contact Ryan Dunn at rdunn@theblade.com, 419-724-6095, or on Twitter @RDunnBlade.