Board of Elections rejects downtown jail, Lake Erie bill of rights petitions
8/28/2018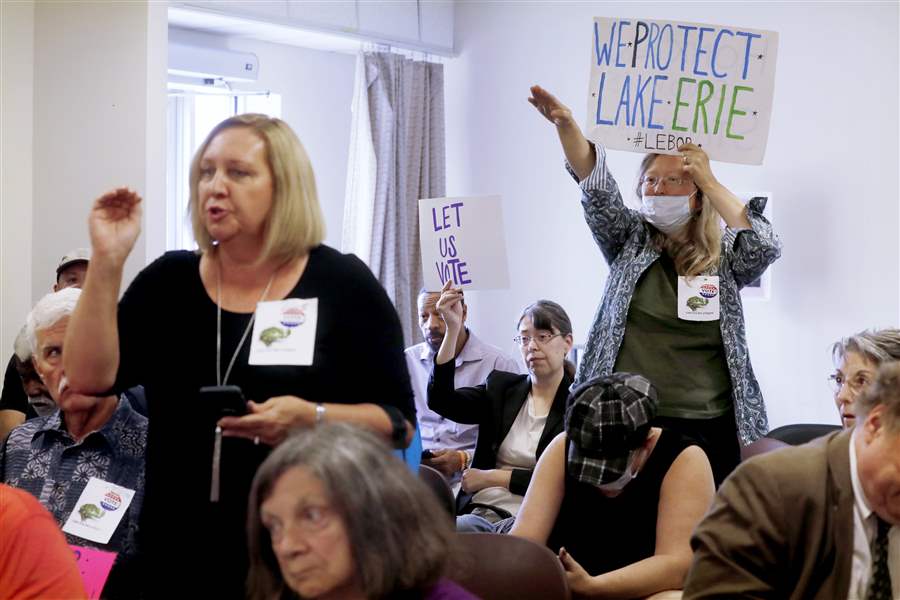 Cindy Matthews, right, stands in protest after members of the Lucas County Board of Elections voted to exclude two initiatives from the November ballot during a special meeting Tuesday at the Early Voting Center in Toledo.
THE BLADE/KATIE RAUSCH
Buy This Image
Accusing Lucas County Board of Elections of thwarting democracy, supporters of two petitions excluded from the November ballot by board vote said they plan to sue for their inclusion.
The two petitions — one seeking to keep the Lucas County jail in downtown Toledo and another seeking to establish a Lake Erie bill of rights — were rejected by the board and will not go before Toledo voters in November.
In a tense special meeting Tuesday morning that at times broke into raucous jeers from supporters of the petitions, board members said the initiatives went beyond the scope of what Toledo city law could enforce and unanimously voted against them.
WATCH: Protesters argue for downtown jail, Lake Erie bill of rights petitions
"This is essentially an act of censorship because you're keeping a First Amendment petition for redress of grievances off the ballot," said Terry Lodge, an attorney for the petitioners of the Lake Erie bill of rights.
Supporters holding colorful signs and wearing pins packed the standing-room-only meeting.
"Let us vote!" the crowd repeatedly chanted. "Who elected you?"
Board of elections members are appointed by the Ohio Secretary of State at the recommendation of local political parties.
Officials on Tuesday more than once had to gavel the room into silence, repeatedly threatening to remove people who did not comply.
"We're going to be pursing our legal options in court," Sean Nestor, campaign manager for Toledoans for Safe Water and an organizer with Keep the Jail Downtown, said after the meeting.
"We believe that the courts will find on our side that we are allowed to go to the ballot," he said. "This is a complete miscarriage of justice. ... This is a cabal of unelected partisan operatives blocking the will of the people."
Kevin Pituch, the board's attorney, advised members to keep both petitions off the ballot and cited the Ohio Supreme Court.
"They both contain language that permits a private individual to sue in the Lucas County Common Pleas Court for a violation," he said. "The Supreme Court has said that's a power the municipality does not possess and can't be part of any initiative."
His explanation did not sit well with those in attendance.
"We're being silenced," one said.
Board member Josh Hughes said after the meeting the board is required to look at whether petitions fall within the scope of the law.
"The point I made over boos and hoots and hollers was that we're limited by state law," he said.
In other action the board approved a request from Toledo City Council to let voters decide whether the city will form a regional water commission. It also approved a ballot issue for just one Sylvania precinct to vote on a local liquor option for Inside the Five Brewery.
The board rejected a petition to put before Harbor View voters an initiative to decriminalize small amounts of marijuana in the village.
Contact Lauren Lindstrom at llindstrom@theblade.com, 419-724-6154, or on Twitter @lelindstrom.