Cherry puts on hold plan to hire Steel as Toledo council chief of staff
8/31/2018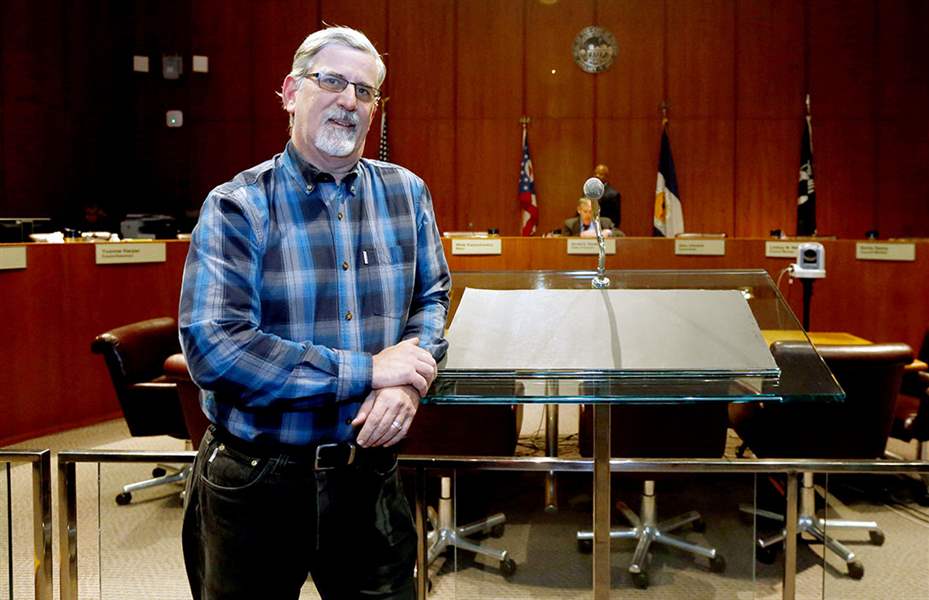 In this file photo, former Toledo city councilman Steve Steel stands at the podium in the Toledo Council Chambers, where the public addresses the council.
THE BLADE/LORI KING
Buy This Image
Toledo council President Matt Cherry has put on hold a plan to hire his predecessor as council's new chief of staff.
Mr. Cherry announced Wednesday that former council President Steve Steel was set to take on the newly created chief of staff role, a position for which he would be paid just shy of $78,000.
Other council members expressed reservations about how Mr. Steel was selected, and Mr. Cherry in a media release Friday said he directed the city law department to review procedures for creating the position and filling the role.
"City council has too often been reactionary to mayoral administrations, policy shifts on the state and national levels, and emerging trends," Mr. Cherry said in the release. "A city council chief of staff will help the legislative body be more proactive as it works with the mayor's team, our state and federal lawmakers, and the public."
Councilman Sandy Spang brought her concerns about the hiring process to Mr. Cherry after he announced his intention to bring Mr. Steel on staff.
She said on Friday she believes council rules dictate city council employees must be selected by a majority vote of the council and commended Mr. Cherry for putting the process on hold to seek an expert opinion.
"The charter gives us the ability to adopt a set of rules as council. We always have the ability to give additional power to the president to do this kind of hiring, but the rules as they stand now indicate to me that this is a decision by the full council," Ms. Spang said. "I think he is wise to seek that input from the law department. We need to adhere to the charter and our own rules. We need to have consistency."
Adam Loukx, the city's assistant law director, said he hopes to have an answer on the matter early next week.
Councilman Tom Waniewski said he believes it is within the council president's purview to make staffing decisions without a council vote. He also maintained his support for Mr. Steel, with whom he served with on council, as being the right person for the chief-of-staff job.
Councilman Yvonne Harper in an email Wednesday to Mr. Cherry expressed her disappointment that he did not consult with all council members before offering Mr. Steel the job. On Friday she called Mr. Cherry's decision to take a step back "a smart move," but reiterated her concerns about the lack of a formal search process to fill the new position.
"Open it up and give people an opportunity. Have a selection process," she said. "I just want a fair process."
Ms. Harper also questioned whether a chief of staff is necessary for city council, which has four legislative aids, a clerk, an assistant clerk, and several other employees.
"I don't even know why we need one," she said. "That's why we have an elected president among us."
Councilman Rob Ludeman also questioned whether city council needs a chief of staff and said he'd rather do without to save money.
"I think it is critical to pinch every penny that we can in the general fund," he said.
He added that if others believe the position is necessary, then he'd like the full council to decide who fills it.
"I hope it's not just placating the members of council that were offended by the way it happened — no vote, no open discussion. There should be a process followed," he said. "Putting the brakes on it should not be for a couple days. It should be allowed for all council members to discuss."
Mr. Cherry did not return a call seeking comment Friday, but in a letter to his colleagues said the job is necessary to manage the existing council staff, improve relationships with the public, and communicate and coordinate with the Kapszukiewicz administration. He said Mr. Steel is the right person for the role.
"Steve has intimate knowledge of the city budget, has worked with most members of Council and staff as well as multiple City administrations, and has a thorough understanding of the City and the policy challenges we face," Mr. Cherry wrote.
Mr. Steel served on city council from 2009-2017 and was the Lucas County Democratic Party chairman from June 2014, to March 2015. He graduated from University of Toledo's law school while in office and took a job with Widman & Franklin LLC, a labor and employment firm in Toledo.
He said Wednesday that his last day of work at the firm would be Friday because he anticipated beginning his new post with the city on Tuesday.
"I want to thank Mr. Steel for his patience since I know he is eager to begin his work troubleshooting the daily needs of council and strategizing on the growth of our city," Mr. Cherry said in his statement.
Mr. Steel did not return a call seeking comment Friday.
Contact Sarah Elms at selms@theblade.com, 419-724-6103, or on Twitter @BySarahElms.