MONROE — The sweet aroma of grilled meat and barbecue sifted through the air Saturday afternoon as hundreds gathered in Monroe for what has become a Labor Day tradition.
Tasty food and live music might have been the highlight for some patrons attending the seventh annual Monroe Labor Day BBQ Festival, but it had other attractions including a petting zoo, Comic-Con preview, and a variety of food vendors.
Hundreds of people descended on Monroe's downtown streets for the festival Saturday, where they saw nearly a dozen labor union locals represented.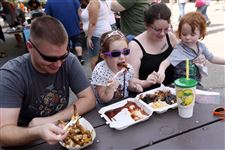 Jordan and Kayla Colburn of Monroe eat poutine and barbecue with their kids Elaina, 4, center, and Dorian, 3, right, during the 7th Annual Labor Day Barbecue Festival Saturday, September 1, 2018, in downtown Monroe. Organizers were expecting about 3,000 people to attend the festivities, which included food and live music.
THE BLADE/KATIE RAUSCH
Enlarge | Buy This Image
"We're so excited," said Monroe County Tourism Bureau Director Brad Schreiber.
"We have the biggest crowd right now than we've ever had at this time," he said as he pointed to the hundreds of patrons already present in the early afternoon. "This festival has become a staple. There's something for everybody. This is one of the best ways we could start a staycation right here in Monroe County."
Jason Matthews, AFL-CIO chairman of the Labor Day Festival and International Brotherhood of Electrical Workers Local 8 member, said he was proud to see so many labor organizations together.
"From a labor standpoint this just shows that it doesn't matter if you work at McDonald's, it doesn't matter where you work at, we're all laboring to make this country and our communities great," he said.
This year's parade started at noon. The festival ran from 1 p.m. to 10 p.m. with live bands rotating on stage the entire day. Organizers said they expect about 3,000 people to attend the festival throughout the day.
Rob Cousino, of IBEW Local 8, carried his 18-month-old son, William, as they enjoyed the festival.
"Seeing unions come together and celebrating, that's what it's all about," he said. "I support labor 100 percent."
Guidelines: Please keep your comments smart and civil. Don't attack other readers personally, and keep your language decent. Comments that violate these standards, or our privacy statement or visitor's agreement, are subject to being removed and commenters are subject to being banned. To post comments, you must be a registered user on toledoblade.com. To find out more, please visit the FAQ.