Closing time: Main Library shuts down for renovations
9/1/2018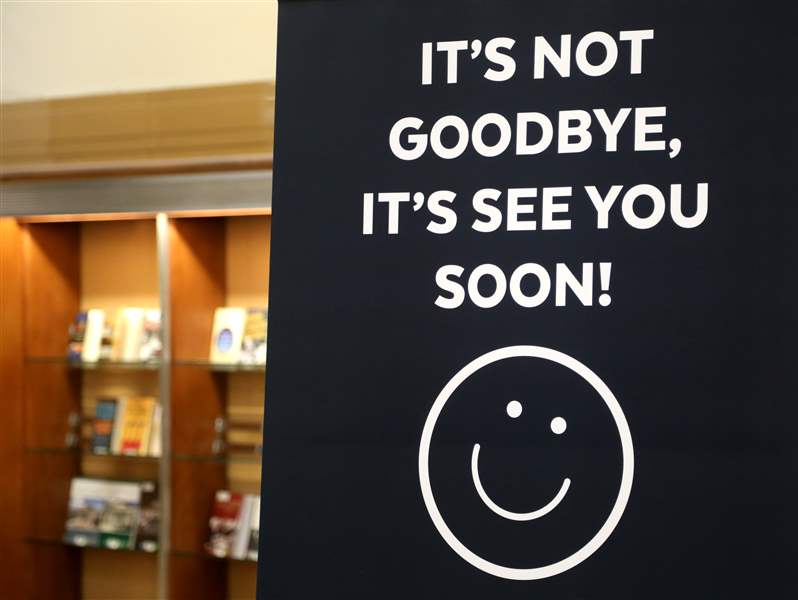 Sign seen at the entrance at the Toledo Lucas County Main Library in Toledo on Saturday, September 1, 2018.
The Blade/Kurt Steiss
Buy This Image
Just minutes before staff locked the doors, Royce Wicks finished writing his list of Main Library books to reserve.
"Since I was 18, I make weekly trips down here. That's a lot of years," said Mr. Wicks, 72, of Toledo.
He was among the last few patrons during Main Library's final day of operation for 10 to 12 months. Visitors said they will miss the building, but many had plans to visit area branches.
When it opens again, Main Library will have undergone its first major renovation in 18 years. Officials said the closure significantly reduces work time and cost for a project estimated to $12.2 million.
Improvements include four new collaboration spaces. These large areas will serve uses such as organizational meetings, public services, and creative design. The building will have a "Main Street" pathway from the front door.
Richard Durrett, 49, said he uses the library every day. He looks forward to the changes.
"It's an inconvenience because this is closer, but it's to improve the library," Mr. Durrett said.
VIDEO: The downtown branch of the Toledo Lucas County Public Library closes for renovations
Library employees and outside organizations joined to determine how to best serve different groups who visit the library, said Meg Delaney, Main Library manager.
All Main Library programs and services will continue during the closure. A book return bin will remain outside the building. Business services will move to the Heatherdowns branch, and next summer's brown bag concerts shift to Maumee branch. Patrons may access local history department reference materials by appointment. Some branch hours are expanding as well.
Ms. Delaney described this winding down as a tough week. Staff interact with many regulars every day, she said.
"The idea that we're not going to see them is as hard for us," she said. "It goes both ways."
The building's entranceway will stay open for some time. An employee plans to update customers and direct them to any needed resources.
In the months leading up to Saturday, there was an effort to notify patrons who are homeless and have mental illness where to seek other resources, said Scott Sylak, executive director of the Mental Health and Recovery Services Board of Lucas County.
"What I think we're seeing now is, from our perspective, our population has already developed new routines," Mr. Sylak said.
Cherry Street Mission President and CEO Dan Rogers said its Life Revitalization Center will become like a subsidiary of the library throughout the next several months. The library contributed a collection of books — with particular focus on the trade careers — and computers to the center. Library staff will also help train Cherry Street representatives in how to run a library at the center, Mr. Rogers said.
The Life Revitalization Center will keep this equipment. It plans to continue the program after Main Library reopens, Mr. Rogers said.
"It's really the library opening with respect to how we're just enlarging capacity for all of us by working together," Mr. Rogers said.
Contact Ryan Dunn at rdunn@theblade.com, 419-724-6095, or on Twitter @RDunnBlade.