Runners, walkers set off on 24-hour race at Olander Park
9/2/2018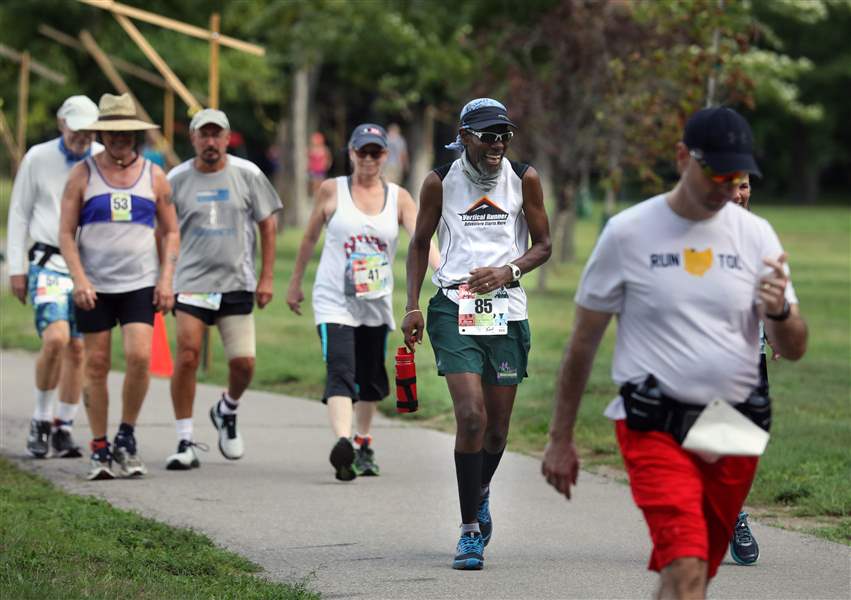 Fredrick Davis III, center, smiles while he walks the course during the 20th annual Olander 24-Hour Endurance Run in Olander Park on Sunday. Mr. Davis has participated in the event since its inception.
The Blade/Amy E. Voigt
Buy This Image
Stacey Kozel wasn't the fastest racer at the Olander 24-Hour Endurance Challenge, but she had a different prize in mind.
The 44-year-old set off on a steady pace Sunday morning on her quest to nab the world record for longest distance walked on crutches in a 24-hour period. To do so, she'd have to best the current record of 20 kilometers, or about 12.4 miles, in a day. Her personal goal was 50 miles.
"I've always been trying to find things to challenge myself," she said. "I took up distance [walking] after I was paralyzed because it was a challenge."
Just 22½ hours to go.
As the muggy Sunday morning slipped into afternoon, racers circled the 1.1-mile track at Olander Park in Sylvania. The Labor Day weekend event features individuals and relay teams of four to 10 members racing continuously for a full day.
Race director Clint McCormick stood among the snacks and a variety of beverages — water, Gatorade, pickle juice, and chocolate milk — as racers zoomed by.
"It's a challenge to yourself," he said. "Just like any sport, there is a community and people come from all over the country for this event."
When her lupus caused paralysis in 2014, Ms. Kozel had to shift her mindset to chase new goals and ways to push herself mentally and physically. Feats of endurance are nothing new for the Medina, Ohio, woman, who climbed Mount Kilimanjaro in January and is a frequent half-marathoner.
"I've spent so much time in the hospital. Once I get out I don't want to waste any time," she said. "I want to live life, get out here, meet all these new people. ... That's one reason I keep pushing myself. No regrets."
Ms. Kozel paused to accept whooping cheers from fellow racers and bystanders.
"I think everyone is going through something and I hope people don't give up," she said. "Right now I know I'm not fast and I am going to stumble along, but I don't think it matters how fast we go, just that we keep doing what we want to do."
Around the bend, a temporary tent city popped up for supporters and relay members waiting their turn.
"One down, a million to go!" Cheered Joe Kinder, 62, who sat perched atop his bicycle as his wife, Mindy, 58, passed by on her first lap. The Fort Wayne, Ind., couple traveled with friends for the day-long event.
"I'll follow her around, hoot and holler and give her a bottle of water," he said. His wife's goal was to complete at least a marathon's distance, although next year they'd consider staying the full 24 hours, he said.
Tom Falvey, 81, paced near the starting line encouraging racers before the starting whistle. He was the event's race director for 17 years and this year joined a relay team with a goal of 15-20 miles over the course of the day.
It's the runner's high that brings him back, he said, and doesn't dispute the notion that some might call running for a full day just a little crazy.
"They're partially right," he said with a smile.
The 24-hour event ends 10 a.m. Monday at the park.
Contact Lauren Lindstrom at llindstrom@theblade.com, 419-724-6154, or on Twitter @lelindstrom.