Luminous Nights to return at the Toledo Zoo
9/5/2018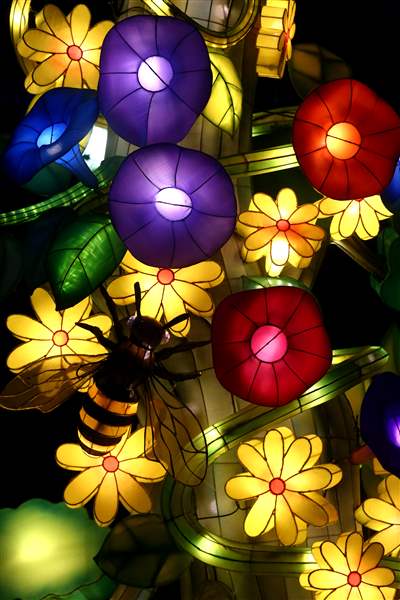 An illuminated lantern scene during the month-long 'Luminous Nights' event at the Toledo Zoo on October 2, 2017.
The Blade/Amy E. Voigt
Buy This Image
Toledo Zoo officials will kick off the fall season by bringing back Luminous Nights to the Glass City.
From Sept. 28 through Nov. 4, more than 500 lanterns will on display throughout the zoo grounds. The lanterns are handcrafted in the shapes of animals and botanicals made of a silk-like fabric stretched over a metal frame and illuminated from within by LED lights.
Attendees will also have the opportunity to try hands-on cultural activities, taste traditional Chinese food, watch professional acrobats, and view other demonstrations led by international students from local universities.
"We are thrilled to bring Luminous Nights back in 2018 for an encore presentation of this fall festival of color," zoo spokesman Shayla Bell Moriarty said in a media release. "This year we are featuring new, lower ticket prices, and live professional acrobats and other stage entertainment in the amphitheatre each Friday and Saturday evening. There will also be new lanterns, hands-on activities, new concession cuisine, and the family-friendly Beastro Beer & Wine Garden will also make its debut."
The zoo has also moved its annual beer tasting, Zoo Brew, to Oct. 5 to be a part of Luminous Nights.
Luminous Nights started in 2017. A similarly styled zoo program, Lights Before Christmas, has long attracted enthusiastic crowds, and in December it was voted best zoo light display in the USA Today's 10 Best Readers' Choice contest for the second year in a row.
Tickets are $13 per person for zoo members and $15 for nonmembers at the admission gates, which for Luminous Nights will be open from 6-8 p.m. Sunday through Thursday and 6-9 p.m. Friday and Saturday. Tickets purchased online will be $2 cheaper.
Four-ticket packages will also be available online at $35 for members and $45 for nonmembers.
For more information, contact the Toledo Zoo at 419-385-4040 or go to www.toledozoo.org/luminousnights.