Museum visit gives Toledo activists a deeper appreciation of Civil Rights struggle
9/6/2018
Connor Kelley, left, and Javier Gomez view an exhibit at the Civil Rights Museum Greensboro, N.C.
Special to The Blade/Rebecca Benson
Buy This Image
GREENSBORO, N.C. — When he eased into the stool at the all-white lunch counter at the F.W. Woolworth store in Greensboro, N.C., one evening a half-century ago, college student Lewis Brandon III would forever be a part of American history.
"It was something that was necessary," he said of the Greensboro sit-ins. "We grew up in segregation, and it was something we needed to do. It was duty; not only to me but to my community."
The International Civil Rights Center & Museum, where the Woolworth sit-in took place in Greensboro, N.C.
Mr. Brandon joined the sit-in protests the day after four black North Carolina A&T State University students, called the Greensboro Four, sat at a whites-only lunch counter and asked to be served.
Their subversive behavior on Feb. 1, 1960, sparked a national movement of peaceful sit-ins, which contributed to the passage of the Civil Rights Act of 1964 that outlawed racial segregation in public accommodations.
On Thursday, a coalition of activists and organizers from Toledo walked in history as they visited the iconic site of the Greensboro sit-ins at the International Civil Rights Center & Museum.
RELATED CONTENT: Toledo activists, organizers, headed to North Carolina
Walking into the old-fashioned lunchroom sent Theresa L. Powell's thoughts rushing decades in the past. In that fleeting moment, sorrow washed over her. Her flesh covered with goosebumps, she realized something she's always known — that back then her black skin wasn't good enough.
When Ms. Powell, and the rest of the group, walked into the F.W. Woolworth store, the 1960's eatery evokes an inescapable sense of nostalgia.
The L-shaped counter is furnished with chrome and vinyl stools, and the walls are decorated with signs promoting cherry pie for 15 cents and coffee for 10 cents.
And for the first time, she grasped the magnitude of what those four young men did.
"I saw it so real. I was like, 'Wow.' For those young men to take a chance of losing their lives and then for people to follow what they did, that just really touched me."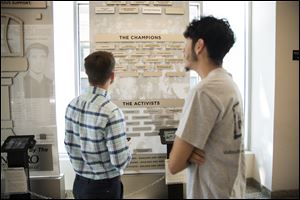 Connor Kelley, left, and Javier Gomez view an exhibit at the Civil Rights Museum Greensboro, N.C.
The building itself is quaint. The storefront blends with this southern city's downtown. Inside, visitors travel through a virtual timeline, with interactive exhibits, which chronicle the pieces of the past.
A tapestry of visuals illustrates the harrowing stories of the Jim Crow era: from a "Slave Auction" sign and shackles to the mangled face of Emmett Till, a 14-year-old boy from Chicago who was murdered while visiting relatives in Mississippi after being accused of whistling at a white woman.
In a corner of the museum, an abrupt gasp erupted from the crowd. There was a postcard of a black male laid out, burning in a fire pit.
Trinity Torres, a 15-year-old Waite High School student, said she was impressed after touring the museum.
"I never thought I would experience something like this," she said.
Connor Kelley, a recent University of Toledo graduate, learned about African-American history in college but he understands that a textbook has its limitations.
"It's more powerful to see it visually than when you read it in books," he said.
Perhaps even more important than the contents of the museum was what happened in the less scheduled moments. Later in the evening, over dinner and drinks, the Toledo group convened that evening at the Beloved Community Center, a community center in Greensboro.
They discussed civil and labor rights.
Nelson Johnson, the center's executive director, and longtime activist led a discussion that centered around the civil rights' campaign that occurred in Greensboro.
The room fell eerily quiet as they learned for the first time of the Greensboro Massacre where the Ku Klux Klan killed five people at a rally in North Carolina.
"I remember when that happened," Diane Greer-Travis said. "The problem is things happen to black, brown, and red people but we don't keep talking about it. As soon as it happens, the news blows it up and then nothing."
The discussion went late into the night. Afterward, there wasn't much to say, only time to inspire.
"Somewhere out there, maybe one of you is the next Cesar Chavez, the next Martin Luther King Jr., the next Rosa Parks, or the next great leader," said Baldemar Velasquez Farm Labor Organizing Committee (FLOC).
After a long day, the mood was tense.
Mr. Velasquez began to strum the strings of his guitar.
The group joins together while singing "De Colores," originally a Spanish spiritual song.
The spirit of the room was uplifted. They then begin to sing another song; a song they learned earlier at the museum.
"Woke up this morning with my mind stayed on freedom," they crooned.
"Woke up this morning with my mind, stayed on freedom.
"Woke up this morning with my mind, stayed on freedom.
"Hallelujah, hallelujah, hallelujah."
Contact Javonte Anderson at janderson@theblade.com, 419-724-6065, or on Twitter @JavonteA.