Blade reporter rappels down Toledo building for charity
9/7/2018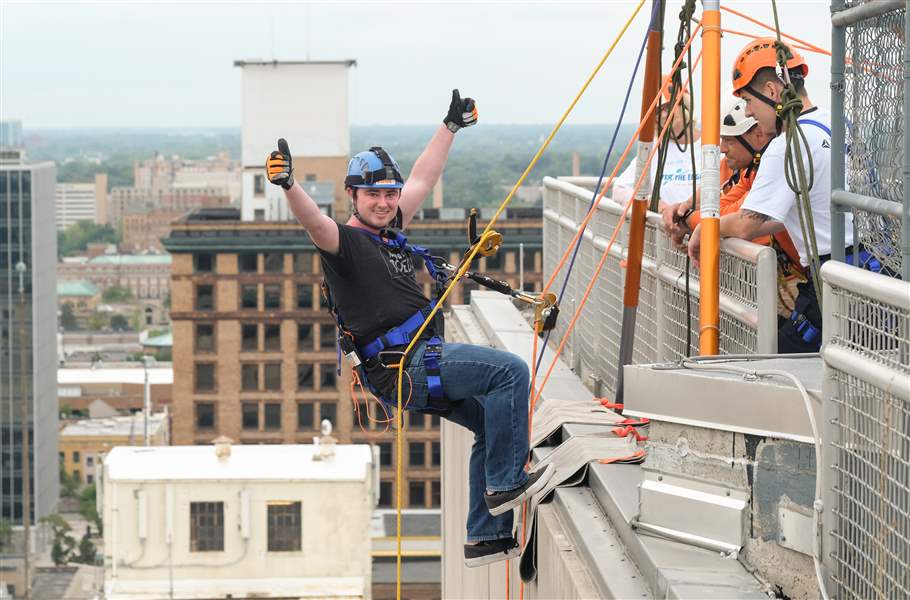 Jimmy Miller prepares to make his way down.
THE BLADE/JEREMY WADSWORTH
Buy This Image
When some of their fund-raising efforts started to feel stale, the Victory Center took their campaigns to new heights.
GALLERY: Jimmy Miller rappels down Toledo building
Literally speaking, the organization is sending participants up 230 feet high for an event called Over the Edge for Victory. Those who raise or donate $1,000 after registration can rappel down the side of Toledo's Edison Building downtown, one of the few — if not few, then only — rappelling opportunities in the city. The event coordinators will teach each person how to rappel before sending them down.
WATCH: Reporter Jimmy Miller scales down Toledo building
As it turns out, the unique thrill intrigued plenty of people last year.
"In our first year, we basically sold out," said Karen Evans, the program's special events manager. "We had to buy an extra hour at the end of the day."
It doesn't hurt that the fund-raiser is for a good cause. For 22 years, the Victory Center has offered free services to current and former cancer patients, such as massage therapy and yoga. The organization also provides counseling and support groups, plus a wig bank for women who lose their hair during cancer treatments.
To read more and watch the full video, download Blade NewsSlide at bladenewsslide.com