Toledo coalition views southern labor camps
9/7/2018
Four beds sit inside one of the rooms at a labor camp in Goldsboro, N.C. on Friday. Up to 8 people are staying in this room.
SPECIAL TO THE BLADE/REBECCA BENSON
Buy This Image
Fourth in a series
DUDLEY, N.C. — At first glance, two empty beer cans and the garments draped over a clothesline are the only symptoms of human life.
Here, in the coastal plains of eastern North Carolina, settled next to a cotton field is a labor camp where migrant farm workers inhabit.
After visiting the International Civil Rights Center & Museum Thursday, Toledo's Black/Brown Coalition visited labor camps for an intimate, scarring glimpse into the squalid living conditions migrant farm workers endure.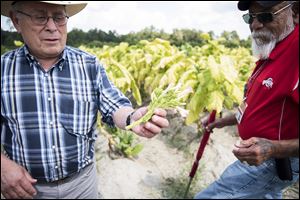 Baldemar Velasquez, left, shows Roland Vidal the flower of a tobacco plant at tobacco field in Goldsboro, N.C. on Friday.
With every step, gnats swarm overhead with a tenacity matching the unyielding sun.
The living quarters were sheds, and mattresses were cramped into a confined space. Occupants used padlocks to lock their doors.
In the restroom, four toilets were lined next to each other with no partitions for privacy. The disgust from what they saw echoed throughout the group.
"How they're all packed in those rooms, bugs flying everywhere, it's not right," said Jacovy Green, a 17-year-old student at Glass City Academy.
RELATED CONTENT: Toledo activists, organizers arrive in North Carolina ■ Museum visit gives Toledo activists a deeper appreciation of Civil Rights struggle
Theresa L. Powell fought back tears as she spoke.
"After the things we saw today, I could never say I was poor growing up," she said.
"I will never say I was poor growing up again."
Spanish music blared from a structure with the word "cocina" painted on the exterior.
Inside, the heat is searing. A tiny woman is in a back room, rolling corn flour into balls, as tortillas fry in a skillet. This is where the labor workers eat.
Roland Vidal was born in the cotton fields.
By age 9 he understood the routine: delicately pluck the cotton, avoiding the dried bristles so he wouldn't cut himself. Fill his 12-foot sack with cotton, throw it over his shoulder, carry it to the scale, and throw it in the truck.
Repeat until sunset.
Mr. Vidal's a prideful man, not crippled by hubris, but proud of the decades he spent laboring in the fields.
Aside from the time he spent fighting in the Vietnam War, farm labor's the only work he has known.
His arthritic hands are rough, the way one would expect a farmer's to be.
But toiling in the fields comes with a cost, a price that could only be paid with aching bones and physical ailments.
He never wanted to leave the fields, but with four pinched nerves in his back, his doctors insisted, he said.
But even Mr. Vidal was repulsed as he walked the grounds of the labor camp.
"If I was here, I would raise hell," he said.
The farm laborers are mostly indigenous people, without citizenship, and most are here on work visas. Bused hundreds of miles to rural sites, they're paid meager wages and sometimes aren't afforded basic worker protections.
"A lot of these workers don't have anyone to complain to," said Baldemar Velasquez, Farm Labor Organizing Committee founder and organizer of the trip. "They don't have a voice, and that's what we're here for.
"Why we struggle, why we fight is to change conditions. So there's an organizational sense in all of this in terms of who's responsible for these conditions, who's making money off of this, and at whose expense."
When the group returned to FLOC's office in Dudley, N.C., Mr. Velasquez told the story of Urbano Ramirez, a migrant farm worker who died in North Carolina.
One day, while working in the fields, Mr. Ramirez complained to his supervisor he was feeling ill.
He was instructed to sit under a tree near the fields. At the end of the workday, the farm workers returned to their labor camps. Mr. Ramirez didn't return. One week later, farm workers discovered Mr. Ramirez's corpse still under the tree — decomposed beyond recognition.
"This was our version of Emmett Till," Mr. Velasquez said, referencing the 14-year-old boy who was brutally murdered in 1955 after being falsely accused of whistling at a white woman.
FLOC filed a workers' compensation claim, and after three years, secured a sizable settlement for Mr. Ramirez's wife and children.
On Friday evening, black, brown, and white people sat as one, with a better understanding of the challenges they all face.
They bonded, and developed a camaraderie that they hope propels them in their fight moving forward.
This day, like yesterday, ended in song.
Mr. Velasquez picked up his guitar and harmonica and began to play.
Some sang while others hummed the melody.
They all smiled, focused on the music as if their troubles floated away.
Contact Javonte Anderson at janderson@theblade.com, 419-724-6065, or on Twitter @JavonteA.