Stories of success at Boys 2 Men conference
9/8/2018
Monjuan Walker, a member of Young Men of Excellence (YMOE) and a senior at Bowsher High School, asks a question during the conference.
The Blade/Jetta Fraser
Buy This Image
Monjuan Walker, a member of Young Men of Excellence (YMOE) and a senior at Bowsher High School, asks a question during the conference.
As it has in nine previous years, much emphasis was given during the annual Boys 2 Men conference Saturday morning to daunting challenges that face African American children — and especially boys — who grow up in fatherless households.
But what should a young man do, asked Justin Sledge, 17, if his father is not at all a role model?
"I just despise everything he did — the way he walked, the way he talked. I would have been worse if I had him in my life," the Bowsher High School student and member of Toledo Public Schools' Young Men Of Excellence corps told the gathering of about 100 people in the University of Toledo's Student Union Auditorium.
Mark Robinson, a member of Boys 2 Men's executive committee, responded that his own experience was similar, and boys may need to seek out other, responsible adults who can fill that mentorship void for them — be they teachers, coaches, pastors, older brothers, uncles, or the like.
"There are many men in your life who can become a father figure," Mr. Robinson told young Sledge and those around him. "My father was not a good example. He taught me all the wrong things."
Willie McKether, the University of Toledo vice president of diversity and inclusion who had earlier given an introductory speech, agreed that had his father been more influential in his life, "I would have wound up running illegal numbers [lottery], but my mother kept me out of that mess."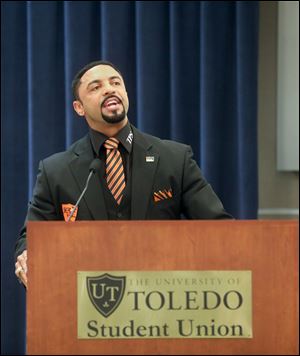 Superintendent of Toledo Public School Dr. Romules Durant speaks at theBoys2Men Conference at the University of Toledo on Saturday.
The exchange followed a presentation by Steve Dunston, a featured speaker who at age 44 is a regional music producer but professed that at age 12, he had joined a street gang and was dealing drugs in local gang houses, even as he also continued attending church with his devout Christian mother.
"The Bible says you can't serve two masters, but I tried," he said after recounting a younger life that landed him in two state reform schools, and from which only two of the nine gang members who thrashed him during his initiation are still alive.
Mr. Dunston warned the youthful part of the audience to avoid not only gang membership but associating at all with gang members. He recalled the fate of a cousin who made it through high school without getting in trouble only to be be killed shortly after graduation during a gang-related street shooting.
Mr. McKether had previously remarked about how fathering a child at age 16 made him think he had become a man even though "I lacked the moral courage to do what's right" and accepted "little to no responsibility."
Speaker Albert Earl, Jr., meanwhile, devoted most of his microphone time to warning parents in the hall about the rising addictive potency of street marijuana; the evolution of other illicit drugs like "lean," which is distilled from codeine-based cough syrup and often laced with other substances, and the drug-promoting culture that permeates contemporary urban music and video games.
The morning-long event, a mixture of pep rally and parental lecture leavened with a liberal dose of Christian religion, started with the reading of proclamations from Ohio Secretary of State Jon Husted and Toledo City Council recognizing its 10th anniversary.
It also featured remarks from, among others, Romules Durant, Toledo Public's superintendent of schools, who urged everyone in the audience to "be a game-changer" and save lives in the long run by looking out for the well-being of brothers and sisters, sons and daughters.
"Putting more keepers into the lives of our families and students will ultimately save lives," Mr. Durant said after recounting the biblical story of Cain and Abel.
Contact David Patch at dpatch@theblade.com or 419-724-6094.