Wildlife rehab center caring for rare albino cardinal
9/8/2018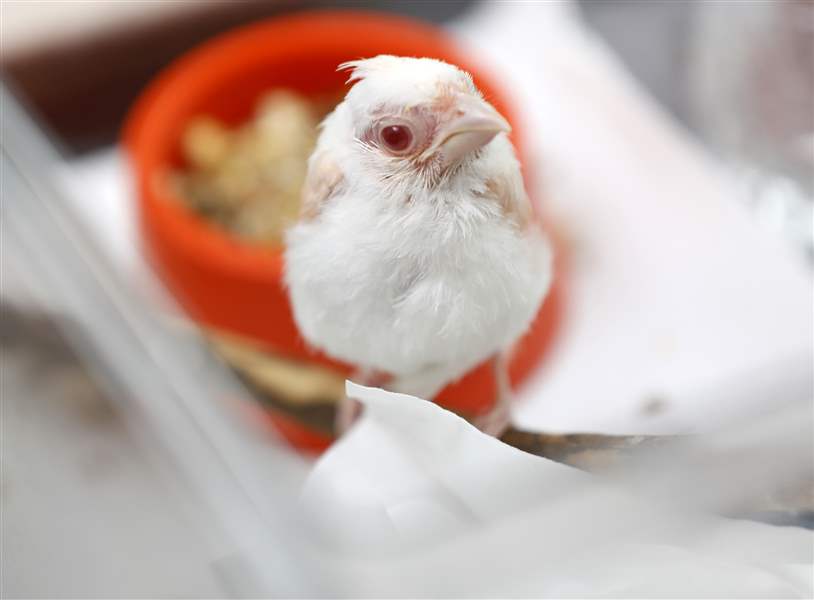 A fledgling albino cardinal photographed at Nature's Nursery in Whitehouse, Ohio, on Thursday. The cardinal is currently being fostered by Marti Hughes.
The Blade/Kurt Steiss
Buy This Image
WHITEHOUSE — Lucas County has a songbird of a different color.
The Nature's Nursery Center for Wildlife Rehabilitation and Conservation Education south of Whitehouse is caring for a young albino cardinal. The bird is primarily white with some peach coloring in its wings and tail along with red eyes.
The fledgling arrived at the center Aug. 28 after being caught by a dog in Toledo. Fortunately, the bird was not injured, Laura Zitzelberger, operations manager, said. It is being fostered by a volunteer.
"I've been doing this almost 30 years and it's the first one I've seen," Mrs. Zitzelberger said. "With albinos, most of them never make it long past fledging out of the nest."
WATCH: Nursery cares for the rare ablino cardinal
Sara Zaleski, a wildlife research technician for the Ohio Department of Natural Resources' northwest Ohio district, said albinism can occur in any animal.
"It's a genetic anomaly," she said. "We don't see them all that often, but there are definitely white birds out there. We get reports every year of all different species."
Ms. Zaleski said the district office typically receives a handful of reports of white birds each year, although it's difficult to tell whether they are true albinos or have a different pigment-deficient condition called leucism. The key to identifying true albinism is that it also affects the eyes, turning them pink or red. Leucistic animals retain dark eyes.
Laura Zitzelberger, operations director of Nature's Nursery, holds a fledgling albino cardinal at Nature's Nursery in Whitehouse.
Mrs. Zitzelberger said the center more often hears about albino mammals and has handled a few over the years, although the organization had previously treated a red-tailed hawk with leucism. The hawk was white with two red tail feathers and dark eyes.
Albino and leucistic animals often do not survive long in the wild because they stick out.
"They're so bright," Ms. Zaleski said. "They're much more likely to be taken by a predator."
The center does not know whether the cardinal is male or female because both sexes have the same body shape.
"When they're babies, they all kind of look like females," Mrs. Zitzelberger said. "When they're albino, we may never know without DNA testing because they don't develop the distinctive coloring."
Mrs. Zitzelberger said the cardinal is not a candidate for release because, in addition to light sensitivity in the eyes, albinism can cause any number of other health issues.
"They're not generally healthy," she said. "Overall this one seems to be doing well so far."
If the bird survives, it will be placed with another wildlife center as an education animal.
Contact Alexandra Mester at: amester@theblade.com, 419-724-6066, or on Twitter @AlexMesterBlade.