Persistent rain alters weekend plans for many in northwest Ohio
9/9/2018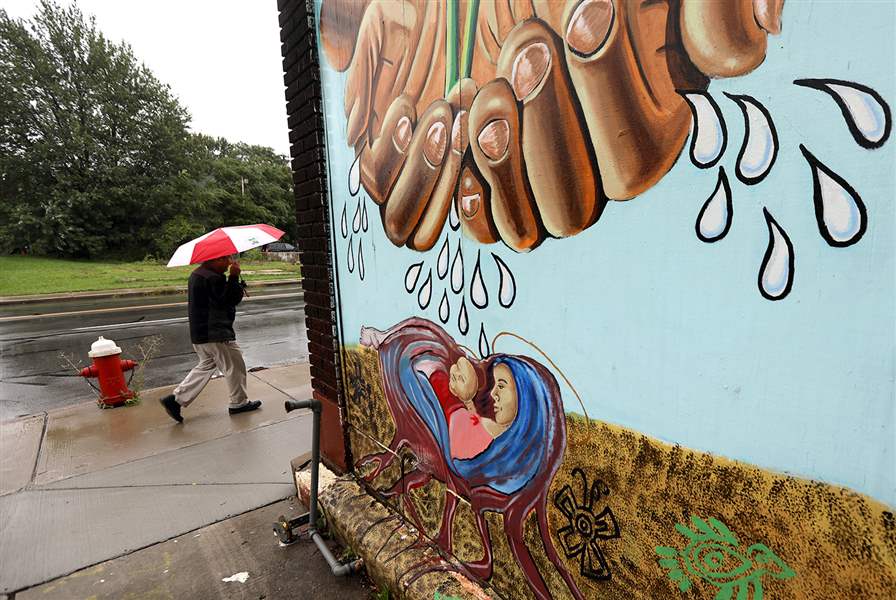 Ernest Hernandez shields himself from the rain with an umbrella while he walks down Broadway St. on September 9, 2018.
The Blade/Amy E. Voigt
Buy This Image
Artists packed up their wares a day early at the Black Swamp Arts Festival in Bowling Green under the threat of heavy rain as wet and windy weather forced several outdoor events in northwest Ohio to cancel, postpone, or move indoors over the weekend.
The National Weather Service on Sunday issued a coastal flood warning for Lucas and Ottawa counties in effect until 4 a.m. Monday. Easterly winds on Lake Erie elevated water levels across the lake's western basin, and officials cautioned coastal residents to be alert for rising water through the night Sunday.
David Dupont, Black Swamp Arts Festival's marketing committee chairman, said organizers made the call to cancel Sunday's artist portion on Friday.
"The forecast we saw from the emergency management agency in Wood County was really horrific," he said. "We waited until midafternoon on Friday, and based on our feeling for the safety of artists and our visitors it was best to make that call early so that we could get artists off the street in a safe manner."
Mr. Dupont said he worried about waiting until Saturday or even Sunday morning to cancel the art fair because it could have further inconvenienced both artists and buyers expecting another day to sell and shop. Making the decision Friday allowed everyone to plan ahead, he said.
"The reports we got from artists were they did well. It was a good Saturday crowd," he said. "Obviously they were disappointed to lose Sunday, but Saturday did well."
Live music scheduled for Sunday afternoon was moved indoors, with headliner Samantha Fish playing at Howard's Club H on Main Street in Bowling Green. Smaller acts moved indoors to Grounds for Thought coffee shop, also on Main Street.
Heavy rain prompted Cedar Point in Sandusky to close early, at 2 p.m. Sunday.
In Toledo, the Greek-American Festival at the Holy Trinity Greek Orthodox Cathedral offered free admission and parking Sunday as an incentive beyond the food and fellowship to brave the rain and check out the annual event.
George Sarantou, the festival's publicity chair, said organizers decided to waive the parking and admission fees as a way of thanking the community for its support.
"People have been so good to us for 48 years," he said.
Organizers planned to keep the festival open until 7 p.m. Sunday, and Mr. Sarantou said there were many people eating and visiting inside the cathedral Sunday afternoon.
"It's pretty steady," he said. "The rain has kind of slowed down considerably."
Toledo city crews installed flood gates in Point Place on Saturday in preparation for two or more inches of rain that was in Sunday's forecast, officials said.
Signs warning of high water were posted along flood-prone city streets, and crews have portable pumps on hand as well.
The seventh annual Jack's Pooch Plunge at Plummer Pool in Sylvania was postponed Sunday and rescheduled for Tuesday evening. The event allows dogs to play in the pool and marks the end of the swimming season.
Dogs less than 30 pounds can splash around from 5-6 p.m. and then bigger dogs will have access to the water from 6-8 p.m. Admission is $5 per dog, and all proceeds benefit the Glass City Dog Park.
Rain continues to be in the forecast for the Toledo area through Monday night, according to the National Weather Service.
Contact Sarah Elms at selms@theblade.com, 419-724-6103, or on Twitter @BySarahElms.