State bridge inspectors seek to find small problems before they get big
9/11/2018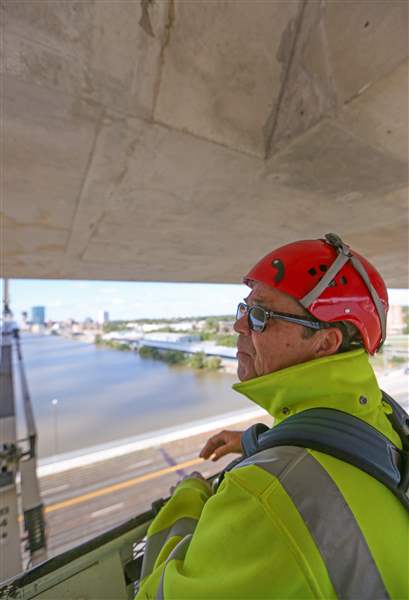 Jerry McCarthy in a bucket under the bridge. In the background, looking south, is the west side of Toledo, and the downtown.
The Blade/Jetta Fraser
Buy This Image
Just because a concrete structure has a few cracks or pits in it doesn't mean it's falling apart — or even needs to be repaired right away.
Such was the verdict from Jerry McCarthy, an Ohio Department of Transportation inspector who studied part of the underside of the Veterans' Glass City Skyway on Tuesday as part of its annual inspection.
Mr. McCarthy, who does about 250 bridge checkups annually as one of the state's five bridge specialists assigned to inspections using Snooper trucks, said that just because a piece of concrete is missing doesn't mean it needs immediate repair.
"That's basically, probably a shrinkage crack," he said after tapping around a small defect in the concrete on the bridge's main span with a hammer to evaluate it. "And then it spalled, and it popped off."
Catching small problems and fixing them before they become bigger problems, however, is what the annual inspections — mandated by Ohio law, and more frequent than the minimum interval set for bridges built with federal funds — are all about.
WATCH: Some of what inspectors look for from the "Snooper" truck
"We want to catch stuff before it gets too bad, and extend the life of the structure," said Jim Jogerst, a bridge inspector at ODOT's Bowling Green district office who oversaw Tuesday's work on the Skyway.
Late summer into early fall tends to be when the transportation department gives northwest Ohio's biggest bridges their annual checks, but Mr. Jogerst said that with about 950 bridges just in the eight-county District 2, it's a year-round task for the inspectors.
ODOT maintains more than 14,000 bridges statewide, and different bridges require different means.
The Snooper trucks, which have movable counterweights to keep them from toppling over when their booms are deployed, get the big jobs involving higher spans — especially those over water.
At the other end of the spectrum, Mr. Jogerst said, inspectors also use kayaks to get beneath low bridges over creeks and streams to see how their undersides are holding up.
Bridge components' conditions are rated on a scale from 0 to 9, with inspectors directed to make sketches or take photographs of any condition they score 5 ("Fair") or lower.
A significant decline in a bridge's ratings results in a structural review by the department, Mr. Jogerst said.
The Skyway, built between 2003 and 2007, underwent its first major maintenance last year with deck patching and sealing, and its light poles have been replaced this year.
Major-bridge inspections typically involve closing a lane for the Snooper truck's and other vehicles' use.
It can still be nerve-racking work because of unpredictable traffic behavior, and inspections are performed from beneath a bridge whenever possible, Mr. Jogerst said.
"There's nothing worse than sitting in your truck filling out the report and you hear [wheels on] the rumble strip behind you," he said.
"Because what's everybody doing?" he continued, gesturing to represent one hand on the wheel and the other tapping or swiping a smart phone. "We see it all the time."
Contact David Patch at dpatch@theblade.com or 419-724-6094.