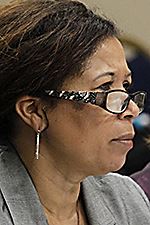 Williamson
THE BLADE/AMY E. VOIGT
Enlarge | Buy This Image
The University of Toledo said Monday it will create an institute to serve as a home for its research on human trafficking.
The UT Board of Trustees voted unanimously to create the Human Trafficking and Social Justice Institute, which will be led by Celia Williamson, a professor in the Criminal Justice and Social Work department noted for her research in human trafficking.
The university holds an annual conference on human trafficking, and research done by Ms. Williamson has helped prompt local and statewide coalitions to combat trafficking and spurred a state law that stops trafficking victims from being treated as criminals, such as in child prostitution cases.
UT plans to house the institute in converted classroom space. Along with Ms. Williamson, there will be an associate director, a part-time staff member who helps with conference planning, interns, and graduate assistants, as well as faculty from various departments working at the institute.
As an example of how the institute's work will be integrated with the rest of the university, medical students will be given training on human trafficking, UT officials said.
Ms. Williamson's work also led to the creation of Second Chance, a Toledo social service program that helps trafficking victims and prostitutes. Michelle Moore, a UT student and Second Chance staff member, said she was a trafficking survivor who was once attacked, slashed in the throat, and left for dead in an alley.
She asked the UT board to support the institute's creation and was joined by state Rep. Teresa Fedor (D., Toledo), state Sen. Edna Brown (D., Toledo), Lucas County Prosecutor Julia Bates, and others.
Ms. Williamson said the institute hopes to build a $3 million endowment to support its work. The creation of a formal institute will help secure research grants, she said.
Contact Nolan Rosenkrans at: nrosenkrans@theblade.com or 419-724-6086, or on Twitter @NolanRosenkrans.
Guidelines: Please keep your comments smart and civil. Don't attack other readers personally, and keep your language decent. Comments that violate these standards, or our privacy statement or visitor's agreement, are subject to being removed and commenters are subject to being banned. To post comments, you must be a registered user on toledoblade.com. To find out more, please visit the FAQ.